Intense Pulse Light (IPL)
Conveniently located to serve the areas of Pittsburgh, PA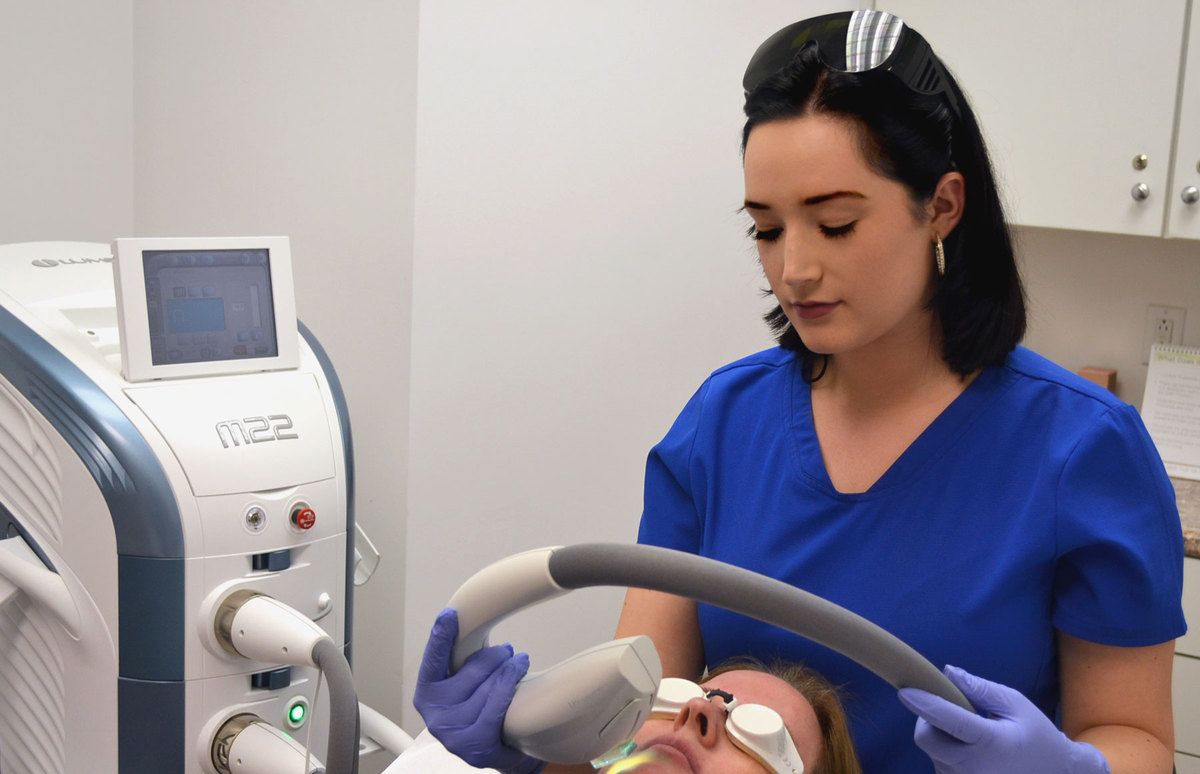 Do you have signs of aging, scarring, or hyperpigmentation? We all want smoother, flawless skin that makes us look and feel more youthful. Many people struggle with dull, uneven skin and try to remedy it through the use of various topical cleansers and creams, to no avail.
Dr. Anna Wooten is a board-certified plastic surgeon leading the skilled and knowledgeable staff at Beleza Plastic Surgery in the Greater Pittsburgh area. The dedicated Laser Specialists at Beleza Plastic Surgery provide patients with quality results they love! If you are struggling with less than stellar skin, Beleza Plastic surgery will help restore your radiant glow!
What is IPL?
IPL, or Intense Pulsed Light, is a safe and effective procedure that uses light to treat the signs of aging and sun damage on the skin. From brown spots and spider veins to freckles, broken capillaries, rosacea, acne, and fine wrinkles, Intense Pulsed Light is able to target problem areas and bring a fresh, youthful glow to the skin of your face, neck, chest, hands, arms and other parts of the body.
Before and After Photos
Our IPL machines work like lasers, although they operate at a wavelength which disqualifies them from being classified as such. We use the top-of-the-line Lumenis M22 machine to target light energy into specific areas of skin. The light energy that is absorbed gets converted into heat, which then affects the target area. Unlike lasers, however, IPL uses several color wavelengths in each pulse emitted, rather than just one wavelength.
Rosacea Treatment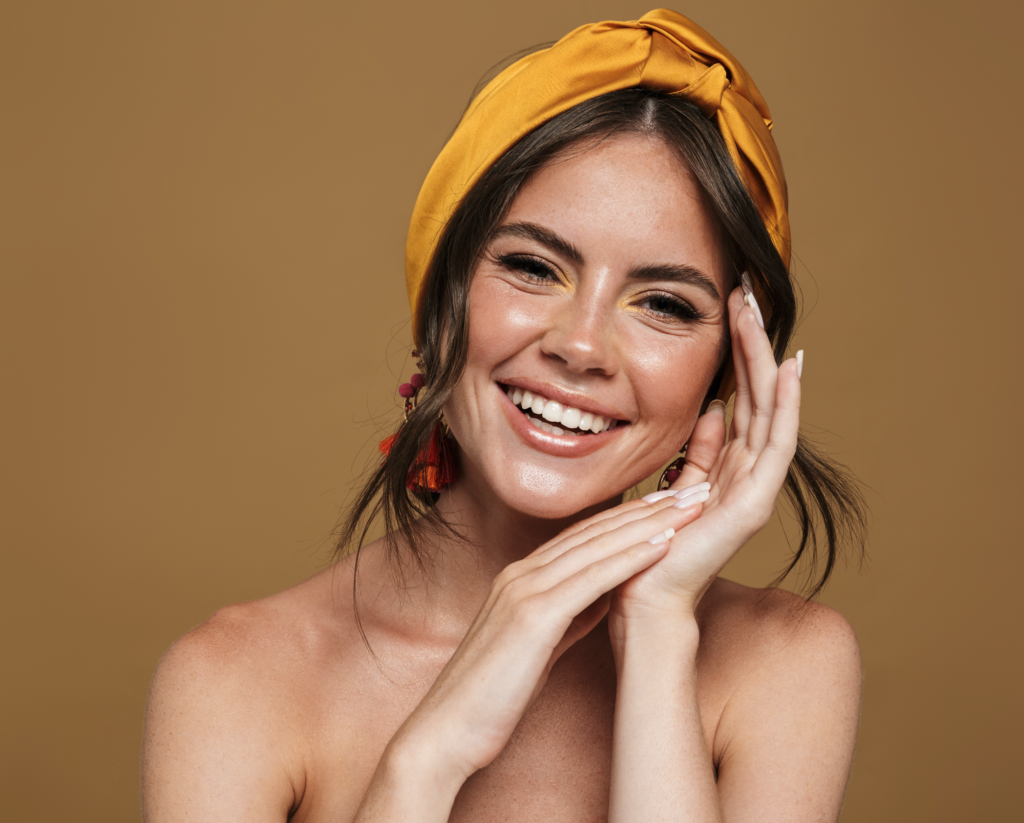 This allows the light to target varying depths of the skin at varying energy levels to target pigment associated with skincare problems. These range from vascular irregularities such as hemangiomas, small broken capillaries (the kind that tend to appear at the ends of our noses and chins as we age), and rosacea.
Keep in mind that in the long run, it is impossible to completely eliminate any vascular issues, as a healthy body will continue to pump blood to the face and distribute blood, regardless of whether or not a particular vein seems unsightly to us. Therefore, skin conditions such as rosacea can only be managed – not cured.
Treatment for Dark Spots and Hyperpigmentation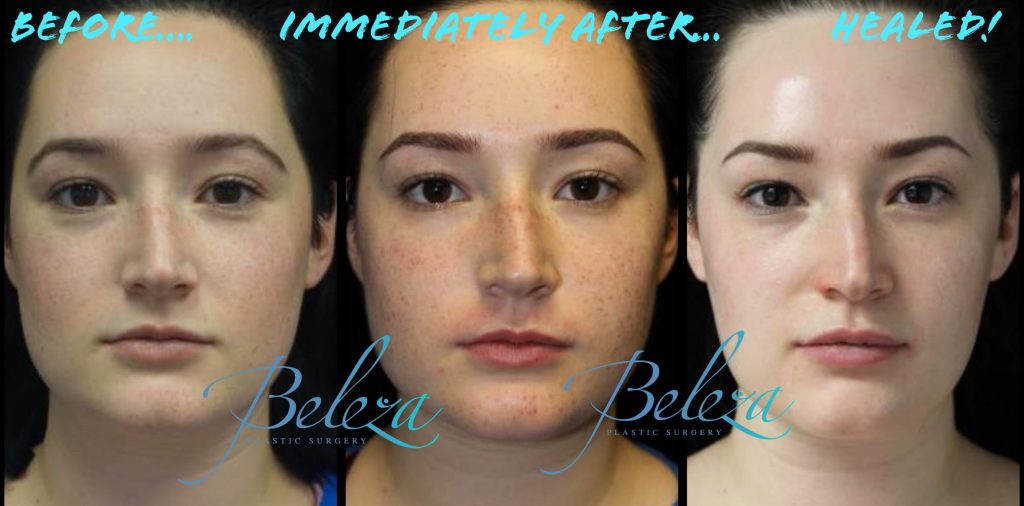 Regular IPL photofacials will show a marked improvement for those receiving treatment.
IPL photofacials also target the brown pigments associated with aging skin problems, such as age spots & sun spots, small freckles that come from too much sun exposure, hyperpigmentation, poikiloderma of civatte (a browning of the neck many women experience as they age) as well as other abnormalities that can disrupt an even skin tone.
The intense pulse light treatment is a non-ablative procedure. This means that it is a resurfacing method that only involves the dermis (inner layers of skin) without harming the epidermis (the outer layers of the skin). No exfoliation is involved in the procedure, and after the initial two or three days following treatment, it should not interfere with your usual skincare routine, aside from simply being a little more gentle on your skin for the following week.
We have helped men and women from Pittsburgh to Cranberry Township and beyond look and feel their best with med spa treatments. Contact us online today or call 724-759-7777 to schedule your IPL consultation.
Benefits of Intense Pulsed Light Treatment
Patients who decide to treat their blemished skin with IPL are usually astounded by their results! You can be among our satisfied patients when you come to Beleza Plastic Surgery and Med Spa for your skincare needs. Those who experience Intense Pulsed Light photofacials for themselves report brighter, clearer skin! Once you experience Intense Pulsed Light treatment, your rejuvenated appearance can help boost your confidence as you will no longer need to hide behind makeup, buy expensive creams, or do further harm to your skin with unreliable at-home technologies.
IPL Benefits
Correct hyperpigmentation
Smoother skin texture
Clearer skin
Brighter appearance
Reduced redness and appearance of vascularities
If you are ready to experience the benefits of IPL for yourself, contact Beleza Plastic Surgery today to schedule your skincare consultation!
Watch as Anastasia, Beleza's certified laser technician, explains and performs an IPL photofacial.
Is IPL Treatment Right For Me?
Ideal candidates for Intense Pulsed Light are individuals who have skin that is lackluster; showing signs of aging, acne, dark spots, redness, and other undesirable qualities. Our Beleza Laser Specialists can help you minimize the imperfections you may have on the surface of your skin. Patients should have healthy skin at the treatment site. It should be noted that IPL may not be indicated for patients with darker skin tones and for those who may experience light-induced seizures.
If you are a candidate for Intense Pulsed Light in the Pittsburgh area, do not hesitate to call our office to book your consultation today!
Your Intense Pulsed Light Consultation
During a private consultation, you will have the opportunity to discuss your skincare woes with one of our med spa experts. They will answer any questions you may have about IPL treatment and how it can help you meet your goals. The specialist working with you will examine your skin and inquire about any medications you may be taking.
IPL is contraindicated for those who are currently on/taking:
Accutane or any other oral isotretinoin
Antibiotics
Any light-sensitizing medications
After a thorough review of your health and medical history, as well as the quality of your skin, your specialist will determine if IPL is the best solution for you. Beleza's knowledge about skincare is unparalleled. So, give us a call at (724) 759-7777 to begin your journey towards revitalizing your look.
During the Intense Pulsed Light (IPL) Procedure
Before the procedure, our laser technician will give you a step-by-step description of the therapy. The entire process is explained: this is a good time for you to ask questions and to clearly state any concerns.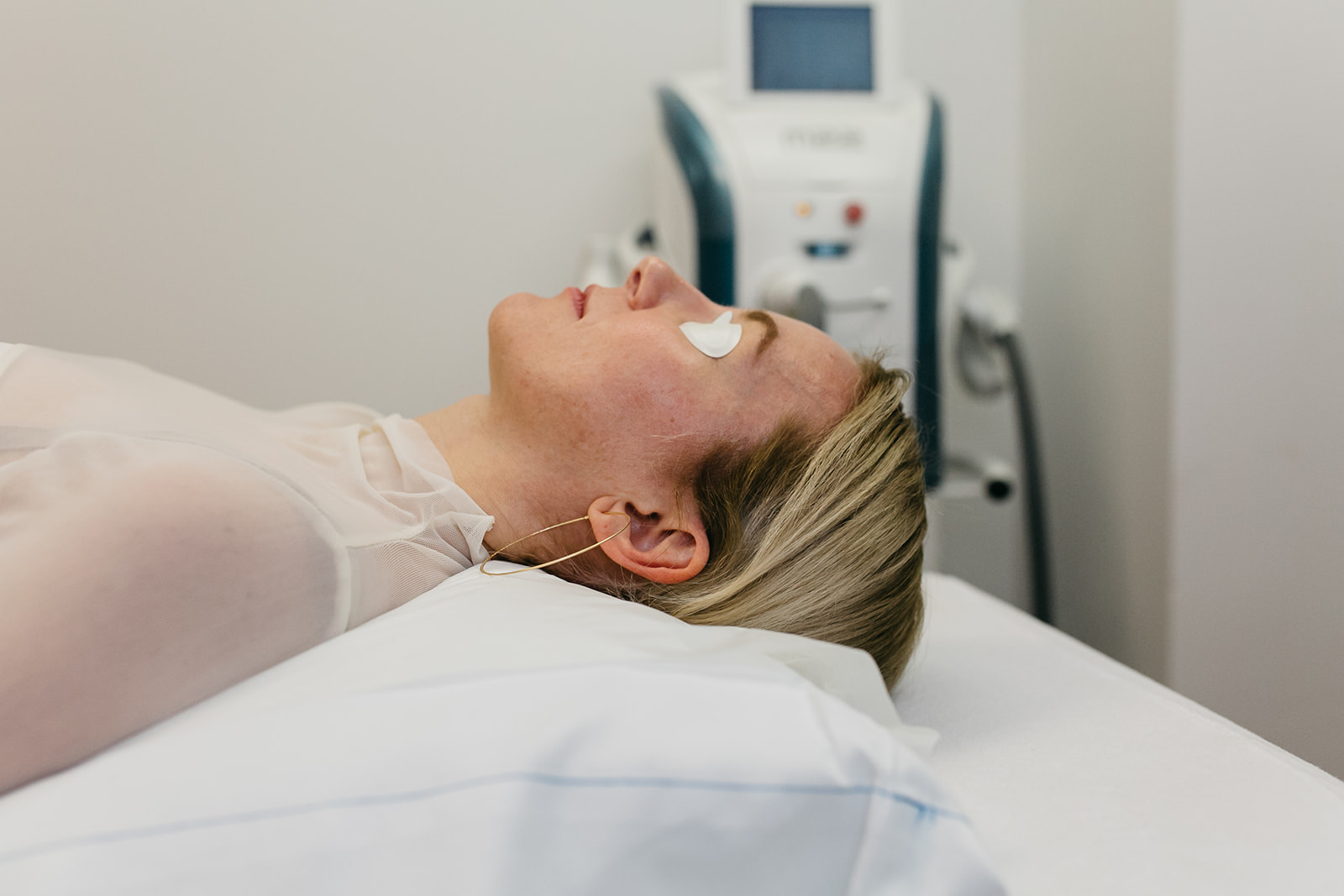 During the procedure, a cool gel is applied to the skin area being pulsed. Our intense pulse light machine has a built-in cooling tip that helps manage any heat that enters the skin from treatment. This procedure is not very uncomfortable, and does not require any topical numbing prior to treatment. The IPL machine head's glass tip contacts the skin and emits light pulses.
The entire photorejuvenation procedure typically lasts anywhere from 30-45 minutes, depending on the severity of the issues we will be treating. For best results, additional sessions, usually five to six more, may be done once every four to six weeks.
Recovery
The major advantage of the IPL procedure is minimal downtime. You can experience the therapy during your lunch break and return to work after the procedure. You must avoid sun exposure during the two weeks prior to and two weeks after the treatment. You will notice the improvement in your skin after just two therapy sessions, depending on your skin condition and the severity of the problem. We do recommend that you complete a series of treatments for your best result, and then keep up with your skin as it ages by having a yearly maintenance photofacial.
At Beleza, our skincare selection includes a variety of luxury sunscreens – be sure to ask your laser technician for a recommendation based on your skin type.
Like any cosmetic procedure, complications and side effects may arise. For IPL procedures, however, side effects are typically minor. Any swelling or redness usually disappears within hours. The most common complications which arise due to IPL are related to patients getting sun exposure before and after the treatment. For this reason, Beleza's technicians will advise you to protect your skin from sun exposure for three weeks before and after treatment, and to wear a sunscreen with an SPF of 30 daily. These precautions will help to prevent hyperpigmentation.
IPL Results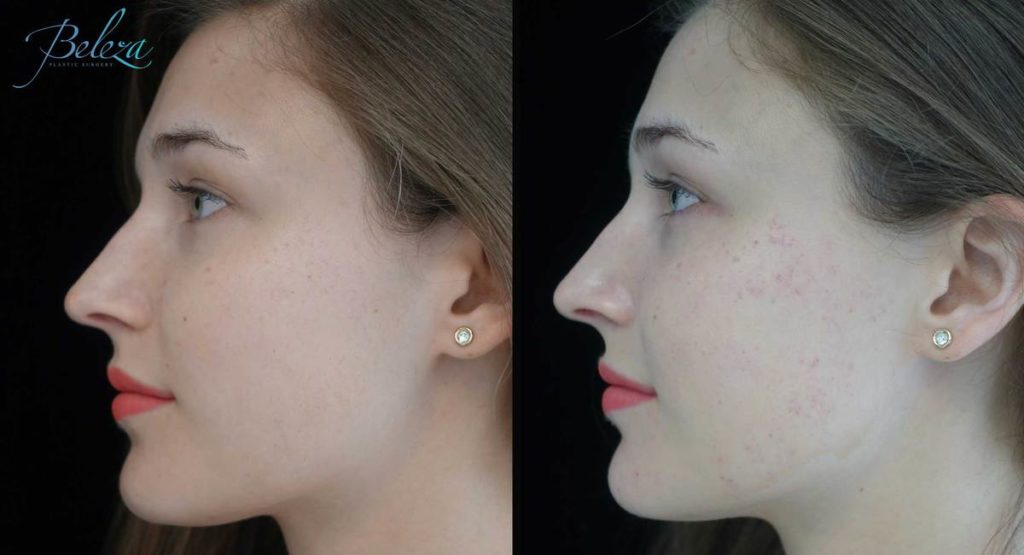 Immediately following treatment, dark spots on the skin will actually appear darker, but, don't worry, that is a sign of a good treatment! These darker spots will continue to darken for a day or two, and then they will gradually lighten as the dark pigment rises to the skin's surface and exfoliates naturally with your skin's natural cycle. This means that you will see the full effects of treatment within about two weeks after your Intense Pulsed Light photofacial. Sun damage, acne, redness, and signs of aging will fade over time! This will leave your skin looking radiant and youthful!
Are you ready to experience these amazing results for yourself? Contact Beleza Plastic Surgery today to schedule your skincare consultation!
Complementary Procedures
Following IPL treatment, your refreshed skin may need a little boost if aging has made a significant appearance on your skin. Our Beleza Nurse Injectors are here to help you treat the fine lines, wrinkles, and deflation of your features with fillers and injectables.
Botox is a neuromodulator that works by temporarily suspending the movement of muscles in the forehead and around the eyes. As we make repeated facial expressions, the facial muscles pull and crease the skin causing dynamic wrinkles. Crow's feet, frown lines, and forehead wrinkles can be reduced with Botox treatment.
Full cheeks and lips, smooth, even skin can be yours again through the use of dermal fillers, such as Juvederm. At Beleza, our Nurse Injectors can expertly address the hollows of your face, wrinkles, thinning lips, and deflated cheeks with dermal fillers. Fillers work by temporarily restoring volume just under the skin, plumping and smoothing the treatment area.
Say hello to your rejuvenated appearance with IPL and any of our complementary treatments! Call us today to learn more about how you can augment your Intense Pulsed Light treatment to give you the amazing skin you desire.
FAQ
HOW LONG DO IPL RESULTS LAST?
Your Intense Pulsed Laser results are long-lasting! With a proper skincare regimen, including daily application of and effective sunscreen and moisturizer, your IPL results can last for years. You can always return to Beleza Plastic Surgery for an IPL maintenance appointment and for other treatments to keep your skin looking its best! 
WHERE ON MY BODY CAN IPL BE USED?
IPL can be used in most places on the body. Any area that is non-mucosal (so lips/eyes are avoided) and is not covered in hair is a candidate for treatment. The most common areas treated are the face, neck, and chest, as well as the backs of aging hands. 
HOW MUCH DOES IPL TREATMENT COST IN PITTSBURGH?
Intense Pulsed Light treatment is a very customized procedure. Because of this, the final price will vary between patients according to the area you would like to have treated. The only way to receive an accurate quote for your IPL treatment is to attend a private consultation with our skincare specialists. After your consultation, you will be provided a cost breakdown that will outline the cost for your services at Beleza Plastic Surgery. We offer financing for patients who qualify as well as special pricing for services. Check our specials page often to see how you can save on your IPL treatment with Beleza!
Additional Resources
American Society for Dermatologic Surgery. (2020). Intense Pulsed Light Therapy for Aging Skin. Retrieved from https://www.asds.net/skin-experts/skin-treatments/laser-light-therapy/intense-pulsed-light-therapy-for-aging-skin
Barrell, A. (2020). What to know about Intense Pulsed Light treatment. Retrieved from https://www.medicalnewstoday.com/articles/ipl-treatment