Chest CoolSculpting
Conveniently located to serve the areas of Pittsburgh, PA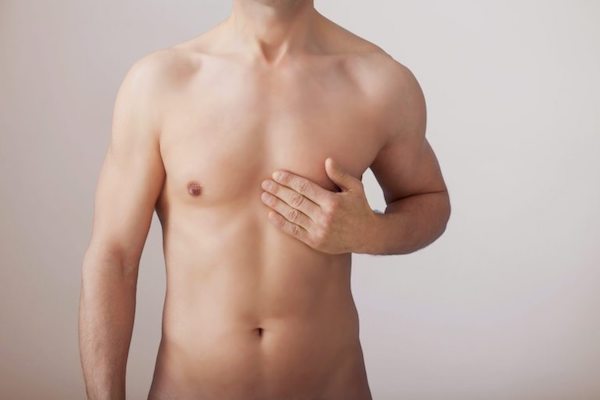 CoolSculpting for the chest is a non-invasive procedure that recontours a man's chest to give it a more masculine shape. CoolSculpting can reveal muscle definition by eliminating unwelcome fat deposits. This procedure is non-invasive, non-surgical, and features minimal recovery; it is a quick procedure with little discomfort. Coolsculpting can be used on several different areas of the body. For men who are frustrated with fat deposits on the chest that diet and exercise just won't budge, this body contouring system can help them feel comfortable and confident in their masculinity.
The chest/pectoral muscle area is an integral aspect of the male body image. If you're unhappy with the appearance of your chest, CoolSculpting can achieve visible aesthetic results. Revive your self-assurance.
After all, if you have undesirable fat deposits on your chest, you aren't alone. Dr. Anna Wooten and the team at Beleza Plastic Surgery have used CoolSculpting to treat many male clients who need to get something off their chests! To find out how you can benefit from CoolSculpting treatments, contact Beleza Plastic Surgery. Call Dr. Wooten's offices in Sewickley, PA at (724) 759-7777 or in Pittsburgh, PA at (412) 877-9388. You can learn more about CoolSculpting and other body contouring treatments by following the Beleza blog. We make it a point to keep our patients informed about the latest developments in aesthetic procedures.
Before and After Photos
About CoolSculpting for the Chest in Wexford, PA
Stubborn fat haunts us all (and some of us more than others). Exercise and diet are essential for a healthy body. But some areas of our bodies defiantly collect adipose cell (fat) deposits despite our greatest efforts. These persistent fat deposits can develop in different areas of the body for different people. For men, the chest often bears the brunt of excess fat. This phenonemon can be especially prevalent amongst men who use marijuana. Long-term marijuana use, as well as use during the developmental years, has been shown to correspond with the development of gynecomastia, or male breasts. While Dr. Anna Wooten offers surgical correction for this condition with gynecomastia correction surgery, CoolSculpting offers a compelling non-invasive option for treatment.
What Is CoolSculpting?
CoolSculpting is a U.S. Food and Drug Administration (FDA) approved treatment to remove mild to moderate amounts of fat deposits. The treatment doesn't require anesthesia, or surgical incisions, and can be performed while the patient is resting comfortably. CoolSculpting uses a technique called cryolipolysis, a clinically proven and safe method for body contouring. [1] Cryolipolysis works by targeting select regions and subjecting them to temperatures below freezing. The freezing process permanently damages the adipocytes (fat cells) beneath the skin, while leaving the skin unharmed. This means that there is no scar tissue left behind – or any other visible sign that a patient has had treatment.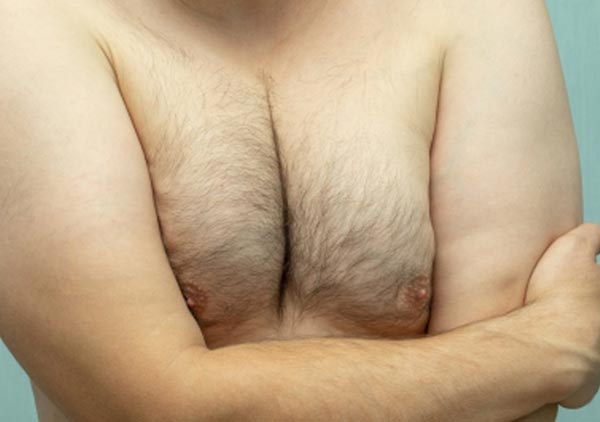 The fat cells die and trigger the body's natural process to remove them. Over time, your body will permanently eliminate the fat cells in the targeted region. This process can take up to six weeks following every treatment. For this reason, patients who require multiple treatments are scheduled for their sessions about 6 weeks apart. Research on cryolipolysis shows that up to 33% of the fat cells in a region are removed using this method. Patient satisfaction in multiple studies was over 70%. [2]
Beleza offers men wishing to treat fat deposits on their chest a particular advantage: Beleza uses two CoolSculpting machines to perform "DualSculpting." Not only does this allow patients to treat twice the area at the same amount of time, but it's also a way to ensure that each side of the body is symmetrical since both the right and left sides of the chest can be treated at once.
Benefits of CoolSculpting
Minimally invasive
Quick treatment
Very safe and FDA approved
Natural-looking outcome
Increase in self-esteem
Minimal discomfort, no downtime, and easy recovery process
Proven results that appear gradually over 8-12 weeks
If you don't enjoy looking in the mirror due to superfluous fat, you probably don't feel as comfortable during your daily life as you'd like, either. CoolSculpting can help restore your self-esteem and improve your body image. CoolSculpting can safely and effectively quash fat deposits that resist diet and exercise. Our CoolSculpting sessions take less than an hour, which is what has led to it being casually referred to as a "lunchtime treatment."
Candidates
You are an ideal candidate for CoolSculpting if you live a healthy lifestyle and are at or near your ideal body weight. CoolSculpting is not a weight-loss procedure designed to reduce large amounts of weight. Instead, it's a body contouring procedure that sculpts your body to remove excess fat that persists despite diet and exercise. CoolSculpting might not be the right treatment for you if you have cryoglobulinemia, paroxysmal cold hemoglobinuria, or other conditions that make you susceptible to the cold.[3] Make sure to let the Beleza team know if you have any medical conditions that might affect the efficacy of CoolSculpting.
CoolSculpting may take a longer amount of time or require repeat treatments when treating over tattooed areas. Tattoos increase the risk of "pop-offs" – or a cycle not 'taking.' This means that we would ask the patient to return at a later date for retreatment. CoolSculpting cannot be performed over hernias, so men and women with inguinal, umbilical, or other herniations in the abdominal area should seek to have those repaired, and we will not perform CoolSculpting over them.
Personal Consultation
At Beleza Plastic Surgery & Medi-Spa, we specialize in helping patients reach their cosmetic milestones by employing the techniques best suited for each patient. Together, we will determine if CoolSculpting is the right treatment for your aesthetic aspirations.
Your initial consultation for a CoolSculpting procedure will begin with a thorough review of your medical history and a discussion of your cosmetic goals. Our Certified CoolSculpting providers will answer all your questions and explain how CoolSculpting works.
 You can expect an honest and experienced opinion. If another procedure would better suit your needs, we'll be happy to recommend it. To learn more about the other services that we offer at Beleza, follow our blog. You can also learn more about CoolSculpting and hear patient testimonials by watching an array of videos on the subject here.
Preparation
Preparing for CoolSculpting is relatively easy. In the days leading up to your procedure, you should avoid medication like aspirin and ibuprofen that might thin your blood. Blood thinners can delay your body's healing process and increase the possibility of bruising. Supplements such as fish oil and ginger can also thin the blood, so they should be avoided leading up to your procedure as well. Smoking always creates health risks. If you are a smoker, you might be advised to abstain before and after your procedure. Make sure to diligently follow any personalized instructions provided to you by the Beleza team to ensure the best results. Following treatments, some people may develop temporary inflammation and bruising. If this concerns you, we recommend eating fresh pineapple prior to treatment, in addition to taking natural anti-inflammatory supplements like arnica montana or bromelain.
Procedure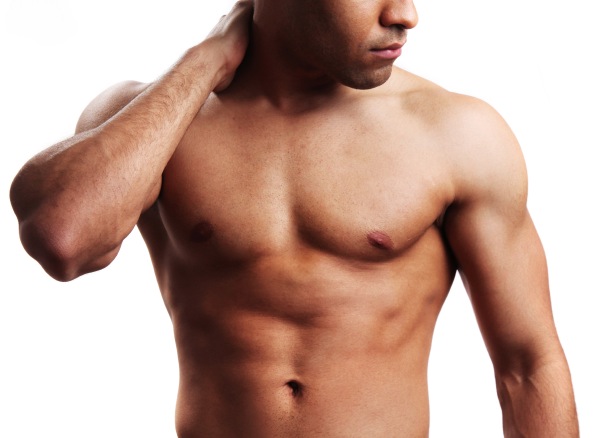 Come to your treatment appointment wearing comfortable, machine-washable, loose-fitting clothes. Although we do have a television in our CoolSculpting room, you may bring a book or tablet along with you to entertain yourself. We offer guest wi-fi for your convenience, and some patients find that they are able to bring a laptop and get work done while being treated. Some CoolSculpting sessions can be completed in as little as an hour, though most treatments may take more time. Before the process begins, your Beleza certified CoolSculpting provider will apply a topical gel to the treatment area. Then, your technician will attach the applicators to various areas of the chest. Once the applicators are set, you can relax while the CoolSculpting apparatus does all the work. After the applicators are removed, your clinician will gently massage the treated area to help break up the frozen fat cells and initiate your body's healing.
What Does CoolSculpting Feel Like?
Patients describe the sensations experienced during CoolSculpting sessions as tingling, tugging, cooling, and aching with only mild discomfort associated with the treatment. After a few minutes, the feelings will reside as the area goes numb. Most patients read or use their smartphones during the procedure.
Recovery
After your session, you can resume your normal activities. Be prepared for some minor swelling, redness, and/or bruising. These side-effects typically resolve themselves within a few days. Make sure to follow any additional aftercare instructions provided to you by our team.
Results
CoolSculpting begins revealing results after a few weeks. Because your body still has to process and dispose of the frozen fat cells, your results will not be immediately visible. For the first few weeks, your body will hard at work eliminating these cells. By the first two or three months, the inflammatory process required for this elimination process will come to an end and you'll begin to notice slimmer contours. [3] Multiple studies on CoolSculpting prove its efficacy at removing fat tissue. And although this body contouring procedure was only introduced in 2007, over 450,000 cryolipolysis procedures had been performed by 2015. [4] If you're ready to take control of your chest, and get CoolSculpting's popular results for yourself, schedule your consultation at Beleza today.
Cost
We custom-tailor our CoolSculpting procedure to each patient based on their medical history and aesthetic goals. After we review your circumstances and assess your eligibility, we'll be able to provide you with pricing for your procedure. Pricing per treatment normally starts at $1500 and would go upwards from there, depending on how much treatment a patient may need. For more information about how you can make your CoolSculpting transformation a reality, visit our financing page for additional resources.
FAQ
Can CoolSculpting be used for male breast reduction?
CoolSculpting isn't designed for male breast reduction. CoolSculpting just reduces the adipose (fat) tissue in the targeted region. Cases of gynecomastia often result from glandular issues that CoolSculpting isn't designed to treat. However, CoolSculpting could sculpt the chest after other methods are used to treat gynecomastia.
Is CoolSculpting Permanent?
Once the fat cells are frozen, the body works to permanently remove them. The ejected fat cells never return. However, if the patient doesn't maintain a healthy diet supplemented by regular exercise, the remaining fat cells can expand and put on weight in the region.
References
Sadick, N., Luebberding, S., Mai, S. V., & Krueger, N. (2014). Cryolipolysis for noninvasive body contouring: Clinical efficacy and patient satisfaction. Clinical, Cosmetic and Investigational Dermatology. 201. doi:10.2147/ccid.s44371
Alizadeh, Z., Halabchi, F., Mazaheri, R., Abolhasani, M., & Tabesh, M. (2016). Review of the Mechanisms and Effects of Noninvasive Body Contouring Devices on Cellulite and Subcutaneous Fat. International journal of endocrinology and metabolism, 14(4), e36727. https://doi.org/10.5812/ijem.36727
Chopra, K., Tadisina, K. K., & Stevens, W. G. (2014). Cryolipolysis in aesthetic plastic surgery. Eplasty, 14, ic29. PMID: 25328574
Ingargiola, M. J., Motakef, S., Chung, M. T., Vasconez, H. C., & Sasaki, G. H. (2015). Cryolipolysis for Fat Reduction and Body Contouring. Plastic and Reconstructive Surgery, 135(6), 1581-1590. doi:10.1097/PRS.0000000000001236