Breast Lift with Implants
Conveniently located to serve the areas of Pittsburgh, PA
Dr. Anna Wooten is a nationally recognized expert in Breast Augmentation. For more information about this procedure please view our Breast Augmentation page.
For women who are seeking to add volume to their breasts and raise their nipples to a more youthful position, a breast lift with implants may be the way to go. A breast lift with implants increases overall breast size using silicone or saline implants and Dr. Anna Wooten raises the position of the breasts and nipples using her signature "lollipop" technique. The result? A fuller, perkier look that women love.
Dr. Anna Wooten has helped men and women from Pittsburgh to Cranberry Township and beyond look and feel their best with cosmetic surgery. Contact us online today or call 724-759-7777 to schedule your eyelid surgery consultation.
Before and After Photos
Surgery Options and Considerations
Breast Lift vs. Breast Lift with Implants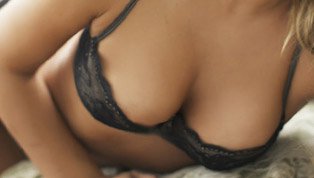 If you are dissatisfied with your breasts, you may be considering surgery. A breast lift alone repositions the breasts higher on the chest wall, and relocates the nipple higher on the breast mound.
Sometimes, pregnancy, nursing, weight fluctuation and aging can also leave breasts flat, shapeless or "deflated." To restore breast volume and shape while simultaneously lifting the breasts, breast implants can be incorporated into the lift procedure. Women typically combine breast augmentation with implants because they are unhappy with both the size and position of their breasts.
Am I a Candidate for a Breast Lift with Implants?
A breast lift is the obvious solution for flat or sagging breasts caused by pregnancy, weight loss, nursing or natural aging.
You may be a good candidate for breast lift alone if you desire perkier breasts that sit higher on your chest (like they did when you were younger) but you are happy with your current breast size. You may be a better candidate for a breast lift with implants if you wish your breasts were perkier and larger.
Dr. Wooten's Method
Dr. Wooten's preferred incision for breast lifts is the lollipop incision. This type of lift is so named because of the shape of the incision. The incision goes around the areola, with a vertical scar extending down to the crease of the breast — the shape of a lollipop. This is the most common type of incision because it produces the least amount of scarring. Using this incision, Dr. Wooten is able to remove excess skin and breast tissue.
For breast lifts with implants, Dr. Wooten places the implant beneath the pectoral muscle. This decreases the risk of implant migration in the future, allows for a more natural-appearing breast and results in greater patient satisfaction.
Which Size Breast Implant Is Right for Me?
The type of implant that is best for you depends on factors such as your desired cosmetic result, lifestyle, anatomy, current breast size and personal preference.
Implants are measured in cubic centimeters, or "cc's." Dr. Wooten can help you select the appropriate implant size based on factors such as your height, weight, current dress size and bra size, and your ideal breast image. She will take special measurements, including measuring your breast width, to help determine the optimal implant size and achieve your desired results.
What Are the Pros and Cons of Saline vs. Silicone Implants?
Saline and silicone are both safe options, each with its own set of pros and cons.
One of the advantages of saline implants is that the unfilled shells can be placed through smaller incisions, and then inflated with saline once in the breast. Also, if a rare complication occurs and a saline implant ruptures or leaks, the body can safely absorb the saline, and it is immediately apparent because the breast noticeably flattens. However, the primary drawback to saline implants is that many women feel they don't look and feel as natural as silicone implants. The chance for rippling is greater with saline implants.
Silicone implants more closely mimic the look and feel of natural breast tissue, which is a tremendous advantage to many patients. They are softer and less likely to ripple. However, should a silicone implant leak or rupture, the body won't absorb the silicone, and the complication may not be immediately apparent because the silicone can stay in or around the breast pocket. This is known as a "silent rupture."
What Kind of Breast Implant Is Right for Me?
The type of implant that is best for you depends on factors such as your desired cosmetic result, lifestyle, anatomy, current breast size and personal preference. Dr. Wooten will discuss your options with you during your pre-operative consult and help you select the implant that best suits your needs and goals.
Recovery
Immediate recovery takes 2-3 days; during this time you will be off of work. You'll likely experience swelling and soreness lasting four to six weeks after surgery, during which time strenuous exercise will be prohibited. Full recovery will take weeks, even months. During this time, numbness will recede, and you will be prohibited from heavy lifting. This is important to keep in mind if you have small children that you often pick up. To learn more, read our FAQ section below, or contact us to schedule your consultation for breast lift with implants in Pittsburgh with trusted plastic surgeon Dr. Anna Wooten.
Will I Experience Pain after Breast Lift with Augmentation?
Post-operative discomfort varies by patient, but most patients find it tolerable. You may take pain medication as prescribed by Dr. Wooten to alleviate any discomfort. Severe pain after surgery may indicate a complication and should be discussed with Dr. Wooten.
Breast Lift with Implants FAQs
Is that too much surgery to do on the breast all at once?
Not at all! The surgery time for a breast lift with implants is usually no more than if each procedure (a breast lift and a breast augmentation) were to be performed separately. Dr. Wooten performs this two-part procedure on a frequent basis with excellent results.
How much does a breast lift with implants cost?
Surgical costs vary from patient to patient depending on multiple factors, such as what type of breast implant you choose, how much surgery will be required for your optimal result, and which surgical center you choose.
How visible will my scarring be?"
The response varies from patient to patient. If you have a history of keloid scarring, or tend to heal with scars that are very dark, be mindful that this tendency could carry over to your post-operative healing. If you scar relatively well, with scars that lay flat and match your skin tone, this tendency could also carry over to your post-operative healing process.
The scar from your incisions will fade over time. Our nurse will instruct you on proper incision care and we will advise you on the best products to treat your healing scars. It is important to remember, however, that the incision lines will be permanently visible. Fortunately, Dr. Wooten does her best to place the incisions for breast lifts in non visible places.
How does Dr. Wooten reposition the nipple during a breast lift procedure?
Sometimes, a patient may think that Dr. Wooten surgically removes the nipples and reattaches it. She makes sure to explain that the nipple is never detached from the body, it is repositioned higher on the breast for a more youthful appearance.
What are some common complications associated with breast lift with implants?
All surgical procedures carry some degree of risk.
Potential complications include the following:
Poor wound healing
Abnormal scarring
Breast or nipple asymmetry
Infection
Bleeding
Loss of sensation
Seroma
Hematoma
Capsular contracture
Implant rupture or deflation
The best way to protect yourself against these risks is to work with an experienced, board-certified plastic surgeon like Dr. Anna I. Wooten.
Contact us to schedule your consultation for a breast lift with implants!