Morpheus8V
Conveniently located to serve the areas of Pittsburgh, PA
Morpheus8V is a radiofrequency (RF) vaginal rejuvenation treatment that improves the health of intimate tissue. Women undergo many physiological changes throughout their lifetime. Pregnancy, weight gain, hormonal changes, and menopause can affect the tissues of the vaginal wall, which, in turn, can lead to genitourinary problems. Many women suffer in silence, dealing with discomfort, dryness, and urinary incontinence. This combination of conditions can cause embarrassment, stress, and have a devastating impact on a woman's quality of life.
Intimate wellness is a right, not a privilege. With a non-surgical Morpheus8V treatment regimen, patients can regain comfort, confidence, and more satisfying sex! This energy-based device promotes healthy collagen production, tightening of the vagina and labia, and revitalization of the vaginal wall.
Board-certified plastic surgeon Dr. Anna Wooten and her dedicated team of providers offer Morpheus8V treatments to help women rediscover their sense of self, and regain body confidence. Call Beleza Plastic Surgery and MediSpa's Sewickley office at (724) 759-7777, or our Pittsburgh office at (412) 877-9388 to book a personal consultation.
Before and After Photos
What is Morpheus8V?

Morpheus8 is a popular energy-based platform by InMode with multiple uses. It provides minimally-invasive soft tissue remodeling throughout the body. It combines RF and microneedling to firm, tighten, and rejuvenate the skin.With interchangeable handpieces designed for specific uses, Morpheus8 can be tailored precisely to individual needs. In the case of Morpheus8V on InMode's EmpowerRF platform, an ergonomically-shaped wand delivers radiofrequency energy to the vulva and vagina. But what exactly is RF? And how does it improve vaginal tone and function?
Radiofrequency Energy for Vaginal Rejuvenation
Radiofrequency (RF) energy is produced by electromagnetic waves within a specific range of frequencies. When this energy is applied to tissue, it produces a thermal bulk heating effect. While RF energy alone has the ability to penetrate tissues with non-invasive therapeutic and cosmetic treatments, Morpheus8 combines the benefit of RF energy with the proven benefits of microneedling. The Morpheus8V RF wand induces changes in the soft tissues of the vagina and vulva with tiny microneedles that gently puncture the tissue and emit pulses of radiofrequency energy. This delivers the energy deep into the tissues, heating the treatment area to between 104 °F and 107.6 °F, just a few degrees higher than our natural body temperature. At the same time, the tiny needles also initiate a wound-healing response that leads to the production of new, healthy tissue via the body's own collagen-building process.
Women's Wellness
Childbirth, hormone fluctuations, and the onset of menopause can have profound effects on a woman's body, including the health of her vaginal tissues. These changes can have a profound impact on sexual wellness. These include, but are not limited to, the following conditions.
Vaginal Laxity
Vaginal Dryness
Irritation, Burning, Itchiness
Pain During Intercourse
Bleeding After Intercourse
Stress Urinary Incontinence (SUI)
Urge Urinary Incontinence (Increased urinary frequency)
Recurrent Urinary Tract Infections (UTIs)
Lichen Sclerosus
In many cases, these physical symptoms can lead to a loss of sexual desire, and difficulty achieving orgasm. Lax vaginal walls don't just impact sexual function, they can also lead to compromised urinary continence. But until recently, these problems went largely untreated and unrecognized. In 2012, the International Urogynecological Association conducted a physician survey. In that survey, 84% of doctors believed that vaginal laxity was underreported. An overwhelming majority linked these issues with intercourse problems, with 95% reporting that they believed laxity affected sexual function. (1)
The Natural Power of Collagen
Collagen is a vital soft tissue component. It's one of the essential building blocks of our connective tissue, and is responsible for keeping our skin and other overlying tissues firm and taut. Morpheus8V targets collagen in two ways: by causing existing collagen to contract and tighten tissue, and by stimulating the production of new collagen (a.k.a. neocollagenesis). In addition, the body's response includes other regenerative reactions that improve tissue health, such as the formation of new blood vessels to better nourish tissues, and the release of important growth factors, which allow for new, healthy cells to be formed.(2) These treatment results also result in improvements for women in sensations, circulation, and lubrication.
Benefits of Morpheus8V
RF vaginal rejuvenation causes only slight discomfort, if any. (1)
The procedure is quick, conducted in-office, and hassle-free.
There is no downtime, meaning patients can resume most activities immediately.
Results mean patients can find relief from genitourinary symptoms, improving quality of life.
Many doctors believe that RF treatments are the non-surgical vaginal rejuvenation solution women should be seeking. They tighten and improve tissue health and appearance in short, convenient sessions, and are virtually pain-free. By restoring and revitalizing the elasticity and moisture of the vaginal walls, RF vaginal rejuvenation can achieve life-altering results. And by promoting collagen replenishment, Morpheus8V can restore function and encourage healing, enabling patients to enjoy intimacy once more!
Candidates
Women who face urinary issues due to lax vaginal walls, and/or common issues with sexual function such as pain during sex, and dryness may be good candidates for Morpheus8V. Women who aren't able or willing to undergo surgical vaginal rejuvenation may be able to improve their symptoms with this minimally invasive treatment. Morpheus8V and other RF treatments for women's wellness may not be suitable for patients who have the following.
An active UTI or genital skin infection
Undergone recent genital surgery
An electrical implant (such as a pacemaker)
Any collagen-related disorders
Any serious health condition
A history of poor wound healing
A severely prolapsed uterus or vagina
Additionally, Morpheus8V is not suitable for patients who are currently pregnant or nursing.
Personal Consultation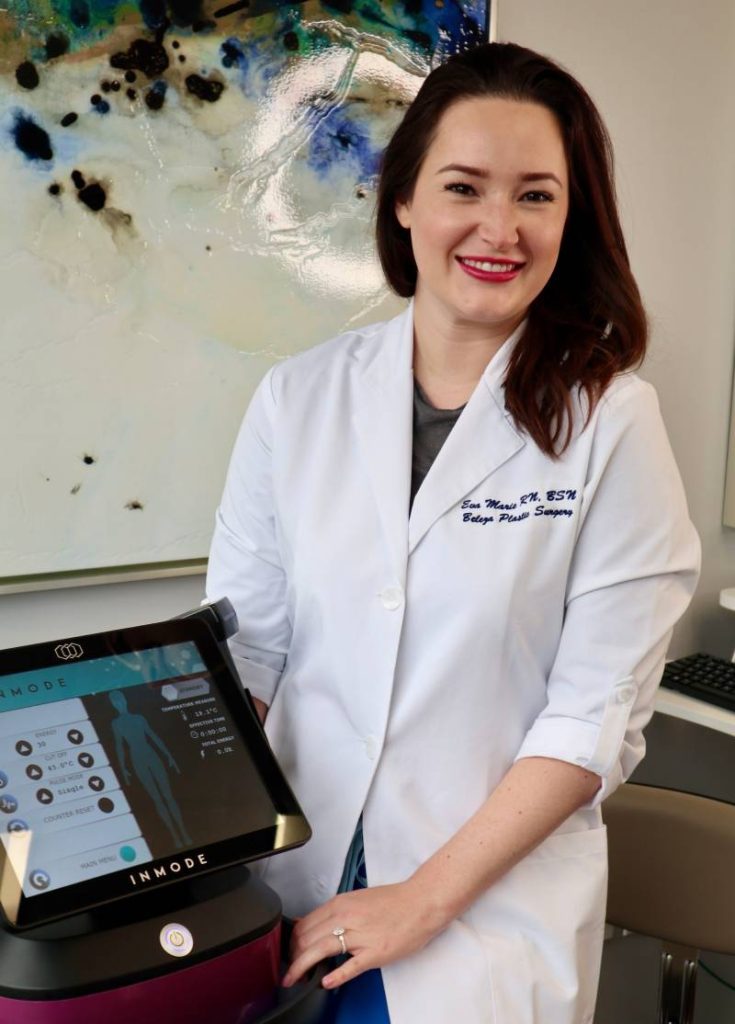 At Beleza, we understand that some health issues, especially those that involve intimate wellness, can be challenging to talk about. Our team of female medical professionals has a wealth of experience and a compassionate bedside manner that will put your mind at ease. This session is all about you, your concerns, and your symptoms, so feel free to be frank!
During your personal consultation, we will review your intimate women's wellness questionnaire, discuss the problems you have been facing, perform a brief physical examination, and then review your options. Once we have determined that you'll be able to enjoy meaningful results from this treatment and that it's the best approach for you, we can design an effective treatment plan that is tailored to your unique needs.
Ready to get started with Morpehus8V treatment? Get to know Dr. Wooten's outstanding team here. Then when you're ready, contact our patient care coordinator to book your personal consultation at Beleza!
How to Prepare
Preparing for your Morpheus8V treatment is easy! Just follow these simple instructions.
Shave pubic hair the day before
We will ask you to empty your bladder before treatment
Schedule treatments around menstrual cycles, if you get them regularly (while treatment can be done while menstruating, it may increase sensitivity)
What Happens During Treatment?
Morpheus8 V treatments are conducted by a licensed medical professional with specialized training. A Morpheus8V treatment session takes under 30 minutes, and your provider will review your treatment plan and what to expect from the treatment session before she begins. Then, patients lie comfortably as a topical anesthetic is applied to the areas to be treated. She will then adjust radio frequency levels on the command system via a touch-screen panel, then carefully insert the wand, and the tiny microneedles will emit pulses of RF energy in the vaginal tissues. She'll rotate the wand inside the vagina to ensure the vaginal walls are evenly treated. Women who are troubled by lax or elongated labia can also have this area treated to improve the appearance and function of their vulva. Once the session is over, there's no downtime, so you can continue with your daily activities immediately afterward!
Results
Patients can expect some discomfort and mild swelling in the treatment area in the days that follow, though these will be temporary. Our provider will advise you and provide post-procedural instructions at y our consultation. In the days that follow, patients need only follow our guidance. This includes the following.
Refrain from intercourse for 3-4 days post-treatment
Avoid taking hot baths for the first 2 days
Don't use hot tubs, or jacuzzis for 3-4 week
Avoid using tampons for one week
Most normal activities, including exercise and work, are fine to resume immediately afterwards. Depending on your personalized plan, your Beleza provider may recommend several sessions to get the most from your Morpheus8V treatment. Multiple sessions can be spaced apart over a course of several weeks to maximize effectiveness. Three sessions are typically recommended, along with maintenance treatments as recommended.
Corresponding & Complementary Procedures
Beleza provides procedures that cater to our patient's wellness needs.
Non-Surgical
V-Tone – V-Tone is another vaginal rejuvenation treatment in the Beleza MediSpa repertoire. It retrains vaginal muscles with electro-magnetic stimulation, providing strength and support to the pelvic floor.
Votiva FormaV – FormaV is an RF-based vaginal rejuvenation treatment. FormaV can improve blood circulation, address dryness, relieve discomfort, and relax muscles in the vaginal wall.
Aviva – Aviva is an RF laser device designed to provide labiaplasty-like results, without surgery.
For our full list of MediSpa treatments, click here.
Surgical
Labiaplasty – Women wishing to change the appearance of their vulva may seek surgery for cosmetic or functional reasons. A labiaplasty procedure can reduce the size and length of the inner labia, the labia minora.
Labiaplasty Revision Surgery – If a prior labiaplasty did not go as planned, come to board-certified plastic surgeon Dr. Anna Wooten for revision surgery. Using tissue-sparing aesthetic techniques, Dr. Wooten can expertly re-shape labia minora to provide symmetry and peace of mind.
For our full list of surgical services, click here.
Cost of RF Vaginal Rejuvenation in Wexford, PA
Every Morpheus8V treatment plan is designed to address specific patient issues. In many cases, to get the very best out of RF therapy, a sequence of treatment sessions is required. Therefore, costs will vary. For information about financing, please see our website. We invite you to book an individual consultation with us to discuss the procedure further by calling our Sewickley office at (724) 759-7777 or our Pittsburgh location at (412) 877-9388.
Read more about women's wellness and anti-aging procedures at Beleza Plastic Surgery & MediSpa on our blog.
References
Desai SA, Kroumpouzos G, Sadick N. Vaginal rejuvenation: From scalpel to wands. International Journal of Women's Dermatology. 2019;5(2):79-84. doi:10.1016/j.ijwd.2019.02.003 https://www.ncbi.nlm.nih.gov/pmc/articles/PMC6451893/
Karcher C, Sadick N. Vaginal rejuvenation using energy-based devices. International Journal of Women's Dermatology. 2016;2(3):85-88. doi:10.1016/j.ijwd.2016.05.003 https://www.ncbi.nlm.nih.gov/pmc/articles/PMC5418869/