Earlobe Repair
Conveniently located to serve the areas of Pittsburgh, PA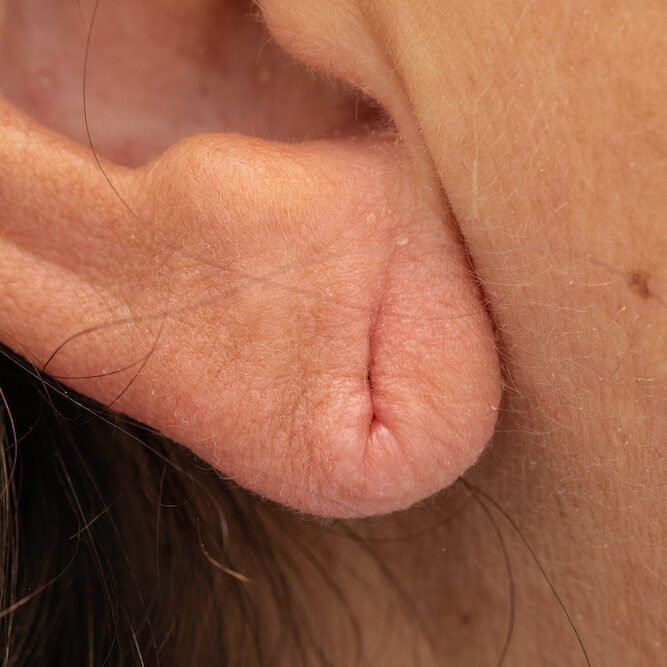 Earlobe repair is a procedure that restores the shape of the ears after they suffer from tearing and/or other damage. Whether your earlobes are stretched from a lifetime of wearing heavy jewelry or from gauging, Dr. Anna Wooten can revive the original appearance of your ears.
Dr. Wooten has helped men and women from Pittsburgh to Cranberry Township and beyond look and feel their best with cosmetic surgery.
About Torn Earlobes
In an earlobe repair procedure, Dr. Wooten trims away excess, hanging skin and closes the incision with absorbable sutures. For patients who wish to repair gauged or stretched earlobes, the surgery is a bit more complicated, but overall still easily accomplished by a simple in-office procedure.
Under Dr. Wooten's skillful care, your torn earlobes can enjoy renewed evenness and tone. Your newly repaired ear(s) will be free of holes, and you will be able to re-pierce them after a minimum healing time of 3 months, if so desired.[1,2]
Before and After Photos
Benefits of Repaired Earlobes
While you may not give much thought to how your ears shape others' perception of you, they really do convey quite a bit of visual information. The ears frame the face, so while you are making eye contact with a conversation partner, they might be distracted by the torn lobes flanking your appearance.
It may have been popular to get multiple piercings when you were younger, but now you might be interviewing for your dream job and ready to move forward with your life. In fact, Beleza performs this procedure quite often for servicemen and women enlisting in the military, where gauged earlobes are prohibited. Don't allow jewelry from your past to weigh down your future.
The job market is competitive enough without letting unsightly earlobes distract from your quest to be the best. Even if your employer doesn't notice your torn lobes, you may be thinking about them – which, in turn, detracts from your ability to focus on the task at hand and leave your insecurities behind.
Earlobe Repair Benefits
Eligible Candidates
As mentioned above, the collagen that your body produces to patch a wound results in scar tissue. But not all scars are created equal. Hypertrophic scars tend to lie flush with the surface of the surrounding skin. Some hypertrophic scars are so subtle, they are almost impossible to see after a few weeks. Keloid scars, however, are raised approximately 4 millimeters above the surface of the skin.[3] If you are prone to keloid scarring, please inform Dr. Wooten of this condition during your comprehensive consultation, so that she can adjust your treatment plan accordingly.
Dr. Wooten can assess your eligibility for earlobe repair to create the right strategy for your unique skin tone. Please call (724) 759-7777 to schedule an appointment and begin the process of restoring your lobes.
Private Consultation at Beleza
Communication is an integral part of healthcare. If you do not tell your medical team what you need, how can they help you be your best self? In a continued effort to provide excellent communication to Sewickley, Pittsburgh, Western Pennsylvania and beyond, we regularly update our blog. Feel free to read through our posts and bring any questions that may arise with you to your consultation with Dr. Wooten.
The earlobe repair process is streamlined at Beleza Plastic Surgery. You will only need 2-4 appointments total, depending on your needs. First, you will have your initial virtual consultation, during which you will meet with Dr. Anna Wooten F.A.C.S. She will examine your ears and our office will provide you with an exact quote for the procedure and all accompanying costs.
After this first step, you may schedule your simple, in-office surgery. We look forward to facilitating your scheduling needs, so please contact us at your leisure.
You may then schedule your third and final appointment. For those interested in re-piercing their ears, we offer a complimentary re-piercing at 3 months post-op.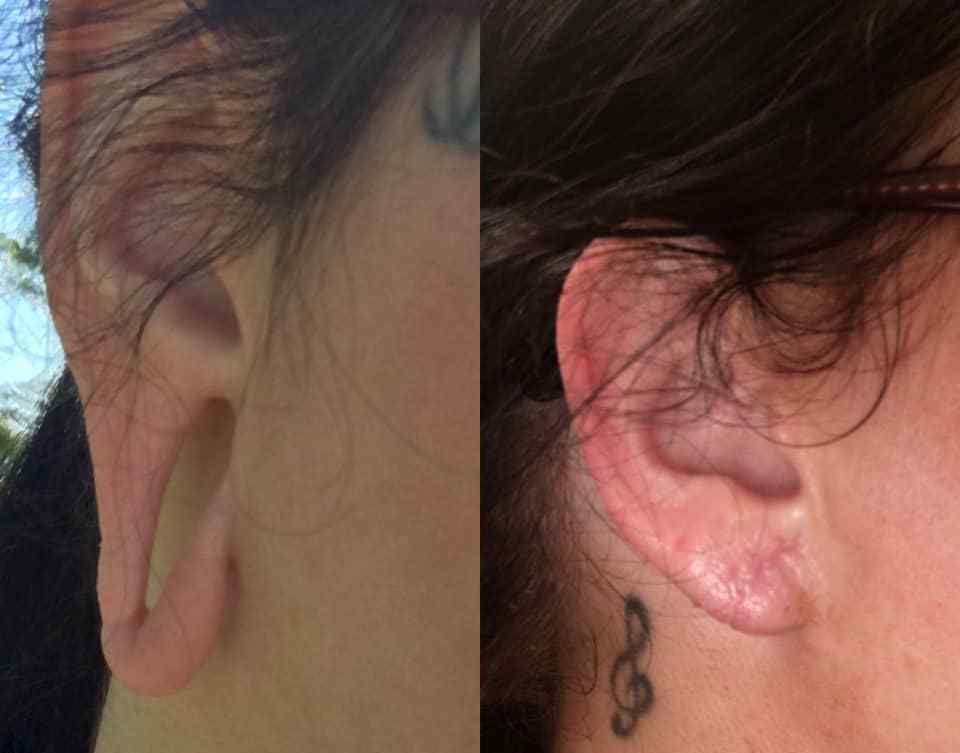 Preparation
During your comprehensive consultation, you will receive detailed instructions to prepare you for the earlobe repair procedure. For your safety, we will ask that you discontinue any non-prescription blood-thinning products prior to your procedure (such as fish oil capsules, ibuprofen, and other common substances, like alcohol). A complete list of blood-thinning products to avoid can be found here. On the day of your surgery, we will provide you with arnica montana (also known as wolf's bane), an anti-bruising supplement which Dr. Wooten recommends to all surgical patients. Arnica montana helps manage bruising, swelling, and inflammation.
If you have any questions in the days or weeks leading up to your earlobe repair treatment, please do not hesitate to dial (724) 759-7777.
Earlobe Repair Procedure
From the moment you arrive for your surgery, your medical team will work to make sure you feel right at home. Dr. Wooten and her support staff will review your procedure and answer any remaining questions you may have.
Most earlobe repairs at Beleza are performed under local anesthetic and are completed within 1.5 – 3 hours. Your total time in the office on the day of the procedure would likely not exceed 3.5 hours.
Rapid Recovery and Continued Care
After your procedure, Dr. Wooten will offer you an optional, complimentary ear re-piercing. You may schedule this anytime following a minimum recovery period of 3 months after your earlobe repair surgery.
Your fourth (optional) office visit would be a follow-up appointment at one-year post-op to check on how you've healed. It's that easy! We look forward to meeting you in our office.
Remarkable Results
Earlobe damage can disrupt the aesthetic harmony of your face. Torn lobes can heal in asymmetrical and irregular ways, throwing off the balance of your ears. Dr. Wooten will address all of these concerns and more, bringing an even, smooth look to your lobes.
When you visit our rave reviews page, you will see why Beleza Plastic Surgery is the capital of corrective care. Here's a brief sample:
"My ears are in the final stages of healing and I am so beyond happy with my results. I am so glad I drove to Pittsburgh to have them done by Dr. Anna Wooten. She's a miracle worker!"

Patient Testimonial
Those words are music to our ears! Here at Beleza Plastic Surgery, we are committed to providing 5-star service to Sewickley, Cranberry Township, Pittsburgh, and the greater Pennsylvania community. To join the ranks of our happy, healthy clientele, please contact our offices.
Complementary and Alternative Procedures
Scarring is not limited to the earlobes. If you struggle with acne scars or other imperfections pertaining to your complexion, consider the benefits of laser skin resurfacing. The focused light energy removes age spots, reduces wrinkles, and restores a youthful pallor to your treatment area.
While earlobe repair is a great way to patch tears and damage, you may also explore the wonders of otoplasty. Otoplasty is the art and science of reshaping ears to prevent them from protruding excessively.
To discuss our full suite of services, please call (724) 759-7777 and connect with a helpful, knowledgeable Beleza associate.
FAQ
How much does earlobe repair cost in Pittsburgh? 
There are many factors that contribute to the final cost of earlobe repair surgery. The extent of the damage is the main consideration to keep in mind, but Dr. Wooten will always provide transparent pricing during her comprehensive consultation. The following are guidelines to give you an idea of the costs associated with earlobe repair.
Pricing
To review our payment and credit options, please visit our financing page or feel free to contact us directly with any questions you may have.
References 
Watson, D. (2004). Repair of the torn earlobe. Facial Plastic Surgery: FPS. 20 (1) 39-45. DOI: 10.1055/s-2004-822957
Niamtu III, J. (2002). Eleven pearls for cosmetic earlobe repair. Dermatologic Surgery. 28 (2) 180-185. https://doi.org/10.1046/j.1524-4725.2002.01052.x
Verhaegen, P. D., Van Zuijlen, P. P., Pennings, N. M., Van Marle, J., Niessen, F. B., Van Der Horst, C. M., & Middelkoop, E. (2009). Differences in collagen architecture between keloid, hypertrophic scar, normotrophic scar, and normal skin: an objective histopathological analysis. Wound Repair and Regeneration. 17 (5), 649-656. https://doi.org/10.1111/j.1524-475X.2009.00533.x