Earlobe Repair
Conveniently located to serve the areas of Pittsburgh, PA
Whether your earlobes are stretched from a lifetime of wearing heavy jewelry or from gauging, Dr. Anna Wooten can restore the original appearance of your ears. In an earlobe repair procedure, Dr. Wooten cuts away excess, hanging skin and closes the incision with absorbable sutures. Your newly repaired ear will be completely free of holes and you will be able to repierce them if desired.
Before & After Photos
About
The earlobe repair process is streamlined at Beleza. You will only need 2-4 appointments total, depending on your needs. First you will have your initial consultation, during which you will meet with Dr. Anna Wooten F.A.C.S.
She will examine your ears, take pictures of them, and our office will provide you with an exact quote for the procedure and all accompanying costs.
After this first step, you may schedule your simple, in-office surgery. Most earlobe repairs at Beleza are performed under local anesthetic and are completed within 1.5 – 3 hours. Your total time in the office on the day of the procedure would likely not exceed 3.5 hours.
Dr. Wooten has helped men and women from Pittsburgh to Cranberry Township and beyond look and feel their best with cosmetic surgery. Contact us online today or call 724-759-7777 to schedule your earlobe repair consultation.
For your safety, we will ask that you discontinue any non-prescription blood thinning products prior to your procedure (such as fish oil capsules, ibuprofen, and other common substances like alcohol). A complete list of blood thinning products to avoid can be found here. On the day of your surgery, we will provide you with arnica montana, an anti-bruising supplement which Dr. Wooten recommends to all surgical patients to help manage bruising, swelling, and inflammation.
After your procedure, Dr. Wooten will offer you an optional complimentary ear re-piercing. You may schedule this anytime following a minimum recovery period of 3 months after your surgery.
Your fourth optional appointment would be a follow-up appointment at one year post-op to chek on how you've healed.
That's all! We look forward to meeting you in our office.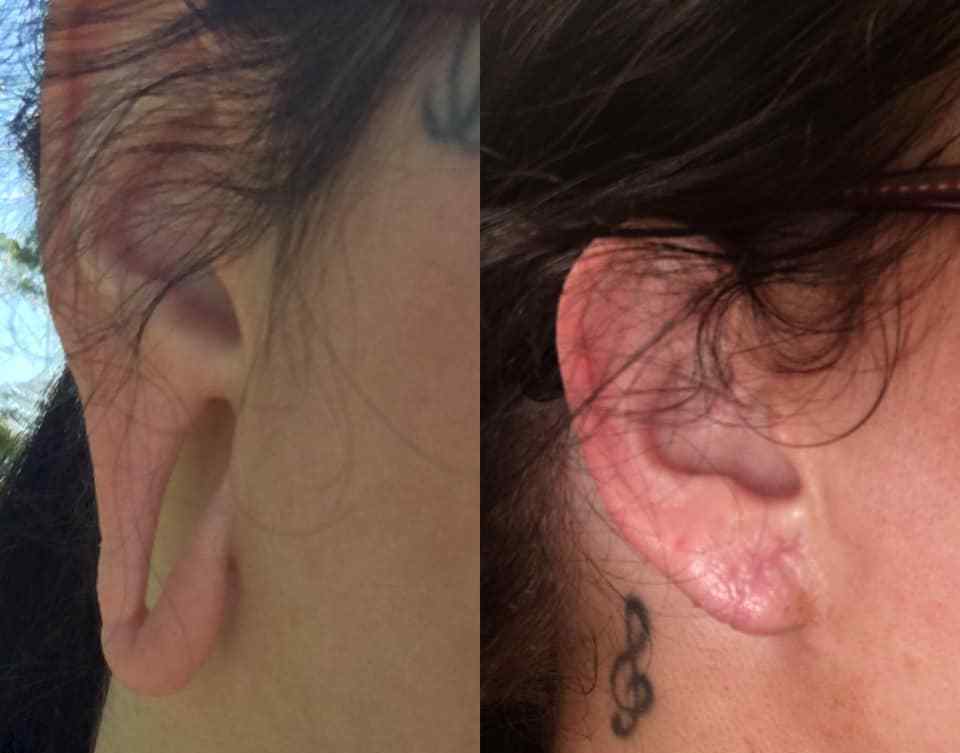 "My ears are in the final stages of healing and I am so beyond happy with my results. I am so glad I drove to Pittsburgh to have them done by Dr. Anna Wooten. She's a miracle worker with a scalpel! …If you need them fixed or just gone all together she's your girl! "

Patient Testimonial
Pricing
| | |
| --- | --- |
| Simple Earlobe Repair (One) | $825 |
| Simple Earlobe Repair (Both) | $1325 |
| Gauged or Stretched Earlobe Repair (One) | $1100 |
| Gauged or Stretched Earlobe Repair (Both) | $1725 |