Lower Body Lift
Conveniently located to serve the areas of Pittsburgh, PA
Beleza Plastic Surgery offers lower body lift surgery for men and women wanting to remove excess skin from their lower torso and waist following dramatic weight loss. After the hard work of losing weight through diet and exercise, getting rid of loose, hanging skin is often the last step in achieving your ideal figure. The lower body lift, also known as belt lipectomy, results in tighter, smoother-looking skin.
Dr. Anna Wooten has helped men and women from Pittsburgh to Cranberry Township and beyond look and feel their best with cosmetic surgery. Contact us online today or call 724-759-7777 to schedule your lower body lift surgery consultation.
Listen as Kris explains her removal of excess skin, breast lift, and lower body lift experience at Beleza.
Before and After Photos
Candidates for a Lower Body Lift
Even moderate weight loss can cause laxity in an individual's skin. If loose or deflated skin has collected around your midsection, buttocks and thighs, you are probably a good candidate for a lower body lift.
What to Expect in Your Body Lift Consultation
An in-person consultation with Dr. Wooten will ultimately determine how best to approach your specific areas of concern.
In consultation, Dr. Wooten will ask you about your medical history and then conduct a physical examination in which she will record your height and weight. She will inquire about previous surgeries and any current schedule of medication. Patients should keep in mind that lower body lifts are not intended for individuals who are extremely overweight.
The Surgery
Generally, the procedure takes about three hours. Dr. Wooten begins by lifting the skin and fat from your midsection up toward your rib cage. She then makes an incision around the navel (preserving it). Next, she proceeds to tighten the vertical abdominals from your solar plexus to your pubic bone with sutures. This creates a solid abdominal wall and a slimmer waist. Excess skin from the thighs and buttock is then removed and the remaining skin– carefully closed. Here, Dr. Wooten returns the skin that was originally pulled up from your midsection to its original position by pulling it down. She then trims all excess skin. Finally, Dr. Wooten creates a new opening for the navel and the remaining skin is fit together and sutured closed.
Recovering from Surgery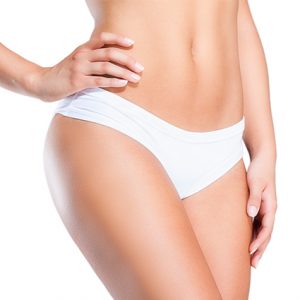 Dr. Wooten will prescribe medication to help manage pain experienced immediately after surgery. Initially, you will have trouble standing upright but we recommend walking as soon as it is tolerable. It can take several months before the mid and lower body feel 100% free of discomfort and swelling. After such time, your new body contour can be fully enjoyed.
Like what you see? Contact our office to schedule your consultation for a lower body lift.