Stretch Marks Treatment
Conveniently located to serve the areas of Pittsburgh, PA
Fractional Skin Resurfacing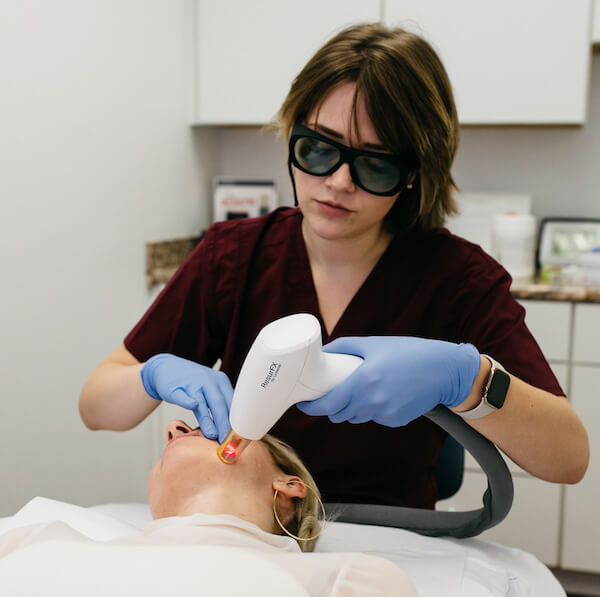 Your skin is a landscape of variation and vibrance. You cannot simply scrub it all with the same brush and hope to achieve an even tone and texture. Skin presents a bevy of inconsistencies like sun spots, acne, and pigmentation irregularities. To treat this wide array of conditions, you need a laser that is simultaneously thorough and selective.
Fractional skin resurfacing is the latest, least invasive and most effective laser procedure that you can undergo with minimal recovery time. To treat signs of aging skin, like those pesky fine lines and wrinkles, there is no better solution than Beleza's fractional laser treatment. In a series of treatments, our laser technician will stimulate the elastin in your skin to rejuvenate your appearance, leaving you with smoother, more supple skin.
We have helped men and women from Pittsburgh to Cranberry Township and beyond look and feel their best with med spa treatments, like our laser facials. Contact us online today or call 724-759-7777 to schedule your fractional skin resurfacing consultation.
We also provide virtual consultations for those who are unable to visit us in person.
Before and After Photos
What Is Fractional Laser Resurfacing?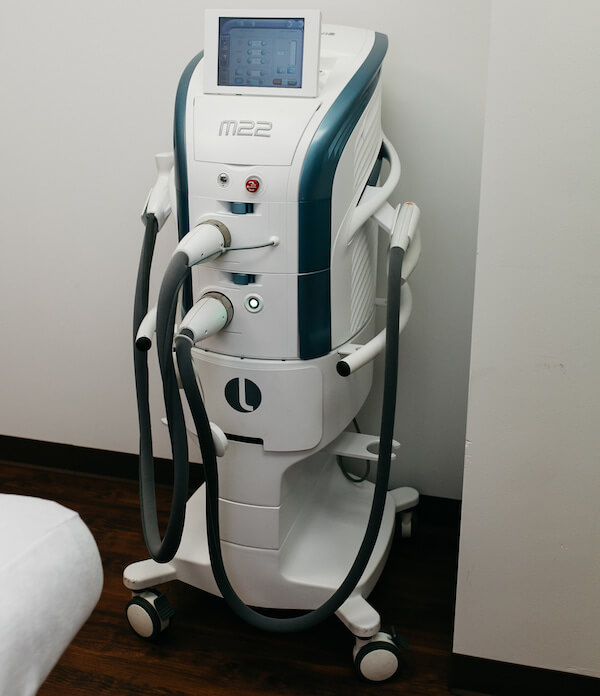 Fractional laser resurfacing is a revolutionary way to replenish your elasticity. At Beleza, we are proud to offer ResurFX, a fiber laser that operates at a wavelength of 1565 nanometers.[1] ResurFX empowers you to choose from approximately 600 treatment variations, ensuring you the best tool of the trade in regards to your skin resurfacing needs. Fractional lasers get their name from their ability to treat a fraction of your skin at a given time, rather than attempting to blanket your epidermis with a harmful ray that can do more damage than good.
Our fractional lasers are non-ablative, which means they do not destroy or remove layers of skin.[2] Instead, the ResurFX device is designed to target imperfections while leaving the surrounding tissue unharmed. It does this by utilizing CoolScan technology, which maps out your skin and identifies the irregularities that need treatment. The laser is strictly controlled, applying heat exactly where it is needed while maintaining your overall sense of cool. ResurFX delivers real, long-lasting results without necessitating the downtime associated with harsher ablative lasers.
Benefits of Skin Restoration
The benefits of ResurFX appear in two brilliant waves. First, there are the short-term rewards of smoother skin and a glowing complexion. You will beam at the mirror image looking back at you. But the next wave of benefits is perhaps even more profound. The boost in confidence afforded to recipients of ResurFX is nothing short of astounding. When you present an even sheen to the world, you can leave insecurities behind. The skin you show reflects your ideal self, and Beleza is thrilled to facilitate your transformation.
Benefits of Fractional Lasers
Reduces fine lines and wrinkles
Evens and brightens dull complexion
Minimizes large pores
Smooths rough skin texture
Softens surgical or trauma scars
Reverses sun damage
Alleviates acne scars[3]
To experience the benefits of fractional skin resurfacing for yourself, contact Beleza.
Ideal Candidates
If you are looking for a way to even the texture of your skin and minimize fine lines and wrinkles, you may be a great candidate for a series of non-ablative fractional treatments. ResurFX really works, and it is the gentlest way to effectively resurface your skin.
Eligible recipients must be in good health and do not have active infections or breakouts along the area they want treated. Additionally, patients currently taking antibiotics or other light-sensitizing medications will have to discontinue them at least 3 days prior to treatment. To determine your candidacy for fractional laser resurfacing, please call 724-759-7777 or contact Beleza online.
Private Consultation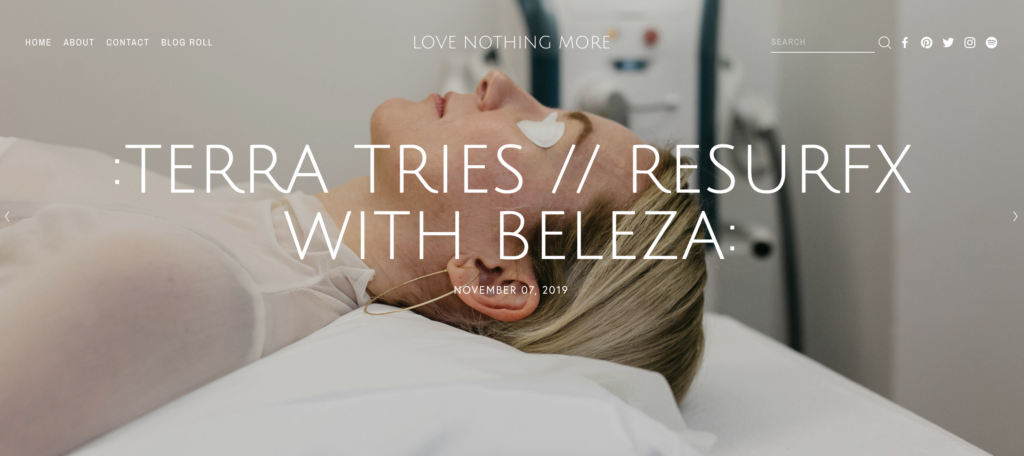 Blogger Terra McBride of Love Nothing More visits Beleza for her ResurFX treatment, see what she had to say.
Whether you book some face time with Beleza's aesthetic nurse providers virtually or visit us in person, you are meeting with a master of aesthetics. Under the direction of board-certified plastic surgeon, Dr. Anna Wooten, Beleza's aesthetic nurses specialize in the latest anti-aging and beautifying technology, like ResurFX laser treatments. Beleza's nurses will assess your health and wellness holistically, recommending the best approach to your complexion needs. If ResurFX is the best method of resurfacing for your skin, a Beleza nurse will explain the process in detail as she moves forward with your treatment. If another approach is more beneficial, the provider will steer you toward a more optimal treatment for your needs.
After all, improvement begins with communication. Please be ready to share your medical history and future goals with Dr. Wooten and her staff of experienced aesthetic R.N. providers during your consultation. In a continued effort to communicate our dedication and expertise to the Pennsylvania communities of Pittsburgh, Sewickley, Cranberry Township and beyond, we regularly update our blog. Feel free to peruse our posts and bring any insights or questions with you to your consultation with Dr. Wooten and Beleza's aesthetic nursing staff.
Preparation and Procedure
Since ResurFX is less invasive than surgery and ablative laser treatments, the preparation required is minimal. Dr. Wooten may advise you to treat your skin with certain moisturizing products in the weeks prior to your procedure.
During treatment sessions, a laser is used to stimulate new collagen growth. Because this is a light-based treatment, you will be required to avoid UVA/UVB sun exposure in the weeks leading up to and following your treatments. This is to minimize your risk of negative side effects. Otherwise, the non-ablative fractional treatment entails very little pre- and post-op care and carries with it a very low risk.
Healthy Recovery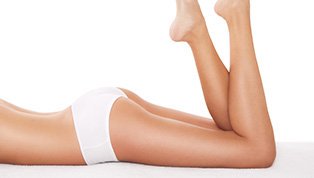 Recipients of ResurFX report minor swelling and redness that resembles a mild sunburn, but these effects should subside within a few days. You will be able to return to work and other normal activities the day after your fractional laser treatment.
Most patients require multiple sessions to maximize the results of ResurFX. Dr. Wooten recommends waiting approximately one month between treatments to allow your collagen to do its healing work.
Stunning Results
The long-lasting effects of the ResurFX laser make it popular among those who have been treated. After your series of treatments, you will see a marked improvement in the evenness and elasticity of your skin. It can take several months (up to a year) for your results to fully develop, so you will have to be patient — collagen growth is not an overnight miracle.
Great things come to those who wait, and we have the glowing reviews to prove it. Our patients are like our family, and we are proud of every kind word they have shared with us. Beleza vows to continue providing 5-star service to our friends and neighbors in Western Pennsylvania and beyond. To experience the wonders of fractional laser skin resurfacing for yourself, contact us today!
Complementary Procedures
Lasers illuminate a brighter tomorrow for your complexion, but beauty is more than skin deep. The scaffolding beneath the surface of your skin must be maintained to prop up your attractive shimmer. That is why Beleza offers a full suite of fillers and injectables to fulfill your skin from within.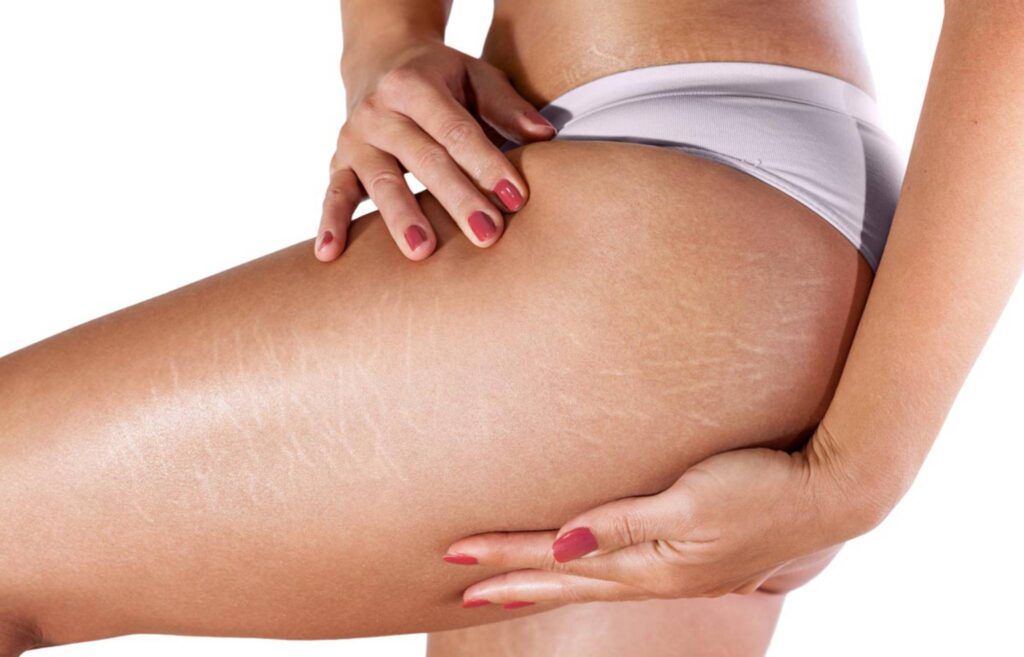 If you struggle with deep creases resulting from excessive facial muscular contractions, consider the benefits of Botox Cosmetic. This neuromodulator disrupts the chemical signals that flow from your neural junctions to your muscles. Botox eases your tension and ushers in a serene, smooth demeanor.
When gaps appear beneath the surface of your skin, it can lead to loose, wrinkled skin. Fillers, like Juvéderm, plump the gaps and volumize your features. Juvéderm contains hyaluronic acid, which is naturally occurring in the human body. Hyaluronic acid cradles moisture to bring hydration and harmony to your appearance.
FAQ
How much does fractional skin resurfacing cost in Pittsburgh?
A healthy complexion is priceless, but there are certain costs associated with achieving your ideal glow. Fractional lasers like ResurFX are priced according to their application, which is specified to your needs and desires. For example, a small treatment area requires less resources than a larger one. The fractional laser can be tuned to accommodate you, and so should its cost.

Beleza is proud to offer financing options to our patients. We also run occasional specials. And we are always eager to discuss your pricing questions and concerns, so please do not hesitate to call us at 724-759-7777.
How many treatments will I need?
The answer will depend on the severity of your condition. Beleza's aesthetic nurse providers will evaluate you during your virtual consultation, and can recommend the number of treatments you may require.
Will I look "normal" after laser skin resurfacing?
Your face will appear inflamed immediately following the treatment. This fades quickly and Beleza's aesthetic nurse providers will help to manage inflammation by applying a calming masque. Any remaining redness should be easily covered by a light mineral makeup.
References
Lumenis manufacturer's site. (2020). ResurFX product page, retrieved from https://lumenis.com/aesthetics/products/m22/resurfx/
Narurkar, V. A. (2009). Nonablative Fractional Laser Resurfacing.
Dermatologic Clinics. 27(4)473 – 478. DOI: https://doi.org/10.1016/j.det.2009.08.012
Hedelund, L., Moreau, K. E. R., Beyer, D. M., et al. (2010). Fractional nonablative 1,540-nm laser resurfacing of atrophic acne scars. A randomized controlled trial with blinded response evaluation. Lasers in Medical Science. 25, 749–754. https://doi.org/10.1007/s10103-010-0801-1