Laser Hair Removal
Conveniently located to serve the areas of Pittsburgh, PA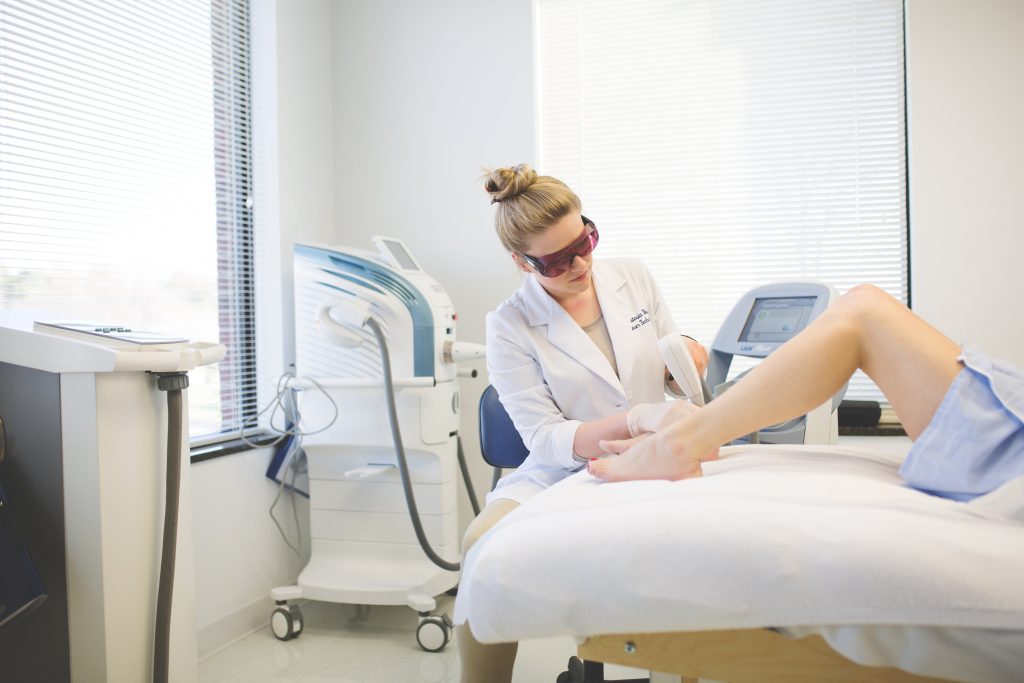 Embarrassed by certain patches of hair? Sick of shaving? Dread the discomfort of waxing? Laser hair removal has become one of the most popular and common ways to manage unwanted, dark or coarse hair on the face and body. Laser hair removal is less painful than waxing or electrolysis and leaves your skin feeling smooth, eliminating the bumpy, irritated skin associated with other hair removal methods.
Before and After Photos
The laser technicians at Beleza Plastic Surgery & Medical Spa are exceptionally trained and knowledgeable on laser hair removal. They have helped men and women from Pittsburgh to Cranberry Township and beyond look and feel their best with our med spa treatments. Contact us online today or call (724) 759-7777 to schedule your laser hair removal consultation.
What is laser hair removal?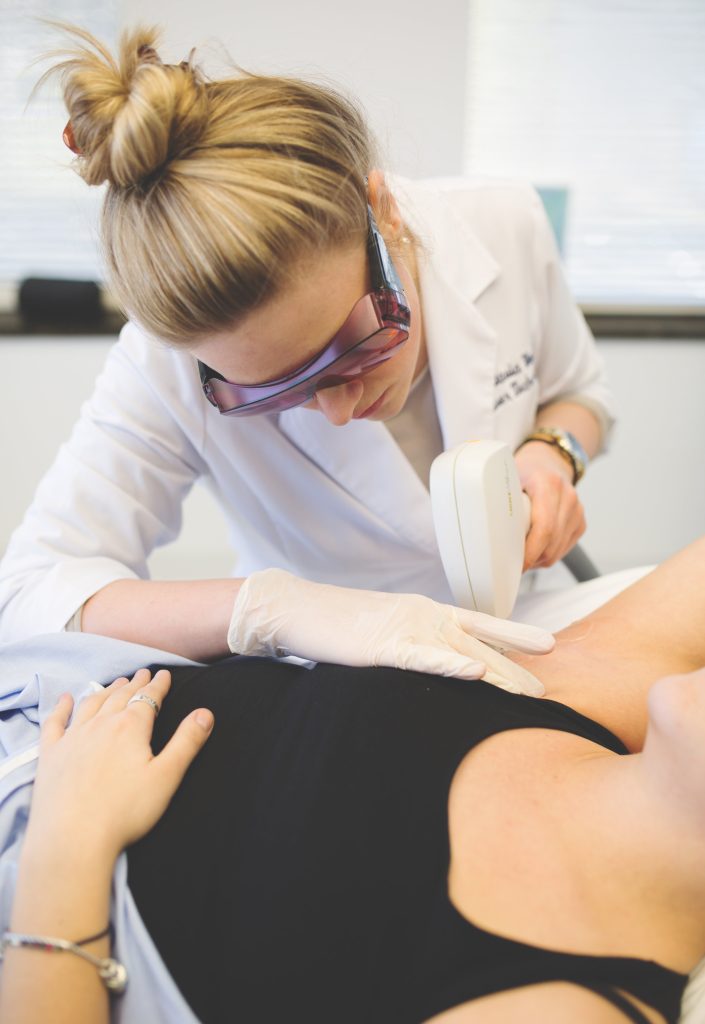 Laser hair removal is a wonderful alternative to traditional hair removal approaches. It is a long-lasting solution to having smoother skin both on the face and body. The cause of the excess hair could be any of a variety of factors from hirsutism, to PCOS (polycystic ovarian syndrome), to just being born hairy! Women often choose to have their underarms or bikini areas treated, while some men may choose to do their backs, chests, or even fingers. Another popular option for men is 'beard-shaping.' This targets hairs on their necks and cheeks, to allow for a defined beard-line.
Traditional ways of removing hair can come with nicks, pain, chemical burns, skin irritation, and razor burns. Laser hair removal utilizes the power of precise laser energy to target the hair follicles. After each round of laser hair hair removal treatment, fewer hairs grow back, resulting in smoother, hair-free skin at the treatment site! The razors, waxes, and creams can be put away as you enjoy your laser hair removal results from Beleza!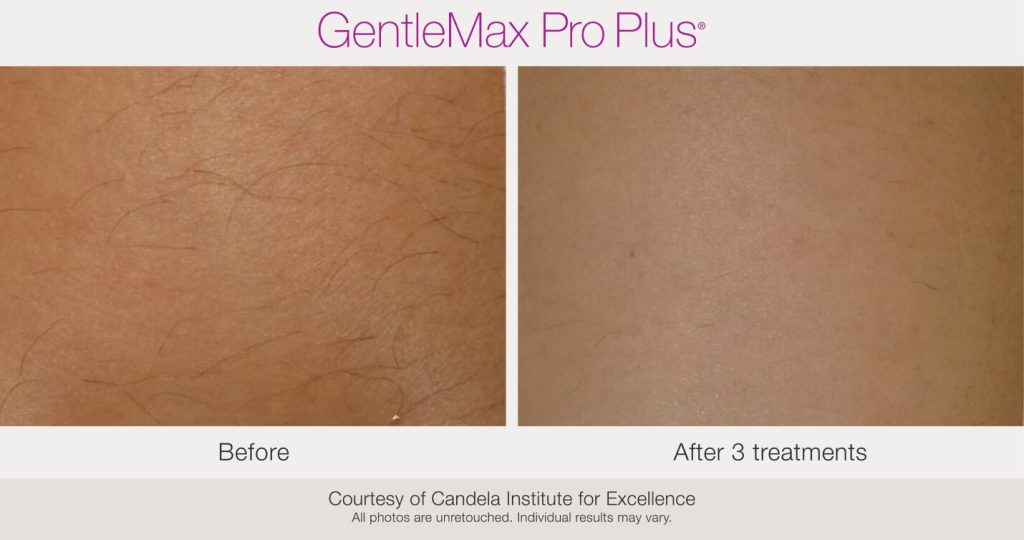 Candela's GentleMax Pro Plus Laser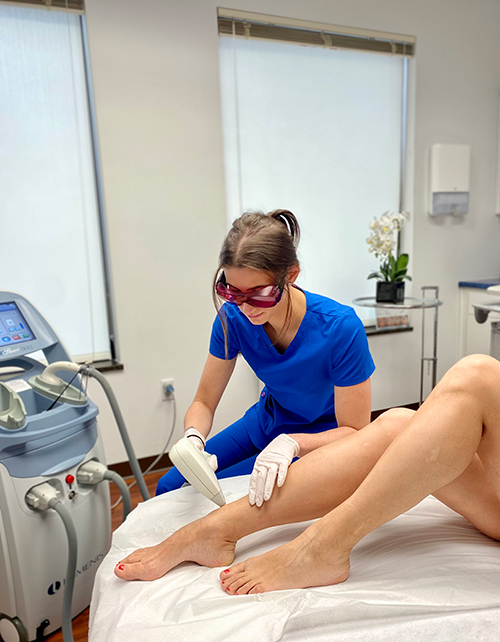 Beleza Plastic Surgery & Medi-spa has invested in Candela's GentleMax Pro Plus laser because Dr. Wooten believes that it is the finest laser hair removal technology available today.
First, it is a dual wavelength laser, meaning that it has two different wavelengths of light that can be used to target different types of hair and skin. The 755nm Alexandrite laser is ideal for treating fine, light-colored hair on lighter skin tones, while the 1064nm Nd:YAG laser is ideal for treating coarser, darker hair on all skin tones, including darker skin tones. This makes the GentleMax Pro Plus laser the most versatile laser hair removal system on the market, and it is suitable for all skin types and hair colors.
Second, the GentleMax Pro Plus laser is very fast and efficient. It can treat a large area of skin in a short amount of time, making it ideal for treating larger areas such as the back, legs, and chest. The laser also has a large spot size, which means that it can cover more skin with each pulse, further reducing treatment time.
Third, the GentleMax Pro Plus laser is very safe and comfortable. It uses a patented Dynamic Cooling Device (DCD) to protect the skin during treatment, making it one of the most comfortable laser hair removal systems available. When we ask our patients about their comfort levels during treatment, they consistently say this is the least painful hair removal experience they have ever had, thanks to the cooling effects of the cryogen blast of air. The DCD delivers a cooling spray to the skin before, during, and after each pulse of laser energy, which helps to minimize discomfort and prevent side effects.
Finally, the GentleMax Pro Plus laser has been clinically proven to be highly effective at permanent hair reduction. Studies have shown that the laser can reduce hair growth by up to 90% after just a few treatments, though we recommend anywhere from 6-10 treatments for most patients.
In addition to the above benefits, the Candela GentleMax Pro Plus laser is also backed by a long history of innovation and excellence. Candela is a leading manufacturer of many laser hair removal systems, and the GentleMax Pro Plus laser is their most advanced system to date. Beleza is proud to be the first practice in the region to carry this technology.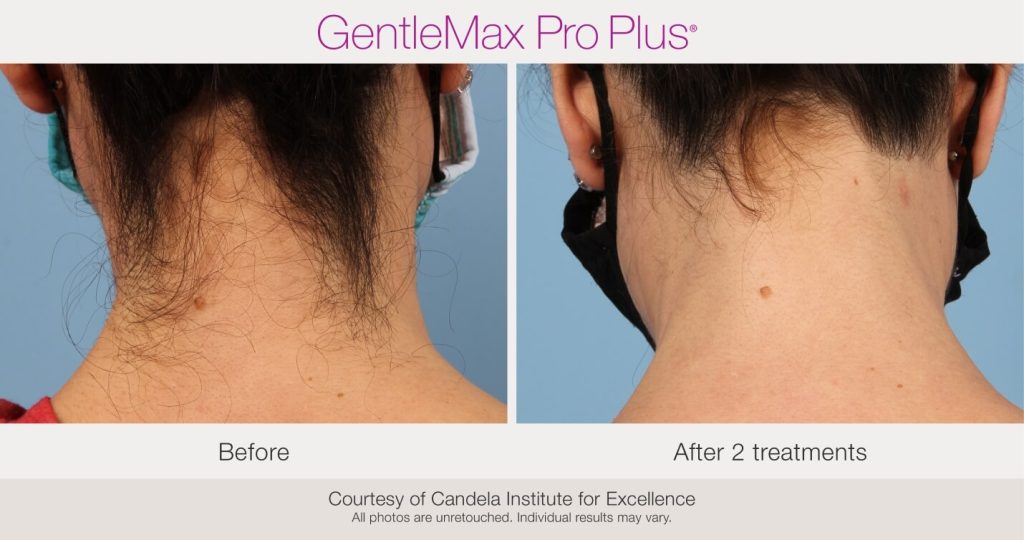 Benefits of Laser Hair Removal
Less ingrown hairs
Smoother skin
Long-term hair removal solution
Safe procedure
No downtime
Treat large or multiple areas quickly
Save time and money compared to other hair removal options
If you are ready to experience the amazing benefits of laser hair removal for yourself, contact Beleza today to schedule a consultation with one of our aesthetic providers.
Laser Hair Removal Candidates
Typical laser hair removal patients are those who wish to remove and/or greatly reduce unwanted hair. Ideal candidates for laser hair removal are individuals who have darker hair against healthy lighter/fairer skin. The significant contrast between the color of the targeted hair and skin is ideal for our laser to concentrate its energy on the hairs' melanin. Because of this, those with white, blonde, gray, or light red hair may not be ideal candidates for laser hair removal.
To determine whether or not you are a candidate for laser hair removal treatments, call our office and schedule a consultation with our certified laser technicians.
Your Private Consultation
When you come into the Beleza office for your laser hair removal consultation, you will meet with one of our certified laser technicians technicians. They will spend time with you, answering any questions you may have, discussing your concerns, and reviewing your skincare history.
If you want to learn more about laser hair removal and how it can help you with your aesthetic goals, contact Beleza Plastic Surgery & Medical Spa today to schedule your one-on-one consultation!
During your consultation, we will need to know whether or not you have been spending time in the sun. The laser hair removal procedure can increase your risk of hyperpigmentation, so it is best performed when your exposure to sunlight is minimal. Therefore, your series of laser hair removal treatments is best done in the fall, winter or spring. It is imperative to consistently apply sunscreen prior to and following the procedure in order to minimize your risk of hyperpigmentation or irritation.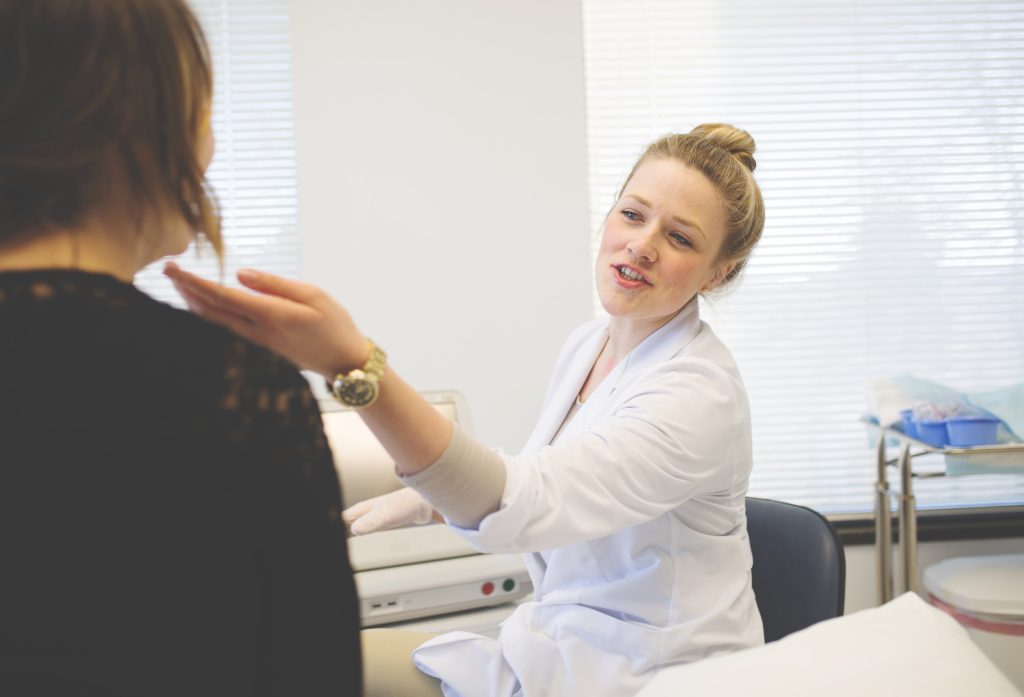 While our lasers are highly effective, they, like all other laser procedures, require multiple treatments in order for the effects to be long-lasting. The number of treatments will vary from patient to patient and may be anywhere from 6 to 10 sessions. It will be determined by your skin tone, hair color, and the coarseness of your hair, as well as how much hair you have. These specifics will be discussed in your consultation prior to treatment.
Preparation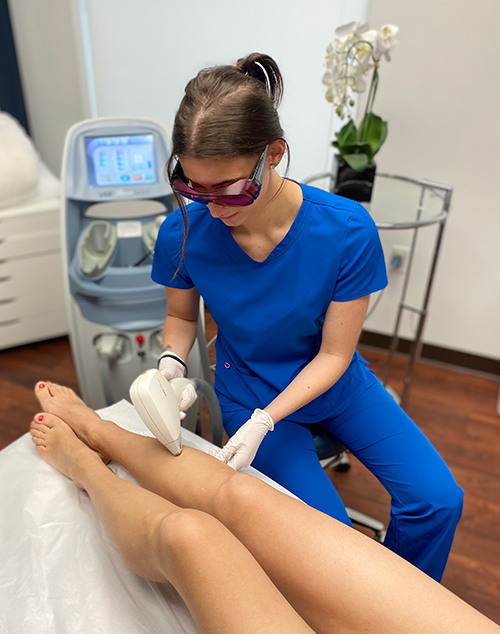 During your consultation with your Beleza laser technician, you will be provided specific instructions on how to best prepare for your laser hair removal appointment. Generally, patients are directed to shave the treatment area within 24 hours of their appointment. You should not wax or tweeze the area as the hair follicle needs to remain intact for effective treatment. Sun exposure should be avoided for about one month prior to treatment. Ideally, you should not apply anything to your skin in the treatment area on the day of your laser hair removal as any lotions, makeup, deodorants will be removed during the procedure.
If you have any questions about preparing for your laser hair removal appointment, do not hesitate to contact a member of our helpful Beleza staff.
Laser Hair Removal Procedure
Depending on the size and number of areas you will have treated, your laser hair removal appointment may take as little as a few minutes. Your Beleza laser technician will clean the treatment area and provide you with protective glasses to wear during the procedure. Despite this, you should not look directly into the laser beam at any time.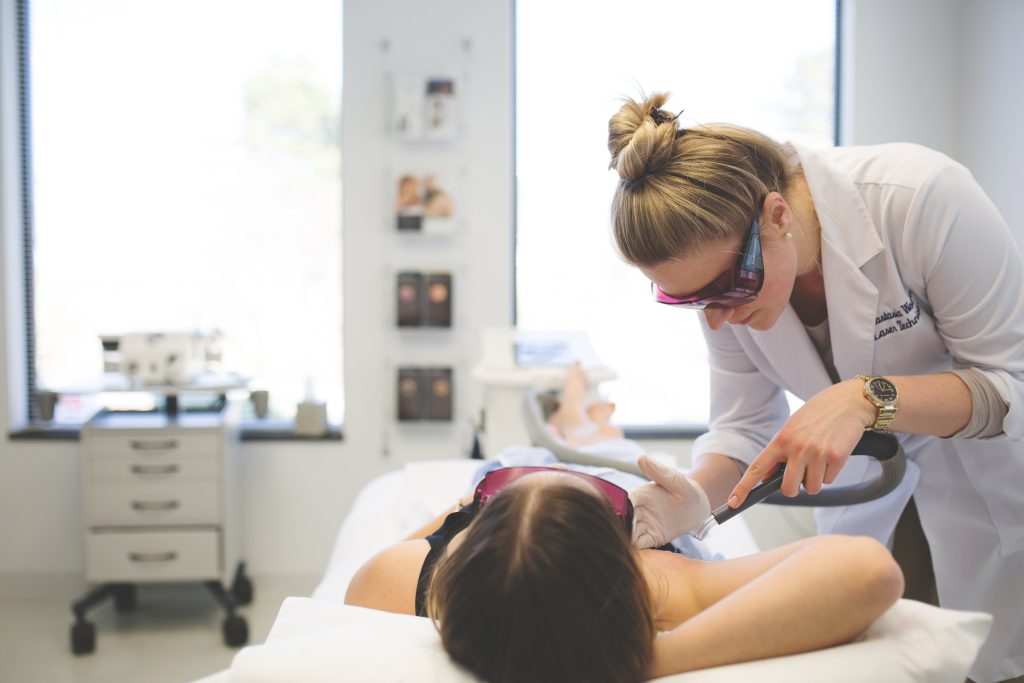 Your laser technician will gently guide the handheld laser device across your skin. The beam of laser energy will target the hair follicles in its path. Each time the laser pulses, you may feel a slight stinging sensation. Many patients report this is tolerable and results in minimal discomfort.
To help you manage any discomfort, your laser technician can numb your skin prior to treatment with a topical numbing cream. You may also have the option to be administered ProNox for pain and anixety management. This system allows you to minimize any anxiety you may feel during treatment!
Because the laser energy works to destroy the follicles, future hair growth will be minimized, if not eliminated. Since hairs in the "active" phase of the growth cycle are most effectively treated, you will need to return to Beleza in order to maximize your results.
Recovery
Immediately after your laser hair removal procedure, your skin may show signs of mild swelling and redness, but these should subside within a few hours of your appointment. You should avoid hot showers and applying lotions and perfumes to the treatment area for a few days following laser hair removal. Direct sun exposure and artificial tanning should be avoided for 6 weeks after treatment. To further protect your skin, be sure to apply sunscreen daily to help prevent hyperpigmentation and burning while you are outside.
Results
Once you complete your individualized course of laser hair removal, you can expect 70% or more of hair in the treated area to be gone for good! Any hairs that remain will grow back finer and lighter. You may need 1-2 maintenance laser hair removal treatments during the years following your laser series in order to maintain your best results.
Do you want to say goodbye to painful or DIY hair removal methods and still have hair-free skin? Get rid of the stubble and choose Beleza for your laser hair removal treatment! Call us at (724) 759-7777 or fill out our short form to schedule your laser hair removal consultation!
How much does laser hair removal cost in Pittsburgh?
The cost for laser hair removal will be unique to you as there are a number of individualized factors to consider. One such factor would be the size of the area treated.
When you come to Beleza for a consultation, you will be provided with a price quote. This price will take into consideration the size and number of treatment areas and the number of sessions necessary to provide excellent results.
Schedule a laser hair removal consultation with Beleza today!
FAQ
Why do I need to be so cautious about sun exposure while undergoing laser hair removal treatments?
Light-based treatments, such as laser hair removal, can greatly increase your skin's sensitivity to UVA & UVB radiation. Exposure during the four weeks leading up to treatment and four weeks after treatment can lead to adverse effects, such as hyperpigmentation or rashes. To minimize your risk, we recommend always wearing sunscreen and postponing treatment if you are planning on spending a significant amount of time in the sun (e.g. if you are going on vacation or spending time at the pool).
Where on my body can I receive laser hair removal?
You can have laser hair removal treatment in just about any area of your body! Silky, smooth skin is possible anywhere outside of areas around the eyes. As long as your skin is healthy, intact, and away from your eyes, laser hair removal is possible. Just be sure to stay away from sun exposure for a month before and after treatment. Also, let us know about any medications, oral or topical, that you may be taking just so we can determine if laser hair removal is right for you. 
Why should I choose Beleza for laser hair removal treatment?
The Beleza Plastic Surgery Center, located between Pittsburgh, Sewickley, Wexford, and Cranberry Township, is a great location for local hair removal. Because effective laser hair removal can require up to seven treatments, you're going to want to choose a laser center within a reasonable proximity to your home or work. Combine our great location with the fact that our laser is one of the safest and most advanced hair removal instruments available, it's no wonder that Beleza Plastic Surgery is the first choice for hair removal in the Pittsburgh area.
Call us today at (724) 759-7777 to schedule your convenient consultation!
Additional Resources
American Society of Plastic Surgeons. (2020). Laser Hair Removal: Hair Removal Procedure. Retrieved from https://www.plasticsurgery.org/cosmetic-procedures/laser-hair-removal
Villines, Z. (2018). How long does laser hair removal last? Retrieved from https://www.medicalnewstoday.com/articles/322090