Gynecomastia
Conveniently located to serve the areas of Pittsburgh, PA
Excess breast tissue on a man's chest can be caused by gynecomastia, which is a hormonal imbalance of estrogen and testosterone. It can occur in one or both breasts and in men of all ages, even in newborns. Developing male breasts can lead to embarrassment and low self-esteem. Gynecomastia is easily reversible though. In most cases, Dr. Anna Wooten can correct gynecomastia with male breast reduction surgery.
Dr. Anna Wooten has helped men and women from Pittsburgh to Cranberry Township and beyond look and feel their best with cosmetic surgery. Contact us online today or call 724-759-7777 to schedule your gynecomastia surgery consultation.
Before and After Photos
Candidates for Gynecomastia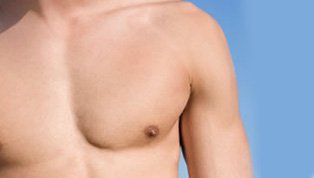 Gynecomastia most commonly develops in pubescent men. Although most cases of pubertal gynecomastia naturally disappear within 1-2 years after the male's final stages of puberty, many men continue to be affected by the condition long into adulthood. If the gynecomastia persists past 1 year, then treatment is probably warranted.
You may be a good candidate for gynecomastia surgery if you:
Want to get rid of overdeveloped male breasts
Have excess breast tissue/skin
Are seeking treatment for a hormonal imbalance
Are generally healthy individual, near a stable weight
Do not smoke
Men seeking to reduce their chest tissue to create a more masculine contour may turn to male breast reduction to permanently resolve their gynecomastia. The only way to know that you are indeed a candidate for this procedure is to schedule your consultation with a board certified plastic surgeon.
Gynecomastia: The Procedure
Male breast reduction plastic surgery does not differ dramatically from female breast reduction, except in that, usually, men want all of the breast tissue completely removed, resulting in a flat, masculine chest.
Recovery
There is a very quick recovery following a gynecomastia correction procedure. However, there are some lifting restrictions. You should avoid moderate and heavy lifting for 4-5 days. After 5 days, you should be able to resume normal activities. It may take up to 3 months before the final result is fully visible.
To learn more or to find out whether you are a candidate, schedule your consultation for gynecomastia in Pittsburgh with Dr. Wooten by contacting us today!
Gynecomastia Surgery FAQs
What should I expect during the procedure?
Gynecomastia surgery reduces breast size in men, flattening and enhancing chest contours. Board-certified plastic surgeon Dr. Dr. Anna Wooten, MD, FACS, uses a combination of techniques to accomplish the most aesthetically pleasing results. Depending on your condition, Dr. Wooten will perform one or a combination of the following:
Liposuction
Breast tissue removal
Excess skin tissue removal
Repositioning of your areola
You'll be given a local anesthesia to ensure your comfort throughout the procedure. The procedure should last two to three hours.
What are the risks of Gynecomastia surgery?
As with any invasive surgery, there are risks. Some of these risks include:
Anesthesia risks
Bleeding
Breast asymmetry and irregularities
Blood clots
Changes to nipple or breast sensation, may be temporary or permanent
Damage to deeper structures, may be temporary or permanent
Deep vein thrombosis, cardiac and pulmonary complications
Fluid accumulation (seroma)
Infection
Persistent pain
Poor wound healing
Unfavorable scarring
In the hands of an experienced surgeon such as Dr. Wooten, risks are rare.
What will recovery be like?
You will have dressings covering the incision sites to minimize swelling and protect your new breasts as they heal. You will also use a compression garment to minimize swelling and support the new chest contour as it heals. Dr. Wooten discusses directions for care to help promote a quick and uneventful recovery, which will include rest and restrictions on lifting and physical activity.
You will have to limit motion of the arm on the side of the surgery for a few weeks to discourage fluid formation.
In some cases, Dr. Wooten may place a drain at each incision site. If so, you will be educated on how to empty and record the amount of fluid. You should expect a full recovery within six weeks.
What can I do after my male breast reduction surgery to achieve the best results?
Like any other plastic surgery procedure, it is very important that you closely follow Dr. Wooten's pre and post-operative instructions and attend all your post-operative visits. Male breast reduction patients should wait about a week before returning to work (although this does depend on their occupation.)
When will my results be noticeable and how long will they last?
The final results about Gynecomastia surgery are permanent in many cases.
There will be some swelling and incision lines, but swelling and scarring will subside and fade over time. Though the results of surgery are lasting, it's important to maintain a healthy lifestyle to include a balanced, nutritious diet and regular exercise. If Gynecomastia resulted from the use of certain medications, illicit drugs, steroids, and weight gain, you must be free from these substances and remain at a stable weight to maintain your results.
If you have Gynecomastia and feel awkward or ashamed of your enlarged breasts, call Dr. Wooten at Beleza Plastic Surgery and Medi-Spa or email to find out more about Gynecomastia surgery.