Chin Augmentation
Conveniently located to serve the areas of Pittsburgh, PA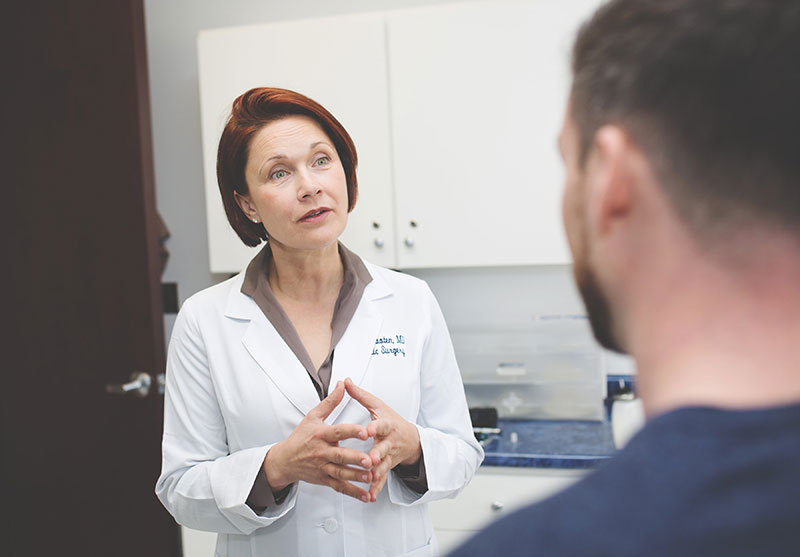 A chin augmentation is an ideal way to add structure and definition to your face. This surgery is popular among men seeking a more defined jawline and women looking to add balance to their facial features.
In a chin augmentation, Dr. Anna Wooten places a permanent implant in the chin, making her incision under the jaw. This incision method ensures that scarring is minimal and hidden.
Dr. Anna Wooten has helped men and women from Pittsburgh to Cranberry Township and beyond look and feel their best with cosmetic surgery. Contact us online today or call 724-759-7777 to schedule your chin augmentation consultation.
Before and After Photos
Your Chin Augmentation Consultation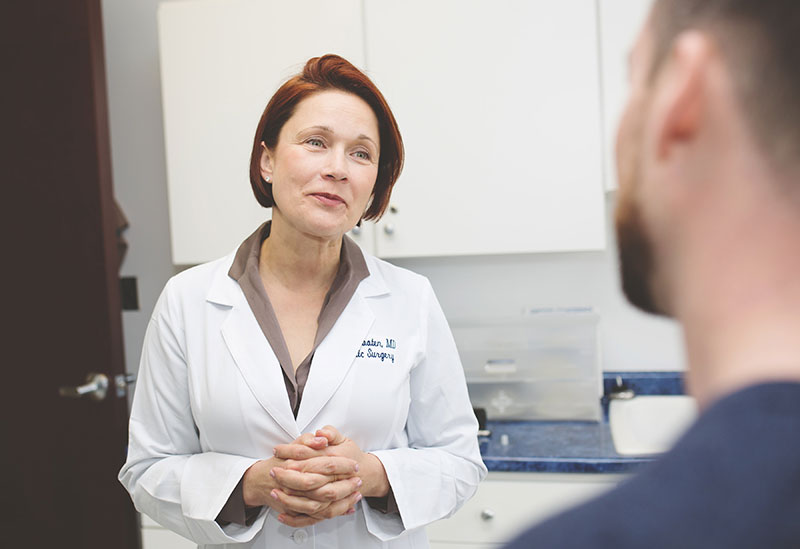 In your first consultation, Dr. Wooten will perform an examination in which she will assess your neck and chin structure. She will also observe your dental anatomy, specifically how your teeth line up in relation to your chin. Computerized renderings and before and after photos of previous patients will give you an idea of the results that may be attainable with a chin augmentation.
The Surgery
Chin augmentation surgery requires the use of a hard silicone chin implant. The chin implant is inserted through an incision made underneath the jaw line, in order to hide scarring. Sometimes a groove for the implant is created by shaving away small amounts of the anterior mandible bone.
Recovery
Recovery time is very short following a chin implant. Swelling may last for a few days, or longer. Our office will help you manage swelling with homeopathic drugs and compression garments.
You will be able to return to work within days. Following surgery, you will experience numbness surrounding the area of your chin implant. This will gradually dissipate in a few weeks to months.
How Much Does Chin Augmentation Cost in Pittsburgh?
Dr. Wooten will also consider the surrounding areas when enhancing your lower face. After all, by performing liposuction on the neck, it may help your chin look more pronounced by comparison. During your initial consultation with Dr. Wooten, you will receive an exact quote for chin augmentation surgery. This quote includes all services (pre-operative appointments, post-operative appointments, surgery, and other necessary products or services) provided with the chin implant.  
Chin Augmentation FAQs
How do I know if I am a good candidate for a chin implant?
Good candidates for a chin augmentation are typically those who have a recessed chin. If your profile seems imbalanced, a consultation with Dr. Wooten may be the right opportunity for you to determine whether or not a chin implant would work for you.
Is there a way to add a chin dimple?
Yes, however, the methods used to accomplish a chin dimple vary according to patient and circumstance. Dr. Wooten will advise you as to the best course of action during you consultation.
Will a chin augmentation with an implant improve my flabby neck?
Yes, but only within certain limits. If a double chin concerns you, liposuction can be combined with your procedure to give you a more defined result.