Restylane Refyne
Conveniently located to serve the areas of Pittsburgh, PA
Restylane Refyne is a dermal filler designed to treat the effects of aging on the nasolabial folds. Also known as laugh lines and marionette lines, these signs of aging are often visible when you smile.
Refine Your Natural Beauty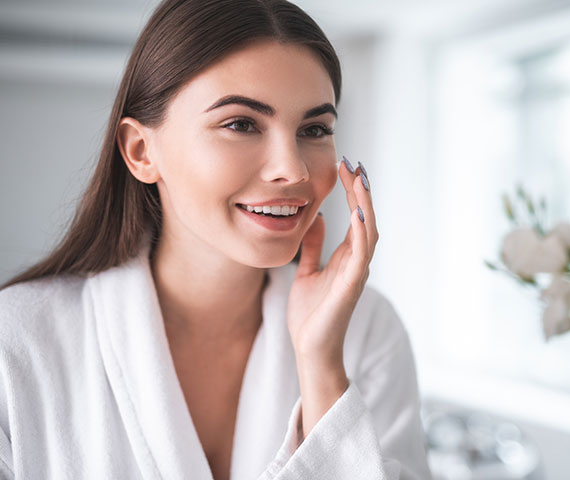 As we age, time and the sun leave their marks on our faces. Laugh lines and marionette lines are common undesirable consequences of aging. Fortunately, you can liberate yourself from time and the sun pulling the strings on your face. As we age, we also lose volume in the region of our faces around the mouth. Restylane Refyne can reduce the effects of aging and revive the youthful vigor around the mouth. Restylane Refyne smooths marionette lines and restores an effervescent volume to the face.
At Beleza, we want to help you bring out your own natural beauty. You are a beautiful person who doesn't need an overly "done" look. We specialize in maximizing your potential by reversing the unwanted effects of aging.
Dr. Anna I. Wooten is a board-certified plastic surgeon who specializes in all forms of anti-aging treatments. When considering an anti-aging treatment, you don't want to visit a pop-up mini-mall medspa with no credentials. You want to trust a verified expert in the field of anti-aging. Dr. Wooten supplies you with that expertise so you can achieve the vitality you deserve. To learn more about how Restylane Refyne can help you evade the effects of aging, reach out online or give us a call at (724) 759-7777. Virtual consultations are now available to make it more convenient for you to begin your rejuvenating journey. Keep updated on the latest news from Beleza by following our blog.
Before and After Photos
About Restylane Refyne
There are two basic processes that age our skin. One is inevitable: intrinsic aging. This happens as we get older no matter what we do. Intrinsic aging results from natural hormonal changes. The second process is extrinsic aging, which results from the effects of sun exposure and how it impacts our skin. The effect of sun exposure is why extrinsic aging is also called photoaging. Photoaging and hormonal aging cause a loss of elasticity in the skin, an increase in dryness, and a reduction in facial volume.
Collagen and elastin are natural fibers that support our skin. Collagen influences the fullness or volume of the skin. Elastin works to keep the skin tight. Both collagen and elastin production decrease from intrinsic aging and photoaging. Restylane Refyne was formulated specifically to treat aging issues around the nasolabial folds.
What Makes Restylane Refyne Work?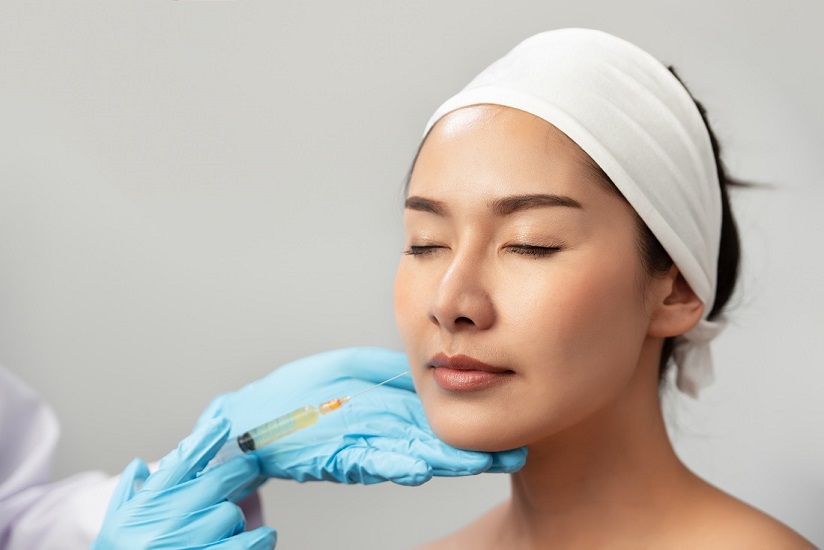 Restylane Refyne is a dermal filler developed using hyaluronic acid (HA). Hyaluronic acid occurs naturally in our bodies. It has a unique ability to absorb and retain water. Hyaluronic acid has established therapeutic effects across many areas of the body, including the skin.[1] As we age, our bodies lose the HA in our skin. This affects how we look when we smile or use other facial expressions. Natural facial expressions are an integral aspect in non-verbal communication. We don't want to look like unnatural marionettes after all. Hyaluronic acid fillers are considered the "gold standard" in dermal fillers because they produce beautiful and natural results during facial expressions.[2] A hyaluronic acid injection leverages the powerful ability of HA to fill the underlying skin tissue with a compound that absorbs water. Reinstalling HA in our skin tissue revitalizes our skin by re-volumizing our skin, which also smooths over undesirable lines and creases.
Benefits
Smooths laugh lines and marionette lines
Softens the aging process
Revolumizes the treated region
Revitalizes our face with a natural, youthful glow
Natural-looking results during facial expressions
Long-lasting results
Safe and FDA approved
Very low risk of allergic reactions
Am I an Ideal Candidate?
If you maintain a healthy lifestyle, live in the Pittsburgh metropolitan area, and wish to reclaim that youthful radiance and volume in your face, you might be an ideal candidate for Restylane Refyne. Ideally, you are a non-smoker. Smoking increases the number of health risks that everyone should avoid. If you're a smoker, make sure to mention this during your initial consultation.
You should also hold realistic expectations. Restylane Refyne was designed for mild to moderate laugh lines and marionette lines. If you have severe facial creases, a different treatment might better serve your needs.
We can't stop aging, but we can reduce the visible effects that time and the sun leave on our skin with biocompatible dermal fillers such as Restylane Refyne. You should postpone Restylane Refyne treatment if you have active skin sores, pimples, rashes, or infection. Make sure to discuss any prescription medication you might be taking during your consultation to ensure compatibility.
Schedule Your Private Consultation With Dr. Wooten
Dr. Wooten empowers women to look good and feel great about themselves. Dr. Wooten represents the epitome of aesthetic enhancement.
She stays at the forefront of innovations in cosmetic surgery. More importantly, she cares deeply about helping her patients reach their aesthetic and health goals. During your private consultation, Dr. Wooten will listen to your goals, answer all your questions, and review your medical history. Then, she can determine if Restylane Refyne is the ideal treatment for you.
Dr. Wooten is board-certified by the American Society of Plastic Surgeons (ASPS). ASPS is the only plastic surgery society recognized by the Federal government. She is also a member of the American Society for Aesthetic Plastic Surgery (ASAPS) and the American College of Surgeons (ACS). She actively participates in volunteer work such as Surgicorps International, a program that provides surgical care for no cost to those in the most need around the world. These memberships verify Dr. Wooten's commitment to the highest moral and technical standards in plastic surgery. You can also listen or read testimonials from previous patients. At Beleza, we are grateful for all patients and love hearing back from all our clients to learn the progression of their cosmetic journey.
Preparation
In today's fast-paced society, many of us can't take the time off work to recover from extensive surgeries. But we still want to counteract many of the signs of aging. Innovative advancements in anti-aging such as Restylane Refyne are ideal treatments for those of us who can't afford lengthy recovery times.
Dr. Wooten performs Restylane Refyne as an outpatient procedure that requires no anesthesia. To prepare, you should avoid taking over-the-counter medications that might thin the blood such as aspirin and ibuprofen for a few weeks prior to your session. If you are taking any immunosuppressant medication, make sure to mention that during your consultation.
Procedure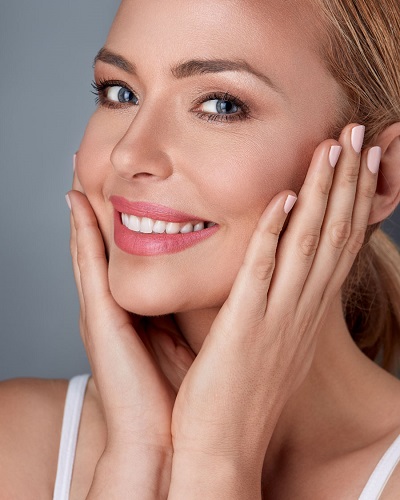 Dr. Wooten wants all of her patients to feel comfortable and safe during their procedure. She helped innovate a technique for applying injectables called the dull cannula. Some surgeons will use a sharp needle to perform injectables. This needle may potentially cause trauma to the nerves or tissues, which results in more discomfort for the patient and increases the possibility of side effects. Dr. Wooten's dull cannula method gently glides over the skin and threads through the skin tissue to deposit the dermal filler into the skin layers in the safest manner while minimizing any trauma. Dr. Wooten and her patients found this technique more comfortable than outdated injectable methods. No anesthesia is even required!
It's important to use the right dermal filler for a specific location. Manufacturers designed each dermal filler with a formula customized to treat a specific area. Some MedSpas might want to use fillers in different locations than they are recommended, either out of ignorance or believing they know better than the experts. Not Dr. Wooten. She achieves optimal results in the safest fashion by applying the right filler for each location.
Recovery
The advantage of Restylane Refyne over invasive procedures is no downtime. You can resume your normal activities the next day and don't have to take extended time off work. You may experience some mild side-effects, including swelling or redness, but this should be minor. You can best protect your results by avoiding sun exposure for a week after treatment. Make sure to follow any aftercare instructions provided by Dr. Wooten's office. If you must expose yourself to the sun, wear the strongest, doctor-approved sunblock you can find.
Results
Restylane Refyne shows visible and marked improvements in the nasolabial folds. It can restore lost facial volume and leverage the power of hyaluronic acid to smooth over those unwanted marionette lines and laugh lines. Clinical studies showed Restylane to be more effective than older collagen injection techniques while maintaining a superb safety profile.[3]
How Much Does Restylane Refyne Cost in Pennsylvania?
Injectables are a highly customizable treatment. As such, the pricing can vary depending on how many injection sessions and how many units are injected per session. During your consultation, Dr. Wooten can provide you with the most updated pricing.
FAQ
What's the difference between Restylane Refyne and Restylane Defyne?
Restylane Refyne treats mild to moderate lines in the nasolabial folds. For moderate to severe lines, Restylane Defyne is recommended. Restylane fine-tunes each of their dermal fillers for specific areas. Diversification helps maximize each filler's ability to achieve the desired result in each region. 
How long does Restylane Refyne last?
The results from Refyne usually last up to a year, though they can potentially last even longer in some patients.
References
Eleni Papakonstantinou, Michael Roth & George Karakiulakis (2012) Hyaluronic acid: A key molecule in skin aging. Dermato-Endocrinology. 4:3, 253-258, DOI: 10.4161/derm.21923
Solish, N., Bertucci, V., Percec, I., Wagner, T., Nogueira, A., & Mashburn, J. (2019). Dynamics of hyaluronic acid fillers formulated to maintain natural facial expression. Journal of Cosmetic Dermatology, 18(3), 738-746. doi:10.1111/jocd.12961
Gold M. H. (2007). Use of hyaluronic acid fillers for the treatment of the aging face. Clinical interventions in aging, 2(3), 369–376. https://doi.org/10.2147/cia.s1244