Revance RHA Fillers
Conveniently located to serve the areas of Pittsburgh, PA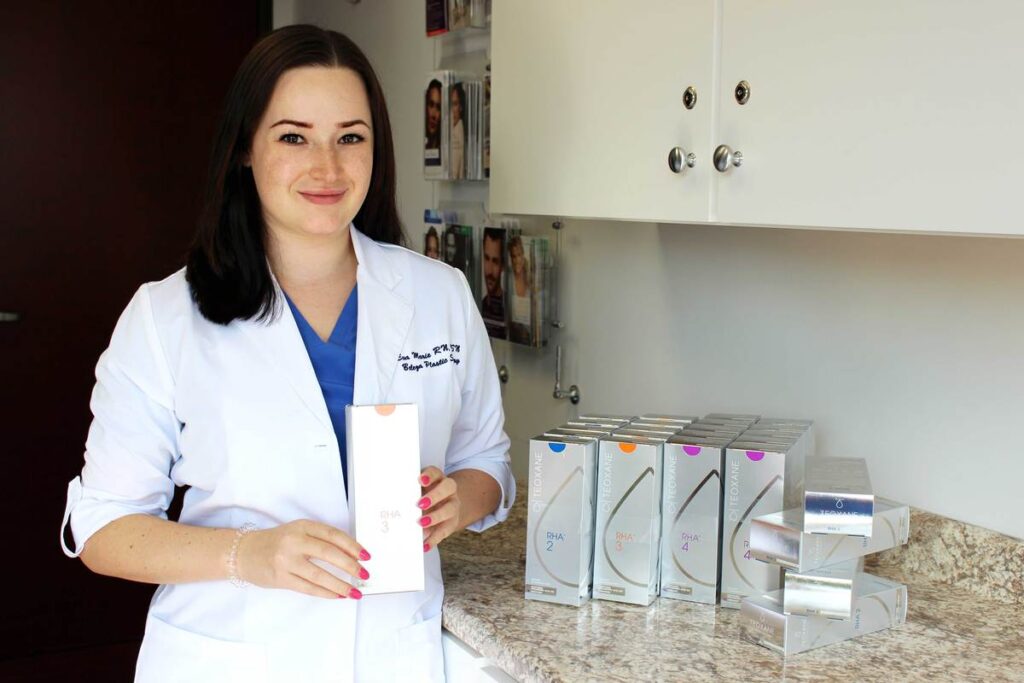 Revance RHA® fillers are a new line of hyaluronic acid-based dermal fillers, approved by the Food and Drug Administration (FDA) to treat dynamic wrinkles and facial creases. RHA stands for resilient hyaluronic acid. RHA fillers are designed to achieve long-lasting results that take into account dynamic facial expressions.
Express Yourself Naturally with RHA®
When we treat the effects of aging, we don't want to lose our natural look. No one wants to look "overdone" or appear unnatural just to smooth out wrinkles or refill lost facial volume. The aesthetic enhancement industry continually evolves to meet the challenge of reversing the effects of aging while still maintaining natural improvements. A lot of dermal fillers look great when the face is static, but lose their natural look to a degree when the face is in motion.
Some areas of our faces are always active. We communicate through facial expressions and talking; we express emotion through our faces. The RHA line represents the next generation of dermal fillers that show natural-looking results under dynamic facial expressions.
Beleza's founder, Dr. Anna I Wooten MD, FACS, is proud to announce that Beleza offers Revance's line of next-generation dermal fillers, the RHA line. Beleza Plastic Surgery and Medi-Spa maintains a commitment to bringing you the safest innovations from the world of cosmetic improvements. Beleza's cosmetic nurse injectors are anatomical experts with a studied eye for beauty. Trained to understand how dermal fillers interact with our biology, they can restore youthful beauty to your features. If you want to discover how dynamic dermal fillers can help rejuvenation your face, contact Beleza Plastic Surgery and MediSpa. You can reach our offices by calling the numbers below. We also offer complimentary virtual consultations for your convenience.
Before and After Photos
About Revance RHA® Fillers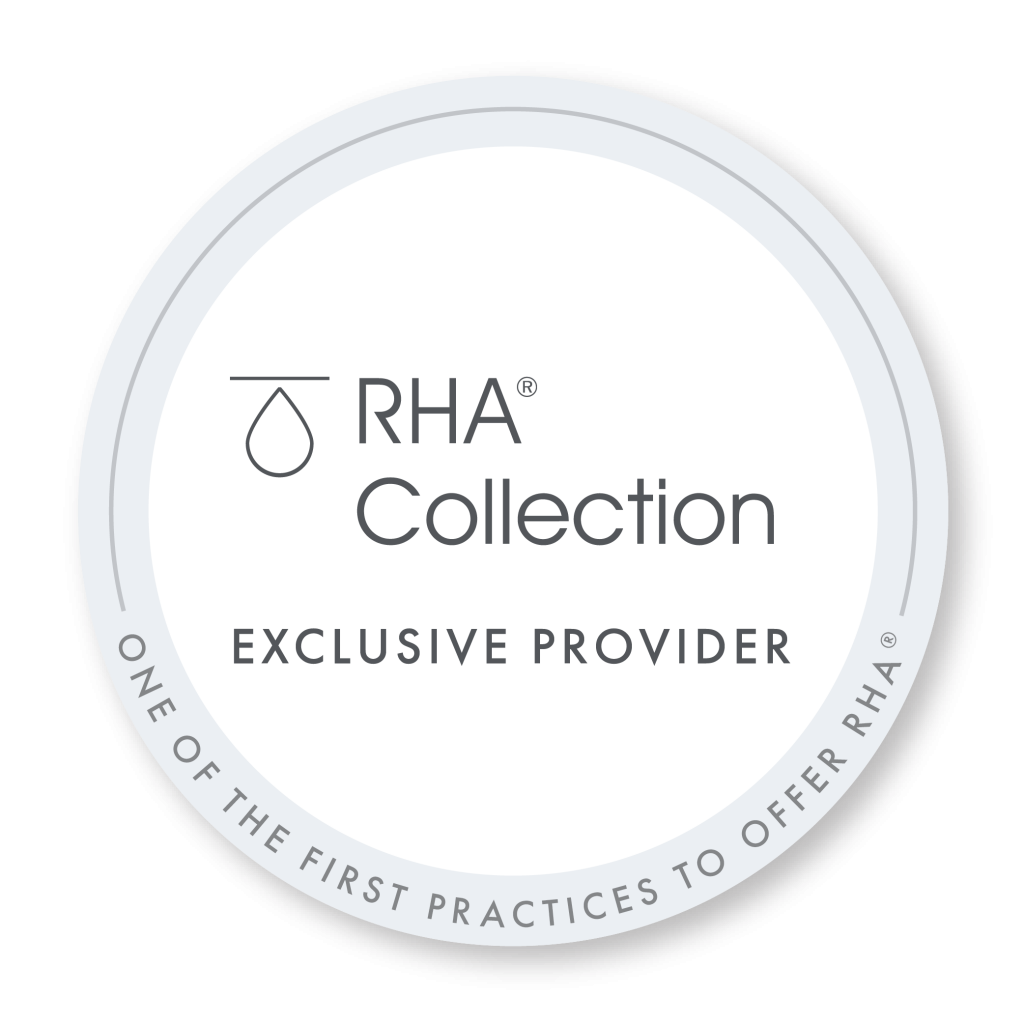 Developed exclusively for the most dynamic parts of the face by the Swiss laboratory company Teoxane SA, the RHA line is an innovation on venerable hyaluronic acid fillers. Revance has exclusive rights to distribute the RHA line in the United States. In other countries, the RHA line is marketed by Teoxane under the label Teosyal, so, while the product is new here to us, it has been safely administered in Europe for many years.
What Is Hyaluronic Acid (HA)?
Hyaluronic acid represents the gold standard in dermal fillers due to their unique properties. Hyaluronic acid can hold 1000s of times its own weight in water. This property makes HA ideal for supporting our skin's architectonics and keeping our skin hydrated.
The underlying support structure of skin weakens over time. Additionally, excessive exposure to the sun exacerbates natural aging and can cause further damage to our skin (photodamage). The aging effect on the skin is associated with loss of natural skin hydration. HA is a crucial molecule in the extracellular matrix that keeps the skin hydrated. The extracellular matrix exists in between the layers of the skin.[1] The extracellular matrix contains a number of important compounds such as collagen and growth factors, but HA functions as the primary component.
Because of hyaluronic acid's essential role in skin hydration, HA fillers have been increasingly popular in the 21st century because they help rebuild this support structure for youthful, healthy skin.
What Makes RHA Different from Other HA Fillers?
There are already many HA fillers on the market in the United States and even more available in Europe and Asia. Why do we need RHA? In short, because RHA represents a significant advancement in dermal fillers. Due to how they are designed, many HA fillers break down quicker in static parts of the face. Our faces are dynamic. When we express our emotions in our faces or talk with engagement, the HA filler can begin to dissolve because of how they were designed.
Classic HA fillers are designed by constructing straight, linear molecules that bond together. RHA fillers instead are constructed with coiled molecules with bonds that exist between the loops. This coiled molecular structure promotes an ability to adapt and withstand pressure much better than the simpler linear molecular bonding. Coiled molecules can recoil and bounce back into their intended shape quicker and easier. RHA fillers thus leverage the native ability of HA to self-organize and maintain their 3-dimensional structure.
Other HA fillers are crosslinked to maintain the extracellular matrix structure and not disintegrate during dynamic movements but RHA fillers are built with a patented technique that uses a smoother and gentler process than the older methods of crosslinking to result in stronger molecular bonding.
Because of this unique design, RHA fillers respond more naturally to dynamic facial movements than traditional HA fillers. RHA fillers stand poised to revolutionize the field of aesthetic fillers.
Benefits of RHA Fillers
Does not impair facial expressions
Muscle movements appear natural
Facial features retain their natural beauty and freshness
Does not dissolve with dynamic use
Longer-lasting results
Unique in using both long-chain and short-chain HA
Candidates for RHA
Eligible candidates for RHA are anyone who has facial lines or wrinkles, lost volume in their face, wants to restore their youthful appearance, and/or anyone who has had HA fillers wear off too quickly and wants more long-lasting effects.
Contraindications include allergies to lidocaine and other component ingredients.
Your Personal Consultation with Beleza
Beleza offers personalized bespoke service for aesthetic enhancements. By staying at the forefront of innovations, Beleza offers our Western Pennsylvania community the best options for facial rejuvenation. To discover if Revance's RHA line of fillers can help you, schedule a personal consultation with Beleza today.
Your consultation with Beleza will include a thorough discussion of your goals, expectations, and medical history. We want to get to know you. What motivates and inspires you toward aesthetic improvements? What do you envision as the final result of your cosmetic transformation? Which areas of your face are you most concerned about? We will conduct an initial examination of the areas you want to treat and go over any questions and concerns you have. Then we can design a personalized strategy to help you achieve your natural-looking rejuvenation.
Call our offices in Pittsburgh, Pennsylvania today and ask about the Revance RHA line.
We also offer virtual consultations to accommodate your busy schedule and help you connect with us at your convenience.
The RHA Product Line
RHA®1
We are now carrying the newest filler from Revance: "Redensity" a.k.a. RHA®1
This product was designed to be used for incredibly fine lines, such as peri-oral rhytids (the lines around the mouth).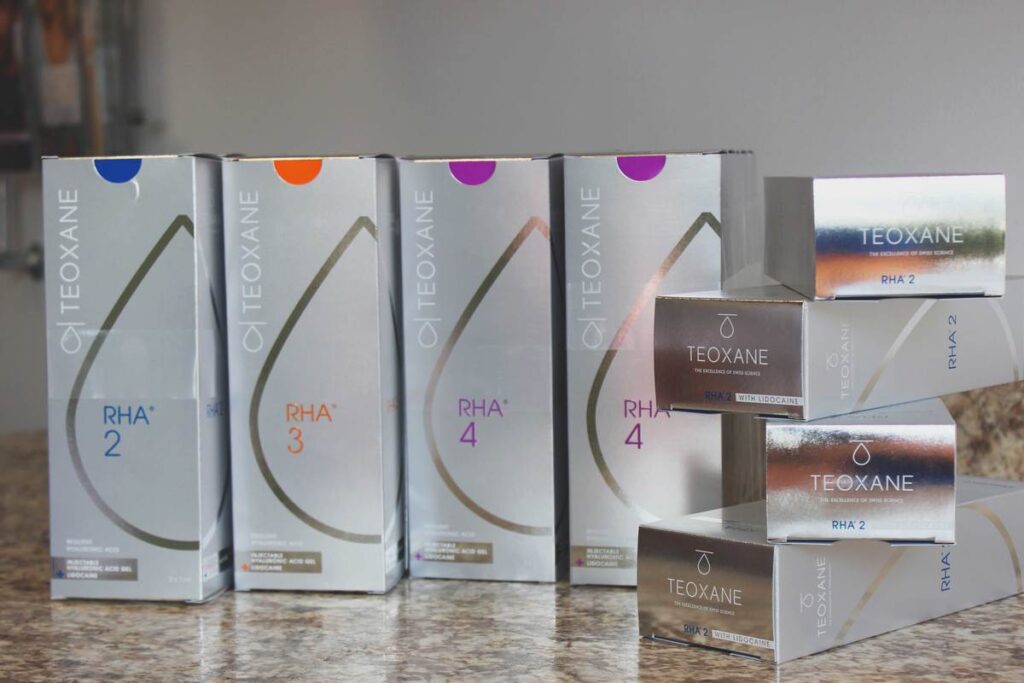 Teosane formulated a variety of RHA grades to treat an array of different conditions. All RHA products have lidocaine incorporated to minimize discomfort. Which RHA product will work best for you depends on the areas you want to treat and the results you are looking to achieve.
RHA®2
This is the lightest product in the Revance RHA line. It's designed for injection into the mid-dermis layer of the skin. RHA2 is engineered to add volume to the face, help facial contouring and treat a variety of other conditions that include moderate wrinkles in the upper face (glabellar lines, forehead lines, crow's feet). Off-label, RHA 2 can be a great option for lip filler, as it moves smoothly with your expression. RHA2 can also help to smooth inter-brow furrows (the elevens)and reduce labial chin folds.
RHA®3
RHA3 goes a level deeper than RHA2. Injections are made into the deep dermis layer and treat more pronounced facial wrinkles than RHA2 which includes nasolabial folds and perioral lines. Sculpting the face doesn't always involve an increase in facial volume. RHA3 can help contour the cheeks and restore a youthful shape to the face.
RHA®4
The deepest RHA filler is RHA4. It's injected into the subcutaneous or deepest layer of the skin. RHA4 works as a natural volumizer – it's designed to move within the fat pads in the cheeks. RHA4 can restore volume in the cheeks, fine-tune facial contours, correct chin volume deficiency, and treat the mid-cheek region. RHA4 works great at reviving a "fatigued" look in the face which includes a flabbiness of the skin and deep wrinkles.
How to Prepare for RHA Fillers
Make sure you've mentioned any medications you are taking during your consultation. Before your scheduled injection appointment, avoid all blood-thinning medication for at least two weeks. Blood-thinning medication includes aspirin, anti-coagulants, and some anti-inflammatories. You can review Dr. Wooten's full list of medications & supplements to avoid here. If you have any questions, make sure to ask your Beleza medical beauty professional during your consultation.
Aftercare for RHA Fillers
Refrain from wearing make-up for at least 12 hours following your injection. It's best to allow your skin time to adjust. For 72 hours after your injection, you should avoid drinking alcohol, strenuous physical activities, sun exposure and extreme temperatures such as a sauna or steam room.
Results
Studies indicate that resilient hyaluronic acid represents an important advance on older HA fillers. One clinical study at 15 months demonstrated that RHA fillers are as effective if not more than the current HA fillers.[2] Another study found that RHA fillers function superior to linear HA fillers at repairing the skin, rehydrating the skin, and maintaining the integrity of the skin.[3] With studies demonstrating its greater efficacy, RHA fillers are poised to change the dermal filler game for the benefit of all patients.
How Much Do RHA Fillers Cost in Pennsylvania?
Revance's RHA line offers a highly customizable option for dermal fillers. After your personal consultation with a Beleza nurse injector, we can provide you with an accurate set of prices based on the number of syringes you would need for an optimal result.. At Beleza, we have no hidden costs, and we accept financing through CareCredit.
FAQ
How long do RHA fillers last?
The duration depends on the area of injection and the unique biochemistry of every patient. In general, RHA fillers are reported to last between 12-30 months.
Is RHA safe?
Yes. RHA fillers use HA, a naturally occurring compound in the human body. Not only this, but prior to being released in the U.S.A., RHA was injected for many years in Europe. This line of fillers is very safe and the effects are reversible if patients don't find them satisfactory.
References
Papakonstantinou, E., Roth, M., & Karakiulakis, G. (2012). Hyaluronic acid: A key molecule in skin aging. Dermato-endocrinology, 4(3), 253–258. https://doi.org/10.4161/derm.21923
Kaufman‐Janette, J., Taylor, S. C., Cox, S. E., Weinkle, S. H., Smith, S., & Kinney, B. M. (2019). Efficacy and safety of a new resilient hyaluronic acid dermal filler, in the correction of moderate‐to‐severe nasolabial folds: A 64‐week, prospective, multicenter, controlled, randomized, double‐blind and within‐subject study. Journal of Cosmetic Dermatology, 18(5), 1244-1253. Doi: 10.1111/jocd.13100
Sundaram H, Mackiewicz N, Burton E, Peno-Mazzarino L, Lati E, Meunier S. (2016). Pilot Comparative Study of the Topical Action of a Novel, Crosslinked Resilient Hyaluronic Acid on Skin Hydration and Barrier Function in a Dynamic, Three-Dimensional Human Explant Model. Journal of Drugs in Dermatology. 2016 Apr;15(4):434-41. PMID: 27050698