Restylane Defyne
Conveniently located to serve the areas of Pittsburgh, PA
Restylane Defyne is a dermal filler specially formulated to revitalize the face around the mouth to re-establish a youthful appearance. It smooths moderate and severe laugh lines. Defyne can also be used as a lip filler.
Laugh Without the Laugh Lines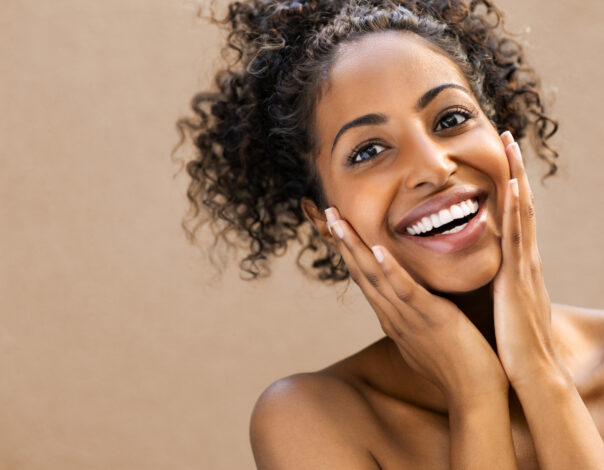 Aging brings with it a host of benefits. We gain cherished memories and learn invaluable lessons. But time, and the sun, often leaves its lines on our face to remind us that we are no longer young and innocent. Lines around the mouth are often called "laugh lines" due to their appearance when you smile or "marionette lines" since they can sometimes resemble marks around a puppet's mouth. If you wish you could smooth over moderate to severe lines and restore the vibrant smile of youth, then Restylane Defyne is the product for you.
Dr. Anna Wooten of Beleza Plastic Surgery provides expert management of anti-aging treatments. For over 12 years, Beleza has been serving the greater Pittsburgh metropolitan area and helping patients unleash their natural beauty. She and her R.N. injectors specialize in matching you with the right treatment for your needs. If you've felt stymied by your attempts at treating laugh lines with ineffective over-the-counter remedies, then it's time to consult at Beleza. You can schedule a consultation online or you can reach Beleza Plastic Surgery & Medi-Spa by phone: (412) 877-9388 for Pittsburgh and (724) 759-7777 for Sewickley.
Learn more about Restylane Defyne and other anti-aging treatments by following Beleza's blog. 
Before and After Photos
About Restylane Defyne in Pittsburgh, PA
Nothing feels more liberating than laughing without a care in the world. You should never feel self-conscious when expressing the unbound joy of life's most beautiful moments. Restylane Defyne empowers you to laugh again without restraint, to smile your widest, and to live life with the freedom of youth tempered with the wisdom of experience. Formulated with hyaluronic acid, Restylane Defyne can revive your glowing, youthful smile.
What Is Hyaluronic Acid?
Often called the gold standard in dermal fillers, hyaluronic acid (HA) is a key molecule for anti-aging treatments. HA occurs naturally in our bodies and plays an important role in many functions. To understand why HA serves such an important purpose, we should understand what aging does to our skin.
As we age, both time and the sun (photoaging), dry out our skin. Dry skin results in a number of unwanted results: leathery texture, sunken features, and the formation of lines and creases we don't want. The aging process also results in the depletion of structural proteins such as collagen which form the underlying infrastructure for healthy skin.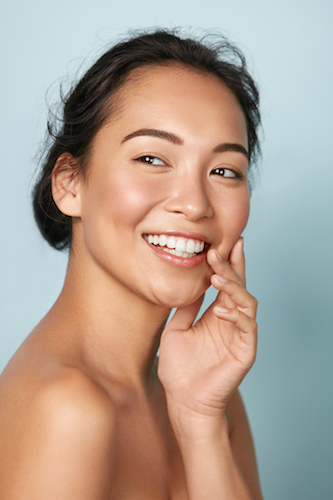 Hyaluronic acid also belongs to the crucial group of molecules called the extracellular matrix (ECM). ECM molecules are vital because they operate in between our skin cells and provide an organized structure that maintains healthy skin functionality.[1] Hyaluronic acid stands out among ECM molecules because it has the unique property of binding with water. This moisturizing quality makes HA crucial in keeping the skin hydrated. Youthful skin contains a large amount of HA.[2] Hydrated skin looks and feels smoother than desiccated skin that results from aging, especially photoaging. Our patients love Defyne because it doesn't produce an "overdone" look. Defyne simply returns your face to its natural, youthful state.
Dermal fillers get their name because they literally fill in the gaps in the skin's molecular support structure caused by aging.
Benefits
Smooths moderate to severe wrinkles and lines around the mouth and nasolabial folds
Revitalizes the skin for a glowing, youthful appearance
Hydrates the underlying cells to improve the health of the skin
FDA approved
Am I a Good Candidate for Defyne?
Candidates for Restylane Defyne injections should be in good overall health and have a desire to treat lines and wrinkles around the mouth and lips.
You may not be a good candidate for Defyne if you have a history of certain allergies. For instance, Defyne contains lidocaine, a topical anesthetic, to ease possible discomfort. Make sure to discuss any allergies you may have with Dr. Wooten during your consultation.
Your Private Consultation with Your Beleza Nurse Injector
Beleza means beauty. We aim for all our patients to embrace their natural beauty. Our goal is to bring that beauty to the surface by treating any aesthetic issues you believe prevent you from achieving the look you desire.
At Beleza, you aren't just a customer, you are a member of our family.
We treat all our patients with the utmost respect. Coming into Beleza, you should feel comfortable discussing all your aesthetic goals, medical history, and any concerns you have. Dr. Wooten believes in open and honest communication. She won't ask for her injectors to just try to sell you on the most expensive treatments. Instead, Beleza injectors will take into account your goals, expectations, and individual circumstances and recommend the best aesthetic plan of action based on your goals and expectations.
Dr. Wooten cares deeply about helping people. She dedicates her free time to serve in Surgicorps International, a non-profit focused on helping burn victims and children born with malformities. In her continued efforts to stay updated with the latest medical and aesthetic research, she maintains professional membership in the American Society of Plastic Surgeons, the American Society for Aesthetic Plastic Surgery and the American College of Surgeons.
Schedule a consultation with Dr. Wooten online or call one of our offices to discover the benefits of Defyne.
Preparation for Injectables
Preparing for Restylane Defyne is relatively simple. In the week before treatment, abstain from taking anti-inflammatory medication (ibuprofen, aspirin, Motrin, Aleve). Also refrain from taking blood-thinning supplements such as fish oil, vitamin E, garlic, ginseng, or St. John's wort. These can affect your body's healing process, so it's best to avoid them. Also, avoid using any topical anti-aging treatments such as glycolic acid or retinol to prevent over-irritating your skin. On the day of your injections, please arrive at your appointment well-nourished and hydrated.
Procedure and Recovery
Beleza injectors will disinfect the patient's face thoroughly with alcohol and prepare it for the dermal filler injections. If needed, a white pencil will be used to help guide the location of the injectables. Determining the right location to inject requires both anatomical expertise and an understanding of how injectables contribute to a beautiful complexion. Beleza's experienced experts perform injections in the precise location to best serve the needs of each patient.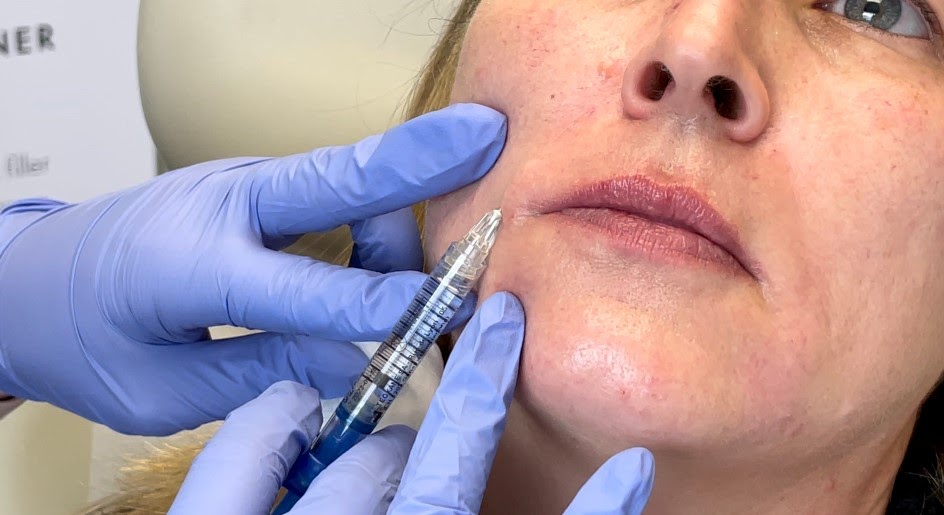 Healing time will vary but you should expect minor swelling and/or redness for up to a week. Most patients do not need any pain medication, but ask Dr. Wooten if you are concerned about any discomfort. It's best to avoid sun exposure entirely. If you must venture under the sun, make sure to wear the strongest broad-spectrum sunscreen you can find. Follow any personalized instructions provided to you by Beleza.
Enjoy Your Results
Hyaluronic acid offers proven results. It's a naturally occurring molecule in the human body and studies have consistently found it to be safe and effective in treating facial wrinkles.[3][4] Its unique hydrating qualities make it ideal for use as a dermal filler.
How Long Do the Results Last?
Usually, our patients benefit from Defyne for approximately one year. Results may vary and some patients might experience the benefits for shorter or longer periods.
Complementary and Alternative Procedures
Restylane Defyne works remarkably well at smoothing out laugh lines and marionette lines. However, many patients of ours want to go a little further. Restylane offers an array of products for specific areas of the face. Defyne shouldn't be used on your hands for instance, because Restylane formulates a product specifically for the hands. If you want to treat your hands to the same pampering as your smile, ask about Restylane Lyft.
Defyne was formulated specifically for the region between the nose and mouth. If you have wrinkles on the upper face around the eyes, such as crows feet or the "11" lines between the eyes, Dr. Wooten can recommend other injectables designed to treat that area. Botox, a neuromodulator, is popular to treat upper facial wrinkles.
How Much Does Defyne Cost in Pennsylvania?
Cost depends on how many syringes of the product are used and the location of the injections. During your consultation, we can provide you with a transparent price for Restylane Defyne treatments.
FAQ
What's the Difference Between Restylane Defyne and Refyne?
The main difference is that Refyne uses a milder formulate designed to treat minor to moderate laugh lines. Restylane crafted Defyne to treat moderate and severe laugh lines.
What Is XpresHAn Technology?
You might be wondering what Restylane means when they say they craft Defyne using XpresHAn Technology. XpresHANn Technology is an innovative manufacturing method that creates a smooth gel that is used for injection as a dermal filler. The technique allows Restylane to customize HA hydrogels to maximize their adaptability for different locations. This is why Defyne works particularly well for laugh lines and areas around the nasolabial folds while other Restylane products are best suited for different areas of the face. It's this degree of customization that makes Restylane Defyne so effective at empowering patients with natural-looking facial expressions.
Can Defyne be Used as a Lip Filler?
Yes. The FDA approves Restylane Defyne for use as a lip injectable.
References