Bra Line Lift
Conveniently located to serve the areas of Pittsburgh, PA
Are unhappy with the silhouette of your bra line? Or displeased with unflattering bra bulge? Transform your upper body silhouette into the leaner, sculpted figure you desire with Bra Line Lift at Beleza Plastic Surgery. Bra Line Lift addresses back fat or bra line bulges to achieve a slim, smooth upper-body contour.
Bra line lift is an excellent final step for women who have achieved major weight loss. Whether aging or weight gain have affected your body shape, this custom-tailored procedure will address your concerns. Your bra line lift can be customized to address stubborn fat, as well as loose skin.
Dr. Anna Wooten offers bra line lift with or without liposuction to address fat and loose skin that disrupts the smooth contours of the upper back and flanks.
If you would like to slim down, tighten up, or contour your bra line, contact us to learn more about bra line lift today. Dr. Wooten and her team look forward to meeting you!
About Bra Line Lift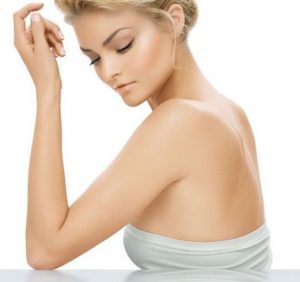 Do you work out and eat right, but still struggle to obtain a smooth, flattering back? Bra Line Lift will help you feel confident wearing revealing clothes once again! Bra Line Lift is an excellent option for people who are frustrated by the fat or lax skin on their back and upper flanks. Bra Line Lift frequently incorporates back lift to safely and gently remove excess skin. Liposuction is also frequently incorporated into bra line lift to address rolls or stubborn fat along the bra line.
If you are looking for a non-invasive method of slimming your bra line, we offer CoolSculpting. CoolSculpting is a highly popular, FDA-approved method of freezing away stubborn subcutaneous fat. A single treatment will eliminate up to 25% of fat from the bra line!
Before and After Photos
Dr. Wooten meets privately with every bra line lift candidate to help them determine which treatment method is most appropriate for them.
Bra line rlift can incorporate any of the treatments below:
Skin Reduction
Weight loss will reduce fat and slim you down, but unfortunately, the skin does not shrink with the rest of the body. If you have undergone significant weight loss, you likely have loose or hanging skin along your bra line. Bra line lift will put the finishing touches on your transformation!
A back lift can address excess skin to restore a smooth, tight upper-body contour.
Dr. Wooten performs skin reduction by separating the skin in the targeted area and removing excess skin. The skin will be laid and secured with incisions into a sleek, flattering position. The tightened results will last for the long-term! Due to the nature of skin elasticity, it is not possible to achieve weight-loss results like these with diet and exercise alone.
Liposuction
Liposuction is an FDA-approved fat elimination surgery. The procedure is highly customizable, allowing Dr. Wooten to achieve her patients' desired body contours.
Liposuction can be combined with a skin reduction, or performed on its own to dramatically improve the bra line.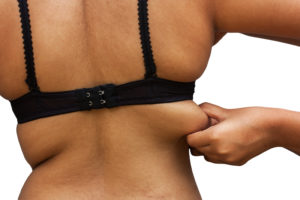 Liposuction is performed using a slim cannula and tumescent fluid. Dr. Wooten's liposuction methods and use of tiny incisions put minimal strain on the body. This produces a shorter recovery and a more natural-looking result. To gently remove fat from the bra line, tumescent fluid will first be introduced into the treatment area. Tumescent fluid is a solution of saline, epinephrine, and lidocaine. The fluid reduces bleeding and makes the fat cells swell. The enlarged fat cells are easier to break down and suction from the body with the cannula. Dr. Wooten also performs power-assisted liposuction. During power-assisted liposuction, the cannula vibrates, improving safe breakdown and removal of fat deposits.
Once the unwanted fat has been removed, the tiny incisions will be closed with sutures. Patients are usually able to return to work in a few days.
CoolSculpting
No downtime is required after CoolSculpting!
CoolSculpting is a non-invasive fat-elimination treatment based on science! Harvard scientists observed that fat cells, when exposed to specific cold temperatures, break down. The body then eliminates the fat through natural processes over the weeks following the procedure. You can receive your treatment and get back to your day immediately after treatment. Our certified CoolSculpting providers will make sure you are comfortable from start to finish.
Smaller CoolSculpting applicators such as the CoolSculpt Mini are an excellent way to target and eliminate fat from the bra line.
If you have stubborn fat on your bra line, have healthy skin elasticity, and do not want to take any time off, CoolSculpting may be your perfect body contouring solution!
Patients achieve their desired results within two to six CoolSculpting sessions.
Benefits of Bra Line Lift
Eliminate stubborn fat
Eliminate excess, sagging skin
Restore smooth body contours
Minimal downtime
Long-lasting results
Look great and feel more confident in clothing
Your procedure will be most appropriate for your body and personal goals
Candidates
Skin laxity along the bra line frequently occurs following weight loss, or simply as a result of aging. If you have loose skin or frustrating fat along your bra line, you are a good candidate for bra line lift. Bra line lift can be performed on its own or as a part of a larger post weight loss surgery.
If you have healthy skin laxity and would like to address your bra fat, you may be a good candidate to freeze your fat away with CoolSculpting. Patients with good skin laxity who desire a specific body contour are good candidates for liposuction. Dr. Wooten will meet privately with every candidate to create a treatment plan that is most appropriate for them.
Ideal candidates for bra line lift are in overall good health and close to their goal weight. Candidates for bra line lift surgery will be asked to discontinue smoking at least two weeks before and two weeks after their procedure.
Consultation
Dr. Wooten will take the time to get to know you and will listen closely to your goals for your appearance.
All your questions about bra line lift will be answered during a private consultation with Dr. Wooten. It is important to us that you feel 100% comfortable and are aware of all your options before you make any cosmetic decisions. She will also discuss your medical history and medication use with you. After she has thoroughly examined your bra line, she will make a professional recommendation of the treatment option that she thinks is most appropriate for your unique case.
Dr. Wooten will be happy to talk about what you can achieve with skin removal, liposuction, or CoolSculpting to improve the look of your bra line.
If you would like to learn more about Bra Line Lift, contact our helpful staff today.
Recovery
You will receive personalized instructions to help you complete your best recovery following your bra line lift surgery.
You will return to Beleza Plastic Surgery throughout your recovery for follow-up appointments to allow Dr. Wooten to assess your progress and answer any questions you may have. Your recovery timeline will depend on the procedures you received and your healing rate. Most patients can resume low-impact activities and exercises within a few days.
You may receive a compression garment to wear. This will help reduce post-procedure bruising and swelling. Your personalized instructions will cover the care of your compression garment, as well as approved methods of reducing swelling or discomfort.
Patients who receive bra line CoolSculpting will not need to take any time off after their session!
You will be able to return to your daily schedule without issues following CoolSculpting. Your body will eliminate your broken down fat through your lymphatic system over the weeks following your treatment.
Results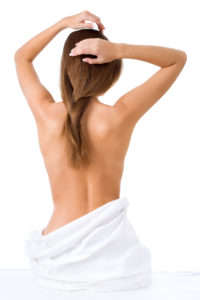 Your post-procedure swelling will diminish over the weeks following your surgery. Your bra line will continue to become smoother and slimmer for three months following surgical bra line lift. Bra line lift will replace rolls, flab, and hanging skin with a tight, sleek upper-body contour. You will enjoy smooth body contours, in and out of clothing!
Patients who receive bra line CoolSculpting will begin to see a lift in their fat deposits within six weeks of their session. Your results will continue to improve for three to six months.
Every subsequent CoolSculpting session will reduce fat alone the bra line by up to 25%!
Within two to six sessions, patients will enjoy a much slimmer, smoother contour of their back and flanks.
If age, weight loss, or weight gain have made you unhappy with the way your bra line looks, bra line lift will restore your confidence and your figure!
FAQ
How much does bra line lift cost?
Every bra line lift at Beleza Plastic Surgery is tailored to the patient. The price of a bra line lift will reflect the unique details of each treatment plan. Once you have agreed upon the details of your personalized bra line lift, you will receive an appropriate cost breakdown.
Is a bra line lift surgery safe?
Bra line lift is completely safe when performed by a board-certified surgeon like Dr. Wooten. Today's advanced body lift and liposuction methods are designed to optimize results and reduce strain on the body. All candidates will receive a thorough assessment during their private consultation to determine a treatment method that is most appropriate for them and their unique health profile.