VTone
Conveniently located to serve the areas of Pittsburgh, PA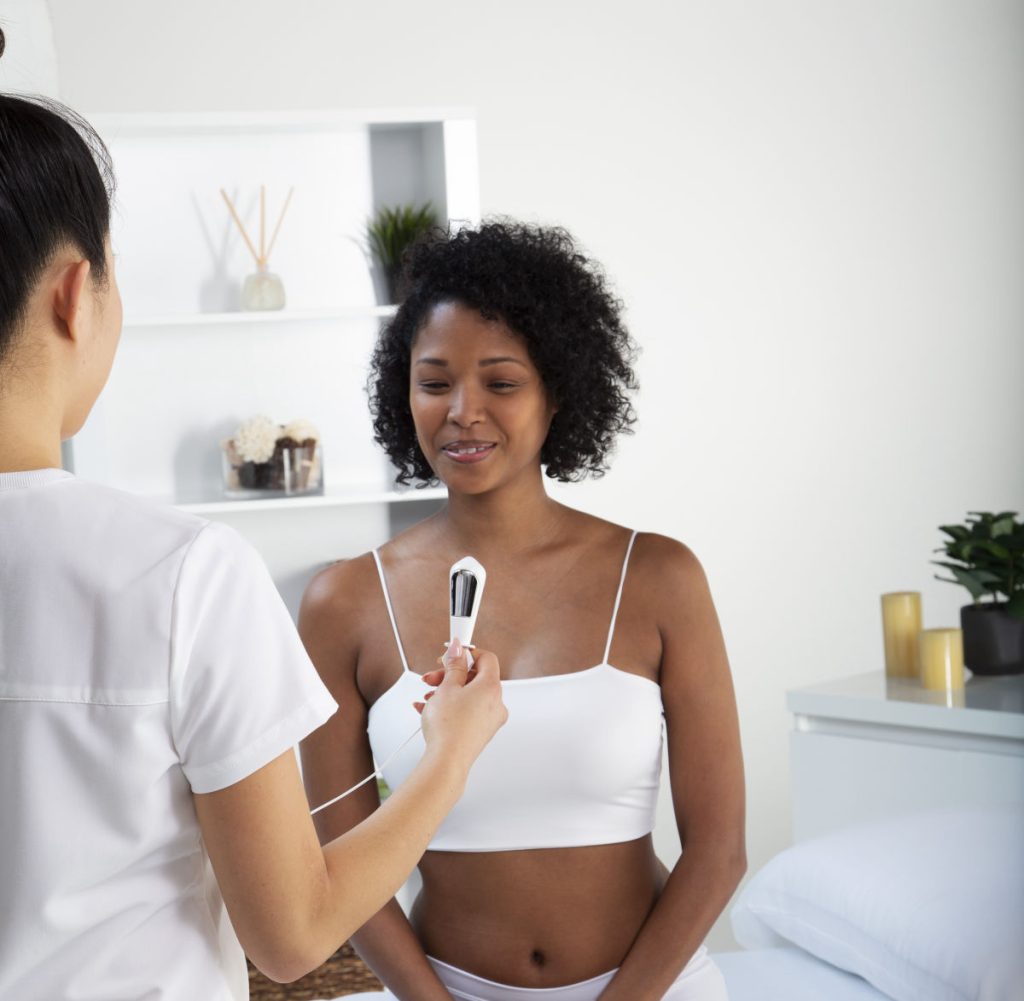 VTone is a non-surgical radiofrequency (RF) treatment that delivers intravaginal electrical muscle stimulation to strengthen the pelvic floor, relieve urinary incontinence, and help women regain quality of life in the postpartum period. Childbirth affects us in countless ways, and some of the most challenging aspects of these changes are physical. Additionally, age-related pelvic floor dysfunction can occur, regardless of pregnancy history.
Research data indicates that postpartum pelvic floor problems affect around 24% of women in the United States. (1) In recent years, the topic of postpartum rejuvenation has become less of a social taboo. Labiaplasty, breast augmentation, and the popular combination surgery the Mommy Makeover are increasingly common surgeries. And, non-surgical medical devices that help women regain strength and quality of life are becoming more commonplace. With VTone, patients undergo neuromuscular reeducation to revitalize their intimate health and live freely and confidently!
Board-certified plastic surgeon and women's intimate procedure specialist Dr. Anna I. Wooten offers intravaginal stimulation treatment with VTone to help women dealing with postpartum pelvic floor problems resolve the physical effects of childbirth. Book your personal consultation with her at Beleza Plastic Surgery in Sewickley, Pennsylvania by calling (724) 759-7777. You can also send an appointment request by filling out our simple online form.
A woman's intimate physiology undergoes significant changes after they give birth. The most common problem they face in this period is pelvic-perineal dysfunction. (2) The perineum is a space between the vulva and the anus that forms part of the urogenital triangle; an area that includes the reproductive organs, supporting muscles, nerves, glands, and blood vessels. The pelvic floor muscles support the abdominal organs and act as a stabilizer for our core. When they are working optimally, they allow us to control our bladder, our bowel, and our sexual function. However, these muscles and tissues can be damaged during a vaginal birth. Pelvic floor dysfunction can cause the following disruptive symptoms.
Urinary Incontinence – Loss of bladder control. Stress urinary incontinence may affect women after pregnancy, which may cause urine leakage after a cough, sneeze, or pelvic straining.
Urinary Urgency – A rapid onset of bladder pressure that results in a difficulty "holding in" urine. Urinary urgency results in an immediate need to urinate, whether the bladder is full or not.
Urinary Retention – Insufficient emptying of the bladder. It may be difficult to start urination or, when urination does occur, the flow may be weak.
Slow Urinary Stream – A side-effect of urinary retention. The stream of urine is sometimes slower because of a deficit in communication between the urethra, bladder muscles, and pelvic floor.
Anal Incontinence – An inability to control defecation, commonly associated with forceps delivery and anal sphincter laceration.
Changes in Sexual Function – Many women worry about their postpartum sex life. Pelvic floor weakness and the fear of urinary dysfunction caused by vaginal birth may cause psychological concerns as well as physical ones.(2)
As pregnancy and childbirth cause weakness in the pelvic floor muscles, so too does growing older. The prevalence of pelvic floor disorders increases substantially with age and the onset of menopausal and post-menopausal hormone changes. Data indicates that the basis for this decline is, in part, due to a general loss of skeletal muscle function and fibrotic changes that occur in surrounding tissues. (3) With VTone, both women who have given birth vaginally and those who have not can benefit from a targeted muscle stimulation treatment that relieves common symptoms of pelvic floor dysfunction and effectively supports overall intimate wellness.
What is VTone?
VTone is a non-surgical treatment that uses the power of radiofrequency energy to strengthen and "retrain" the pelvic floor. The anatomically-shaped VTone device is placed inside the vagina and delivers gentle electromagnetic stimulation to surrounding muscles. The RF waves cause the muscles to contract, which supports the body's ability to control the pelvic floor and helps with symptoms of urinary incontinence, and vaginal wall strength. A series of VTone treatments can help women regain intimate functionality and renew their confidence.
Benefits of VTone
Non-surgical, in-office procedure
Comfortable and straightforward
Aids pregnancy and childbirth recovery
Facilitates improvement of urinary function
Addresses age-related pelvic floor weakness
Supports vaginal muscle strength
Helps patients regain a better quality of life
No pre-procedure preparation or downtime required
Candidates for VTone
Women with symptoms of a weakened pelvic floor are good candidates for treatment with VTone. As the entire procedure is non-surgical it is both comfortable and accessible for patients who have experienced the uncomfortable, and often debilitating effects of urinary incontinence. VTone may not be not suitable in the following circumstances.
Vaginal or pelvic surgery within 12 months of treatment
Vaginal mesh implant
Urinary tract infection (UTI)
Active pelvic infection
History of genital herpes
Pregnancy and nursing
For further information about contraindications to receiving VTone treatment, please make an inquiry with us.
Personal Consultation
Beleza treats every patient with professionalism and empathy. Intimate wellness can be a challenging topic to talk about with a stranger, but we will ensure you feel comfortable and well-informed during your visit. We will ask you to fill out some basic health information and ask you to provide information about your symptoms. We will also ask some questions about your pregnancy and birth experience where indicated. In a private examination room, Dr. Wooten may perform a pelvic examination before drawing up a VTone treatment schedule. Most patients require 3-6 sessions for the most effective results.
Corresponding & Complementary Procedures
Beleza Plastic Surgery offers non-surgical and surgical treatment to support your intimate wellness. Please discuss the possibility of integrating multiple treatments with Dr. Wooten at your personal consultation.
Votiva FormaV
Votiva FormaV is a vaginal restoration laser treatment that helps to improve blood flow, relieve muscle pain, and help release muscle tension. It can also relieve symptoms of age-related vaginal atrophy, symptoms of which include vaginal dryness, a sensation of "looseness", and stress urinary incontinence. Like VTone, Forma V is a fast, comfortable, in-office procedure.
Labiaplasty
A labiaplasty is an intimate surgery that removes excess skin from the labia minora for a more aesthetic appearance. In some cases, this skin may cause irritation and chafing, which can be both uncomfortable and embarrassing. Many women choose to undergo labiaplasty surgery following childbirth as a standalone procedure, or combine it with multiple aesthetic surgeries in a Mommy Makeover.
Labiaplasty Revision
Some women may be dissatisfied with the results of a prior labiaplasty, which may warrant a revision surgery. Although not all labiaplasties can be revised, in suitable candidates, Dr. Wooten can perform a labiaplasty revision procedure to create a more aesthetic labial appearance to help you regain body confidence.
Mommy Makeover
The Mommy Makeover is a well-known combination of procedures that can be customized according to the needs of the patient. Surgical options can include any combination of services available, though the most popular are breast augmentation, breast lift, tummy tuck, labiaplasty, and liposuction.
Cost of VTone Treatment in Sewickley, PA
The cost of your VTone treatment depends on your individual circumstances and the number of treatment sessions we recommend. To arrange a personal consultation at Beleza Plastic Surgery, call our Sewickley office directly at (724) 759-7777 or fill out a form for more details. For financing information, please see our financing page.
If you are interested in finding out more about VTone, and other surgical and non-surgical procedures at Beleza Plastic Surgery, please read our blog and join us on social media.
FAQ
I'm too embarrassed to ask about pelvic floor retraining. What should I do?
Pelvic floor problems, urinary incontinence, sexual health, and other intimate wellness issues can be embarrassing to talk about with your doctor, but it is important to understand that we are here to help you! Medical professionals, particularly women's health specialists, are trained to address these problems with dignity and respect for the patient. So please be frank and don't be afraid to tell us what's wrong so we can provide the most beneficial treatments for you.
Is VTone treatment comfortable?
Yes! VTone is a non-surgical procedure performed in-office. Patients describe VTone electrical muscle stimulation as straightforward and comfortable.
How many VTone sessions will I need?
The number of VTone treatment sessions required depends on the patient's individual circumstances. Some patients benefit from as few as three treatments, while others require 6 or more, spaced at appropriate intervals.
Can I get VTone with other pelvic floor therapy?
The best way to ascertain whether you can receive VTone with other treatments is to speak to your provider. They can then personalize your treatment plan based on your specific needs.
References
1. Dayan E, Ramirez H, Westfall L, Theodorou S. Role of Radiofrequency (Votiva, InMode) in Pelvic Floor Restoration. Plastic and Reconstructive Surgery Global Open. 2019;7(4):e2203. doi:10.1097/GOX.0000000000002203 https://www.ncbi.nlm.nih.gov/pmc/articles/PMC6554157/
3. Fonti Y, Giordano R, Cacciatore A, Romano M, La Rosa B. Post partum pelvic floor changes. Journal of prenatal medicine. 2009;3(4):57-59. https://www.ncbi.nlm.nih.gov/pmc/articles/PMC3279110/
Burnett LA, Cook M, Shah S, Wong MsM, Kado DM, Alperin M. Age-associated changes in the mechanical properties of human cadaveric pelvic floor muscles. Journal of biomechanics. 2020;98:109436. doi:10.1016/j.jbiomech.2019.109436 https://www.ncbi.nlm.nih.gov/pmc/articles/PMC6956987/