Fat Transfer to Hands
Conveniently located to serve the areas of Pittsburgh, PA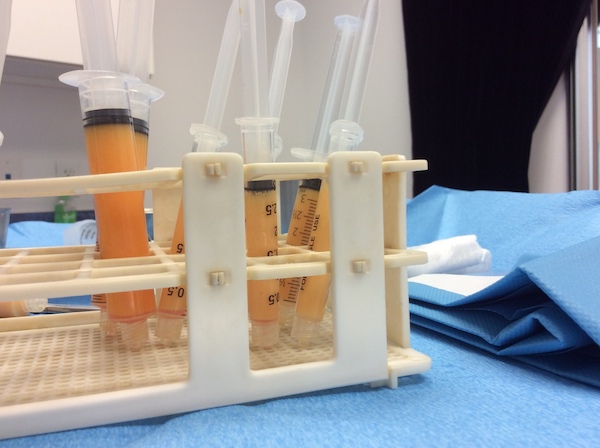 Fat transfer to the hands is an enhancement that harnesses the body's own ability to add volume to depleted features.
Your hands say a lot about you. They gesture as you speak, but they also speak for themselves. If you have calluses, for example, your hands tell the story of what you do for a living. We can pamper our skin to a degree, but age often overshadows our best efforts to disguise the hands of time.
As the hands mature, they can become thin and angular. The supporting material below the surface of the skin erodes, allowing the veins and bones of the hand to dominate our appearance. Dr. Anna Wooten and her Beleza team can address the signs of maturity in hands. By transferring fat from other areas in the body to the hands, Beleza Plastic Surgery helps you get a grip on the aging process. With two convenient locations in Sewickley and Pittsburgh, Pennsylvania, Beleza provides innovative solutions to your aesthetic concerns. Contact our offices to learn more about fat transfer to hands and how the procedure can benefit you.
Before and After Photos
About Fat Transfer in Pittsburgh, Pennsylvania
Fat is not the enemy. Fat cells store energy and provide a boost when our bodies need it most. But sometimes, fat accumulates where we least want to see it. Thighs, buttocks, the belly, and the flanks often become bulky as other areas, like the hands or face, deflate over time.
Fat transfer is an ingenious way to redistribute fat deposits to accentuate your best dimensions.
Dr. Wooten can remove unwanted fat cells from your "problem areas" through liposuction. The liposuction procedure begins by bathing fat deposits with a tumescent liquid that numbs and softens the area. Once the fat cells are loosened from the surrounding muscles and soft tissue, it is ready to be gently extracted.
Dr. Wooten uses a thin tube called a cannula to vacuum the treated fat from your body. In her hands, the cannula is like a magic wand, contouring away unwanted bulk and leaving a slimmer, shapelier silhouette in its wake. Once the fat cells have been harvested from your body, they are ready to undergo purification.
The expert staff at Beleza will process the extracted fat skillfully and artfully. The viable fat cells will be separated from the tumescent liquid and other biological material through a centrifuge.[1] After spinning rapidly in the centrifuge, the purified fat is isolated and prepared for re-insertion.
Dr. Wooten will make tiny incisions along the dorsal (back) side of the hand. The body's own fat cells are injected into the hand and massaged for proper placement. Fat transfer adds volume to aging hands, giving you a "thumbs-up" in terms of cosmetic improvement.
Benefits of Beleza Body Contouring
In addition to the obvious physical perks that fat transfer offers, it also provides confidence. How many times have you hidden your hands away due to insecurities? If you regard your aging appendages as skeletal or scrawny, you are less likely to show them off. The more self-conscious you become, the more you hide your hands away. It becomes a downward spiral of deflection, but a fat transfer can revive your robust features.
Fat Transfer to Hands Benefits
Derived from your body's own cells, so there is no chance of an allergic reaction
Brings a natural fullness to your features
Smooths out wrinkles from within by filling gaps beneath the skin's surface
Safe, effective, and remarkably rejuvenative
To experience the benefits of fat transfer to hands, please contact Beleza Plastic Surgery at your earliest convenience.
Eligible Candidates
If your hands have lost volume over the years, then you may be an ideal candidate for fat transfer at Beleza. Eligible patients have enough viable fat cells to contribute from other parts of their bodies. Dr. Wooten can assess your "problem areas" like thighs, abdomen, flanks and buttocks to determine the best course of action for harvesting unwanted bulk.
Great candidates for fat transfer to the hands are in good health and within 30 pounds of their goal weight.
The liposuction used to collect fat cells is not intended to be a weight loss procedure. Instead, liposuction is a body contouring strategy. Dr. Wooten and her associates can deliver slimmer, sleeker dimensions via liposuction. The harvested fat is then purified before it is injected into the back of the hands. Dr. Wooten can determine your eligibility for fat transfer during your comprehensive consultation.
Private Consultation in Pittsburgh 
An appointment with Dr. Anna Wooten is an opportunity to expand your horizons. In addition to her international training (Pittsburgh, Canada, Brazil, and more), Dr. Wooten's extensive philanthropic work with organizations like Surgicorps has brought her around the globe several times over. In her spare time, Dr. Wooten loves to connect with her friends and neighbors right here in Pittsburgh. When you consult with Dr. Wooten, you are connecting with a trusted professional. She can assess your anatomy and needs and evaluate whether or not fat transfer is right for you.
One of Dr. Wooten's many wonderful attributes is her honesty. If fat transfer would not be beneficial for your hands, she will tell you in no uncertain terms. You can explore other avenues of enhancement with Dr. Wooten during your consultation. Just call (724) 759-7777 for our Sewickley/Wexford office or (412) 877-9388 to reach us in Pittsburgh. We are eager to schedule your appointment and guide you down a path toward improvement. In the meantime, please visit our blog for valuable insights and information.
Preparation and Procedure
During your consultation, you will receive detailed instructions to prepare you for fat transfer. Your Beleza representatives will tailor these directions specifically to you, taking into account your medical history and future goals. The tumescent liquid used in our liposuction techniques contains lidocaine to minimize bruising. To help with this process, you may be asked to quit smoking and stop taking certain blood-thinning medications in the weeks leading up to your procedure.
On the day of your fat transfer, Beleza will prioritize your comfort and safety. Depending on the donor site(s) where unwanted fat is being harvested, you may receive a local anesthetic or something stronger. Often, if you are only interested in a fat transfer to the hands, the procedure can be performed in a simple, in-office procedure, using only local anesthetic. This means low risk and an easy recovery! Dr. Wooten will explain all of your options during the consultation phase.
After the liposuction procedure is complete, the fat grafting process begins. The purified, viable fat cells are placed under the skin along the back of your hand.
Healthy Recovery
Immediately following the fat transfer process, a clinician will monitor your progress. Once you are ready to return home, we will release you into the care of a trusted loved one. You will not be allowed to drive yourself, even if you only received a local anesthetic. Focus on your recovery and leave the rest to your caregiver.
Avoid strenuous activities for the first week, especially if they put undue strain on your hands. Within a few days, you should be able to perform normal, everyday duties without difficulty. Since the incisions are located on the back of the hand, the fat transfer process should not interfere with activities such as typing or driving.
Amazing Results
After 2-3 weeks, the swelling and redness along the hands should subside. The voluminous shape of your hands will flourish, evoking your youth and luster. To get a preview of your future satisfaction, please visit our reviews page. Beleza is committed to providing 5-star service to Pittsburgh, Sewickley, Wexford, and beyond.
Complementary Procedures 
Fat transfer can add much-needed fullness to the hands, but you may also wish to replenish and restore the surface of your skin. If so, consider the benefit of Beleza's laser treatments. When done in conjunction with fat transfer, Beleza can transform your hands inside and out.[2]
To extend the benefits of aesthetic care even further upward, explore the rewards of an arm lift. Beleza can remove unsightly fat deposits, tighten the skin, and eliminate "bat wings" and other upper arm issues.
Regardless of which procedure(s) you desire, Beleza can give you a hand. Contact our Pennsylvania offices now!
FAQ
How much does fat transfer to hands cost in Pittsburgh?
Health and wellness are not "one-size-fits-all" endeavors. The cost of a fat transfer to the hands depends on several factors. The donor site from which your unwanted fat is harvested may be extensive or compact, which has ramifications on the liposuction process you require. Dr. Wooten customizes every enhancement procedure to the individual patient, so the price will also be unique to each patient. Beleza offers several financing options to ensure that you get the best care at the right price. If you have questions or concerns about the billing process, please call (412) 877-9388 for our Pittsburgh office or dial (724) 759-7777 to reach our Sewickley team. 
Who is a good candidate for fat transfer to the hands?
Fat transfer to the hands is a good option for people who are looking to improve the appearance of their hands. The procedure is most commonly performed for people in their 40s, 50s, or 60's.
How is fat transfer to the hands performed?
Fat transfer to the hands is performed at the Beleza office under local anesthesia. Dr. Wooten first harvests fat from a donor site, such as the abdomen, thighs, or hips. The fat is then purified and injected into the backs of the hands. The procedure typically takes less than two hours.
References
Butterwick, K. J. (2002). Lipoaugmentation for aging hands: A comparison of the longevity and aesthetic results of centrifuged versus non-centrifuged fat. Dermatologic Surgery. 28(11), 987-991. https://doi.org/10.1046/j.1524-4725.2002.02096.x
Abergel, R. P., & David, L. M. (1989). Aging hands: a technique of hand rejuvenation by laser resurfacing and autologous fat transfer. The Journal of Dermatologic Surgery and Oncology. 15(7), 725-728. https://doi.org/10.1111/j.1524-4725.1989.tb03619.x