Juvederm Volux XC Jawline Filler
Conveniently located to serve the areas of Pittsburgh, PA
Juvéderm Volux is the newest, long-lasting injectable gel filler for facial contouring. Using patented Vycross molecular technology, this hyaluronic acid (HA) filler improves jawline definition and balance of overall facial appearance.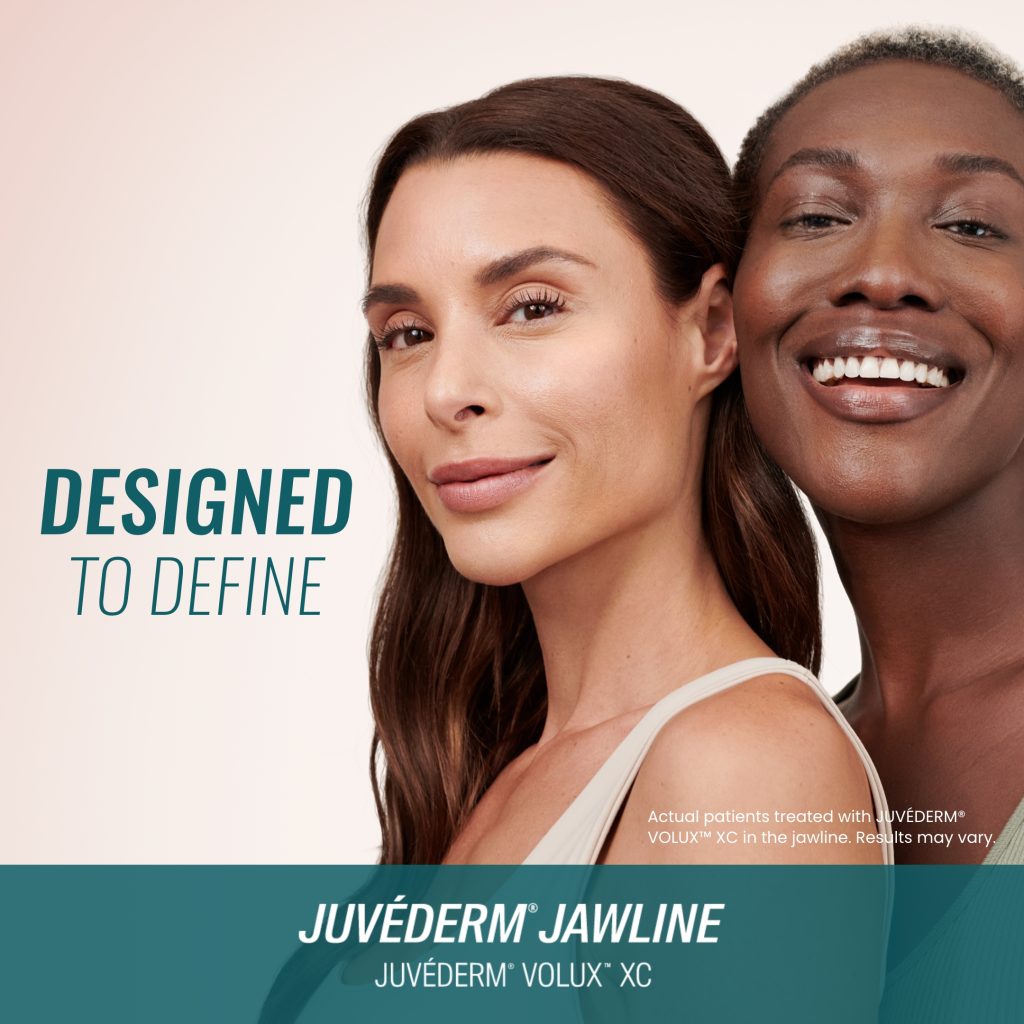 A poorly-defined jawline can have a serious impact on your image. It affects the aesthetic harmony of the side profile, disrupting the natural balance of your facial features. A naturally inconspicuous chin can make it seem as though there is more weight in the lower face and can obscure the true size of the lower jaw, adding age to a younger face. However, Juvéderm's latest addition to their Vycross range is a game-changer!
The Beleza medi-spa, by renowned plastic surgeon Anna I. Wooten, MD, FACS, provides non-surgical facial rejuvenation to patients in Sewickley, Pittsburgh, and the wider Pennsylvania area. We have continued to provide the latest in hyaluronic acid technology from the Juvéderm family of fillers. We are now proud to introduce Volux, Juvéderm's first jawline-focused facial filler!
Contact your nearest location to book a personal consultation with one of our nurse injectors and experience the benefits of a personalized, jawline-focused treatment plan. Call Sewickley at (724) 759-7777 or Pittsburgh at (412) 877-9388 to schedule your visit, or fill out our simple online contact form for more details.
About Juvéderm Volux
The chin and the jawline are two less-commonly considered aspects of facial beauty. However, when the jawline is not well-defined, the effects are very noticeable, especially from a profile view. What's more, surveys conducted by Juvéderm parent company Allergan Aesthetics (the makers of Botox) reveal that increasing numbers of people care more about their jawline than was previously thought.
Juvéderm Volux is specifically designed to restore and create facial volume in the jawline area.(1) Juvederm Volux XC is the first and only FDA-approved filler to be designed for this purpose.
Definition Loss
The lines and angles of our lower face contribute to our wider facial contour and can be less well-defined for a number of reasons, including the following. (1)
Hormonal changes during growth periods
Facial injury or jawline trauma
Age-related tissue change and bone recession
Hyaluronic acid is one of the most important contributing factors to dewy, voluminous skin. In injectable form, it provides long-lasting results because of its ability to bind to water molecules to plump the skin in three dimensions. HA fillers like Juvéderm have been used to the advantage of patients for many years. And with Juvéderm Volux, patients can achieve definition and congruence that lasts in just one short, in-office session!
Volux vs. Implants
Chin augmentation procedures are growing in popularity every year. Synthetic mandibular implants are another way to increase projection and definition for the jawline. Rather than injectables, many patients choose more permanent measures to achieve the look they want. However, these surgeries can be a considerable financial investment, and require extensive recovery. With semi-permanent fillers like Juvéderm Volux, patients can enjoy their results for up to 18 months without the need for downtime, and at a significantly reduced cost!
What is Vycross?
Juvéderm Volux is the latest addition to their new Vycross range of products, which also includes the following.
Juvéderm Voluma
Juvéderm Vollure
Juvéderm Volbella
Juvéderm Ultra XC
HA is a naturally-occurring polymer. Allergan's proprietary Vycross process cross-links the hyaluronic acid (HA) molecules in these fillers with BDDE (butanediol diglycidyl ether). This makes the HA gel stable, biodegradable, and importantly, long-lasting. (2) What does that mean for you? A filler that lasts significantly longer when you need it to!
Benefits of Volux
Benefits of Juvéderm Volux injectable HA filler include the following.
Accentuates jawline shape
Safe and effective
Minimally-invasive
No downtime required
Non-surgical alternative
Lasts up to 18 months
High patient satisfaction
Fillers are becoming the new norm in med-spa treatments because of their ease of use, their safety, and their noticeably volumizing results. Finding a more comfortable, simpler way to reach your facial rejuvenation goals has never been easier. With Juvéderm Volux, patients can achieve the jawline they've always wanted in one short, minimally-invasive procedure.
Candidates for Volux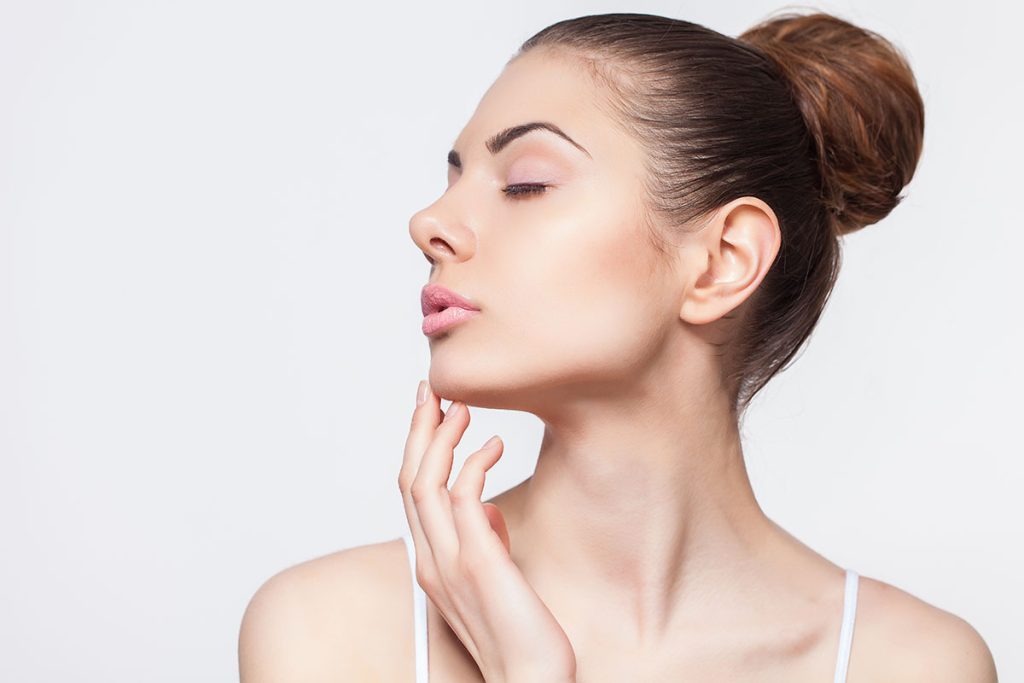 Good candidates for Juvéderm Volux are seeking to accentuate their jawline. Lower jaw recession does not have to be diagnosed as a medical condition, so anyone who feels they do not have the lower face contour they desire can choose this injectable. This site for injection has increased in popularity as men and women seek to create a stronger "snatched" jawline, which results in a more defined profile and elongated appearance for the neck.
As with any HA filler, there are some, but not many, things that can prevent a patient from receiving Juvéderm Volux XC treatment. Juvéderm products are not indicated in the following circumstances.
Patients with known severe allergies
Patients who have experienced anaphylaxis
Patients allergic to gram positive bacteria
Patients with a history of more than one severe allergy
Patients who are allergic to lidocaine
Juvéderm Volux is not suitable for patients who are pregnant or nursing.
Personal Consultation
Discover the most effective non-surgical treatment solutions for your beauty needs at Beleza! Book a personal consultation with us and we'll assess the areas of your face you are having trouble with to see if dermal fillers are right for you. At a Juvéderm Volux XC consultation, one of our injection specialists will pay close attention to the anatomy of your lower face, and examine your skin quality and volume in the area. They will note the prominence of your jawline in relation to your surrounding facial features and assess how accentuating the angles of your jawline will affect your overall appearance. You can tell us what you're looking for regarding your treatment, and after taking some brief information down regarding your medical history, we'll create an individualized treatment plan just for you!
Preparation
Getting ready for Juvéderm Volux treatment is as easy as preparing for any HA filler session. You should follow these simple instructions for the best results.
Avoid using topical retinoids (e.g. tretinoin, Retin-A).
Stay out of direct sunlight.
Don't tweeze, shave, wax, or use hair-removal cream.
Avoid drinking alcohol 24 hours before your session.
If you are prone to cold sores, take the necessary antiviral medication as a precaution.
Procedure
The injectable HA gel will be prepared in advance of your visit. After we have made you comfortable, our nurse injector will place Juvéderm Volux XC strategically in and around the jaw area to achieve the desired effects. As every treatment plan will be slightly different, we'll let you know what's going to happen and how you can expect things to feel throughout the entire process! Like most injectables, treatment with Juvéderm Volux XC may feel like a small pinch, but the discomfort is short-lived.
Recovery
There is no downtime required after Juvéderm Volux XC, so you'll be free to carry on with your daily routine immediately after your visit to Beleza medi spa. You may experience some brief swelling and redness, but this usually lasts only a few hours. We'll ask you to follow these simple aftercare instructions to ensure you get the most out of your treatment!
Don't wear makeup until 12 hours after your treatment session
Avoid extreme heat exposure (e.g. sun exposure, saunas, hot baths) for 24 hours.
Avoid strenuous exercise for 24 hours.
Continue to refrain from drinking alcohol for 24 hours.
Volux Results
Your preliminary Juvéderm Volux results will be noticeable immediately, though it is a good idea to wait two to three weeks before assessing your finished look. Once you have them, your results will last up to 18 months. To maintain your results after this period, you need only schedule another session with us!
Cost of Juvéderm Volux XC Treatment in Pittsburgh, PA
The cost of your treatment at Beleza will depend on the amount of Juvéderm Volux used. We will be happy to give you an accurate estimate after your personal consultation. Pricing may depend on how many syringes of Volux are necessary to create your desired look. Patients will be able to accumulate points at every injectable visit towards complementary treatment by participating in Beleza's aesthetic loyalty rewards program.
Address your chin and jawline irregularities with Vycross technology and Juvéderm Volux. Contact us by filling out this simple online form or by calling us directly at your nearest location below.
Sewickley: (724) 759-7777
Pittsburgh: (412) 877-9388
Read more about Dr. Wooten's surgical procedures, and the non-surgical medi spa treatments offered at Beleza by taking a look at our blog.
FAQ
Is Juvéderm Volux the same as Juvéderm Voluma?
Although they share similar components, Juvéderm Volux and Juvéderm Voluma are two different formulations that use crosslinked HA for longer-lasting results. Juvéderm Voluma can be used in the cheeks, jawline, chin, and temples. Juvéderm Volux is specifically designed for jawline augmentation.

Can I get Juvéderm Volux treatment if I use retinoids?
Although the risks are minimal, your provider may ask you to discontinue your use of topical retinoids a few days before your Juvéderm Volux treatment.
How long does Juvéderm Volux last?
One of the greatest benefits of  Juvéderm Volux is how long it lasts. After only one treatment, can patients expect their results to last up to 18 months, considerably longer than most other fillers.
References
Ogilvie P, Benouaiche L, Philipp-Dormston WG, et al. VYC-25L Hyaluronic Acid Injectable Gel Is Safe and Effective for Long-Term Restoration and Creation of Volume of the Lower Face. Aesthetic Surgery Journal. 2020;40(9):NP499-NP510. doi:https://doi.org/10.1093/asj/sjaa013
De Boulle K, Glogau R, Kono T, et al. A Review of the Metabolism of 1,4-Butanediol Diglycidyl Ether-Crosslinked Hyaluronic Acid Dermal Fillers. Dermatologic Surgery. 2013;39(12):1758-1766. doi:https://doi.org/10.1111/dsu.12301