CoolSculpting Double Chin
Conveniently located to serve the areas of Pittsburgh, PA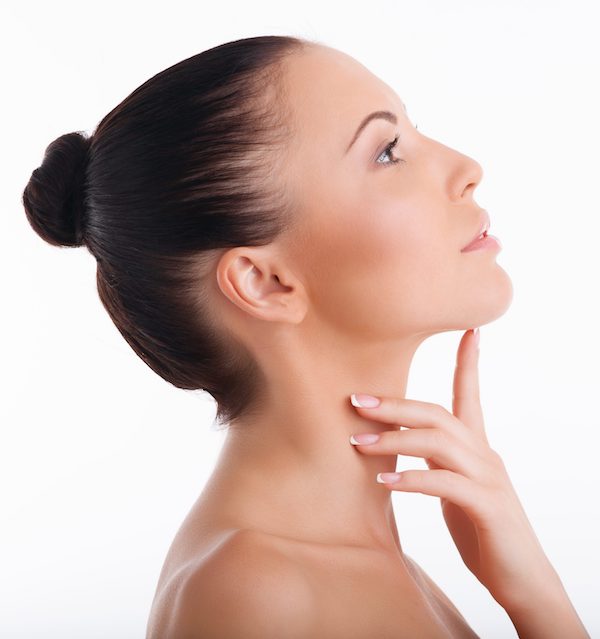 Submental fullness, or fat under the chin, can be frustrating and take away from your appearance. Fortunately, we have a simple and non-surgical solution for you!
CoolSculpting is a simple fat reducing technique that has been FDA-approved to treat a double chin. Life is busy and CoolSculpting will let you improve your appearance without any downtime or risk of scarring. If you are interested in the many benefits of a CoolSculpting treatment, reach out to our office today!
What is CoolSculpting?

CoolSculpting is a body contouring treatment that removes unwanted fat stores for good. Fat cells are killed off by cold temperatures. These cells will be located by the body and metabolized, allowing the fat stores in your chin to be diminished permanently.
CoolSculpting implements the science of cryolipolysis, or fat freezing, to safely and effectively get rid of unwanted fat.
CoolSculpting was developed by scientists and made to provide people with a non-invasive treatment for getting rid of fat. CoolSculpting can be used all over the body and include treatment areas such as the inner thighs, banana rolls, outer thighs, love handles, abdomen, back, and upper arms. CoolSculpting applicators have been specifically designed to treat each of these areas and adjust to the natural curves of the body. The CoolMini Applicator has been designed to fit the area below the chin and target fat cells.
CoolSculpting is a revolutionary technique that is helping men and women everywhere achieve their body goals conveniently.
Before and After Photos
CoolSculpting A Double Chin
Many people are bothered by how a double chin affects their appearance. Your face is the first thing people notice about you and a double chin can make you appear unhealthy and detract from your attractive features. CoolSculpting a double chin is simple and effective. You can easily restore the natural angles of the jawline and neck. CoolSculpting a double chin may be your best solution to slimming down and looking your best!
Benefits
CoolSculpting is a simple, non-invasive solution for bothersome submental fat.
With CoolSculpting you don't have to worry about incisions, injections, anesthesia, downtime, or scarring.
If you are uninterested in invasive surgery or just don't have the time to set aside for a lengthy recovery, CoolSculpting is the best way to achieve your body goals.
Candidates
The best candidates for a double chin CoolSculpting procedure are individuals who are healthy, within their ideal weight range and frustrated with fat under their chin. This fat can be difficult and resistant to clean eating and exercise. If you are bothered by a double chin, CoolSculpting may be a perfect solution for you!
Personal Consultation
During your consultation, the area under your chin will be examined to ensure there is enough fat available for the CoolSculpting device to attach to. Along with a physical assessment, you will be asked about your medical history and health to ensure you are a healthy candidate for CoolSculpting.
Your meeting with the CoolSculpting providers is a great time to ask questions and discuss any concerns you may have.
Preparation
Very little, if any, preparation will be required of you. The providers will inform you of any steps to take for your appointment during the private consultation. Feel free to call our office with any questions.
CoolSculpting Treatment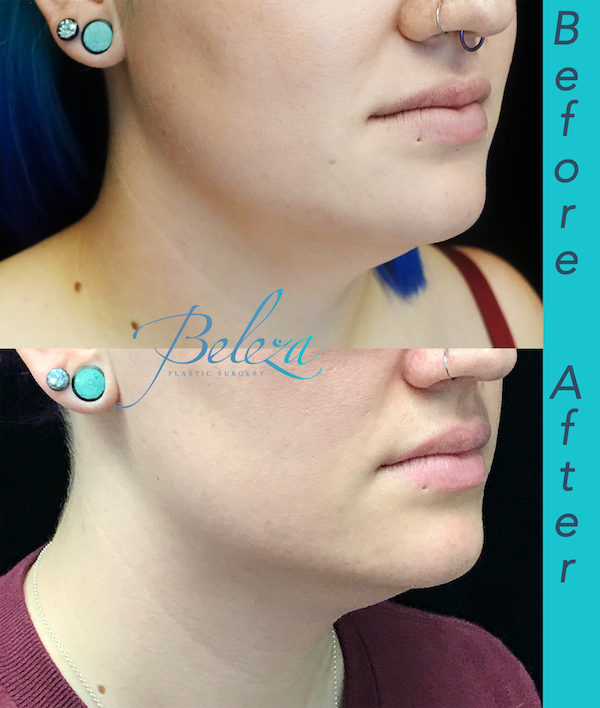 Your treatment will take thirty-five to a couple of hours during which you can rest, use your phone, or watch TV. A CoolSculpting device will be secured to the fat below the chin and specialized cooling panels will suction close to the surface of your skin. This action will also draw fat stores to the surface of your body for a more effective treatment. Your treatment area will quickly go numb and be exposed to cold temperatures for the allotted time period. After treatment, the under-chin area will be massaged, and you can return to your regular day.
Recovery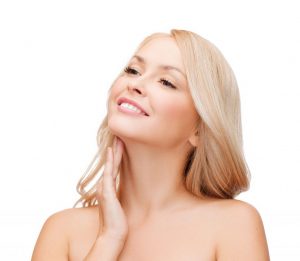 After treatment, the underside of your chin will be numb, but the feeling will return. The treatment area may also be red. The redness should fade within the day. Everyone has a unique recovery and your provider will inform you of the various factors you may experience during recovery.
During your recovery, your body will be targeting the dead fat cells. These cells will be naturally metabolized, and your under-chin fat stores will be greatly impacted.
CoolSculpting Results
Your CoolSculpting results may be noticeable after six weeks but most patients require two to three months to see their results. The results achieved with chin CoolSculpting are long-lasting. The fat cells have been removed and will not return. Healthy eating and an active lifestyle will keep your weight under control and help you maintain your results.
Complementary Procedures
You can easily combine CoolSculpting procedures for comprehensive improvement in your appearance. CoolSculpting applicators have been made for areas all over the body and can help you smooth out fat bulges and bumps. Adjustments can be made so you can treat both your double chin and another problem area during one CoolSculpting appointment. This appointment will allow you to achieve a slimmer and more attractive appearance. If you are interested in maximizing your CoolSculpting treatment, ask your provider about your options during your private consultation.
CoolSculpting Chin Cost
The cost of your CoolSculpting treatment will depend on the number of appointments needed and whether you combine treatments. Our Patient Coordinator will go over the costs involved with your treatment during your consultation. To learn more about CoolSculpting schedule a meeting with our CoolSculpting providers by clicking here or give us a call at (724) 759-7777.
Frequently Asked Questions
Does CoolSculpting work on double chins?
Yes, CoolSculpting is a great option to diminish excess fat found under the chin. Look through our before and after gallery to see how CoolSculpting is impacting patient's appearances.
How much does CoolSculpting cost for double chin?
The cost of your CoolSculpting treatment will be unique to you. Our Patient Coordinator will discuss the costs involved after your personal consultation.
Which is better for double chin: Kybella or CoolSculpting?
Neck fat removal can be achieved with either Kybella or CoolSculpting. The best treatment for you will depend on your health and the treatment you are interested in. We offer both Kybella and CoolSculpting as solutions to reduce stubborn double chin fat.
What to expect after CoolSculpting chin?
After a chin fat reduction with CoolSculpting, your treatment area will be numb. Feeling will come back and you may feel sensations throughout the treated area. Your results will set in after six weeks to three months.
Can double chins go away?
Yes, double chins can go away! A double chin reduction with CoolSculpting is a simple yet effective way to target undesired fat stores and reduce them.
Can CoolSculpting get rid of a double chin?
Yes, double chin treatment is simple and effective with CoolSculpting. Many patients have seen an improvement in their facial appearance with CoolSculpting. Chin fat can be frustrating and a source of embarrassment. We want you to be confident in how you look and offer CoolSculpting as a convenient solution for patients not interested in surgery but who are interested in improving their appearance. Contact us today to learn more about CoolSculpting and if it is the best treatment for your appearance goals.
What is the best treatment for double chin?
The best double chin removal technique will depend on your health and desired aesthetic goal. CoolSculpting is an excellent treatment for removing bothersome submental fat. This fat is resistant to diet and exercise and can make you appear unhealthy. Transform your face and restore your features with fat freezing. You don't need double chin surgery and the risk of scarring that comes with it. CoolSculpting can help you look and feel your best again!
Is liposuction better than CoolSculpting?
At Beleza Plastic Surgery, we specialize in both CoolSculpting and liposuction. The best treatment for you will relate to your body goals and current physique. Liposuction is a more invasive procedure that allows for a more predictable outcome. Similarly, to CoolSculpting, liposuction removes unnecessary fat stores and helps restore sensual contours. CoolSculpting is non-invasive and is a more convenient treatment. The best way to learn about these treatments is to schedule a consultation with Dr. Wooten. She will take you through the different body contouring techniques and help you determine which treatment would be best for you.
Can you do CoolSculpting on your face?
CoolSculpting can be performed on the fat underneath the chin but not on the face. This is for safety measures and because there is rarely enough fat available on the face to securely attach a CoolSculpting device.
CoolSculpting is a simple, convenient solution to difficult fat stores. If you are interested in pursuing a CoolSculpting treatment, reach out to us today by clicking here.