Chemical Peels
Conveniently located to serve the areas of Pittsburgh, PA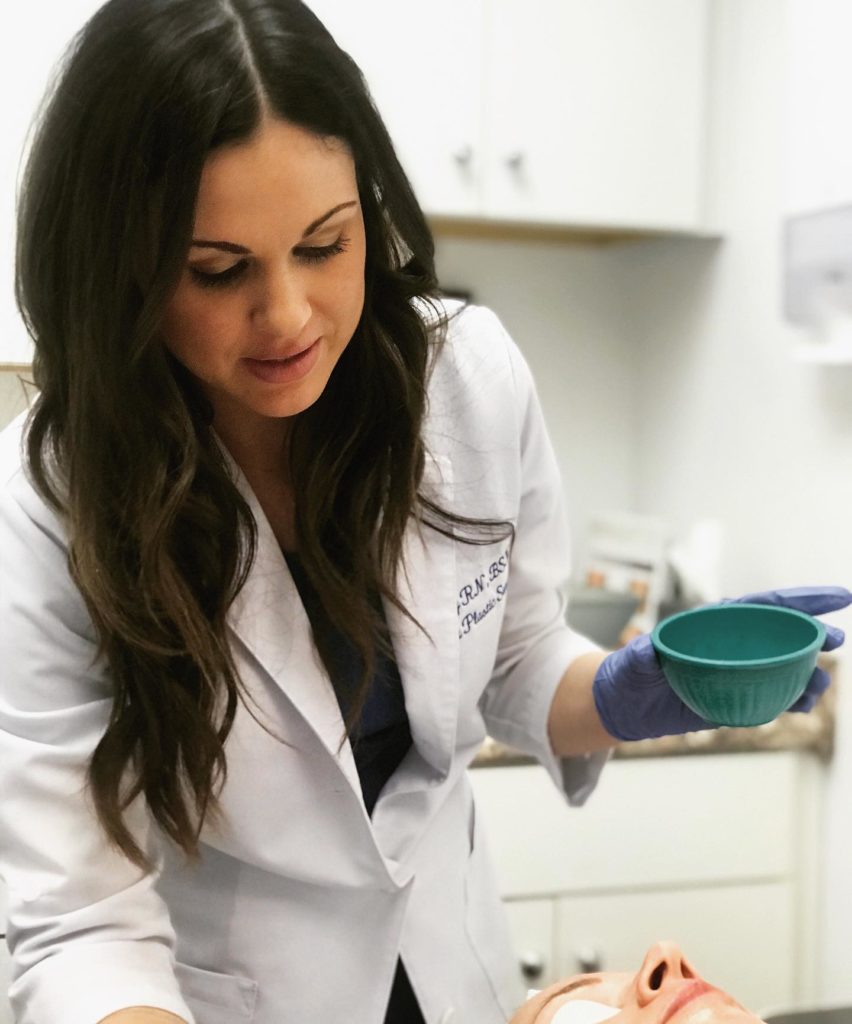 Skin tells a story. Every goosebump elicits suspense, every touch delivers connection, and every imperfection conveys conflict. If you have scars, acne, freckles, or liver spots, then you may want to revise the story your skin tells.
To minimize the appearance of melasma and treat fine facial wrinkles, blemishes, and sun damage, consider the brilliant benefits of a chemical peel from Beleza Plastic Surgery & Medi-Spa. Our nursing professionals and licensed aestheticians perform a variety of chemical peels to complement your skincare regimen and promote a healthy glow.
We have helped men and women from Pittsburgh to Cranberry Township and beyond look and feel their best with our med spa treatments. Contact us online today or call 724-759-7777 to schedule your personal consultation.

What Is a Chemical Peel?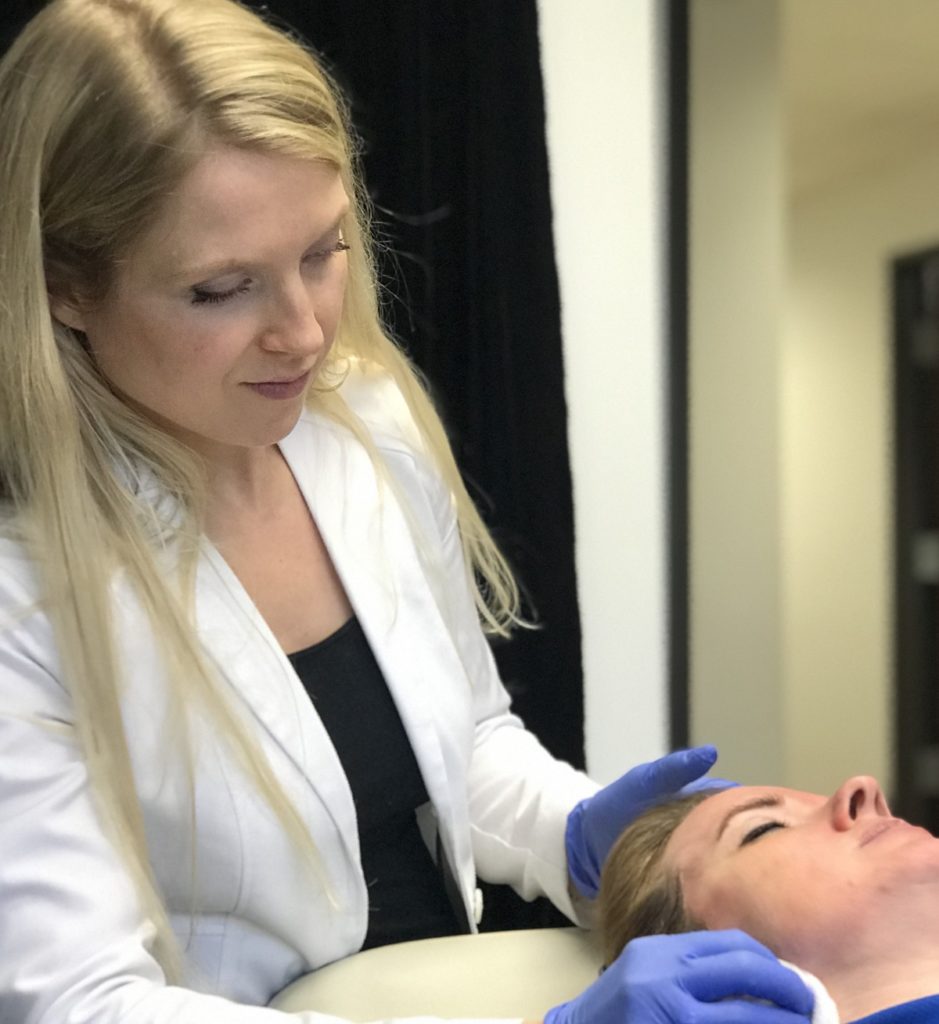 As we age, dead skin cells do not regenerate as easily as they did when we were younger, causing the skin to appear less vibrant over time. Chemical peels help rejuvenate your skin like no lotion or cream ever could.
The exact formula used to treat a patient's skin depends on the nature of their complexion. Phenol based peels penetrate deep under the surface while trichloroacetic methods are more suited for keratoses, lentigoes (liver spots), and dermatitis.[1] Chemical peels generally fall into one of three categories, but the experts at Beleza can navigate through each level to determine which precise formula works best for your skin.
Before and After Photos
Superficial Peel
To reverse the everyday damage of sun and dehydration, a superficial peel can restore your luster with ease. You can resume your normal activities immediately following this procedure, provided you use the appropriate sunblock to protect yourself from UV rays.
Medium Peel
When the potency level of a chemical peel rises, so does its effectiveness. A medium peel affects both the upper dermis and epidermis, encouraging your outermost layers of skin to slough off in a span of five to seven days. Once the redness and swelling subsides, you are left with a rejuvenated, replenished complexion.
Deep Peel
To penetrate into the dermis, you may request a deep chemical peel. The dermis is the thick layer of skin beneath the epidermis, and it contains capillaries and hair follicles. A deep peel, therefore, might require anesthesia to provide comfort throughout the procedure. The skin requires one or two weeks to peel away its impurities, during which time a recipient must apply ointment to moisturize the affected areas. These types of peels are administered by Dr. Wooten herself, and require more post-procedural care and attention.
AlphaRet Professional Peel System 50
Beleza is proud to offer a breakthrough formula by SkinBetter. It contains a bespoke compound to gently, yet thoroughly, target your "problem areas" and resolve your blemishing issues. The AlphaRet peel is for professional use only, so you won't find it over the counter. But if you schedule a peel package at Beleza, your first AlphaRet treatment comes with a FREE SkinBetter SPF 68 sunscreen compact (retail value $50).
SkinBetter's patented AlphaRet formula improves overall tone and texture for people struggling with moderate photodamage. This, in addition to the three types of acid used in the peel, give patients glowing results. Their patient surveys indicate that 100% of recipients had noticeable improvement from their baseline appearance after just one session!
The Benefits of Chemical Peels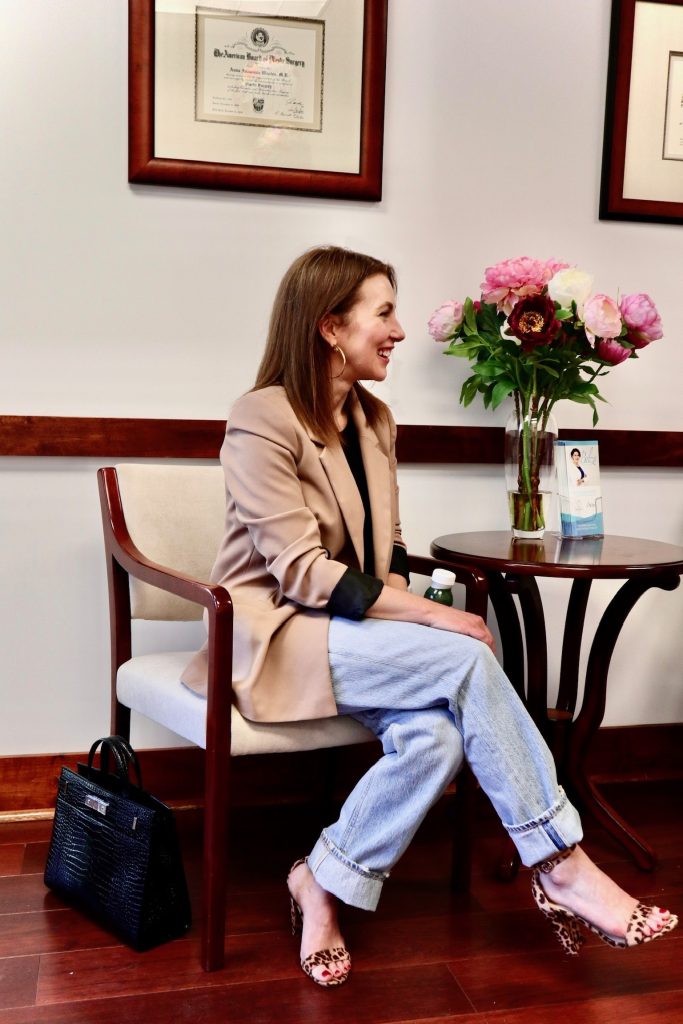 Chemical peels offer patients brighter, smoother, clearer skin. Our staff at Beleza will help decide which peel works best to eradicate blotches, uneven pigmentation, sun spots, and scars.
Another great benefit of chemical peels is their convenience. After only 20 minutes, you will trigger a process that promotes new skin growth as it lifts away unwanted marks and scars. The beauty of a Beleza treatment is that it is tailored to your skin. From wrinkles to freckles to acne, our staff will address your unique concerns with professionalism and precision.
Candidates for a Chemical Peel
If you're seeking skincare treatment that really works, you might be a candidate for a chemical peel at Beleza Plastic Surgery. Peels can be effective remedies for the following conditions:
Acne
Acne scars
Blemishes
Brown spots
Fine lines and wrinkles
Poor complexion
Rough skin texture
Sun damage
Healthy Pittsburgh-area residents and visitors who struggle with any of the issues listed above may be eligible for a chemical peel from one of our registered nurses or licensed aestheticians. To discover the best cosmetic solutions available in Western Pennsylvania, contact Beleza Plastic Surgery at your earliest convenience.

Pricing
Pay-as-you-go:
Chemical Peel: $200.00
Deep 15% TCA Peel (includes $300+ worth of complementary products): $800.00
Package pricing:
Chemical Peel (Package of Three): $450.00
Book a Personal Consultation in Sewickley, Wexford, or Pittsburgh, PA
Under the expert leadership of Dr. Anna Wooten, the Beleza team is guided by commitment to our vocation and dedication to our patients. From the moment you enter our office, your voice will be heard and your opinions will be respected. We want to learn about your aesthetic goals so we can strategize the best cosmetic options for your appearance.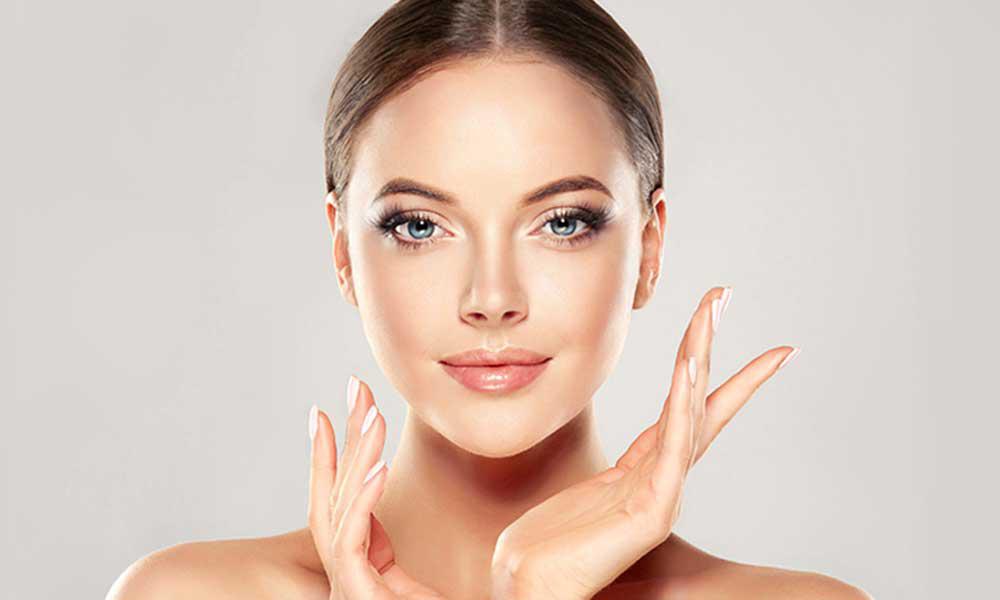 Be ready to provide your medical history and prepare to ask as many questions as you can conceive. To get a glimpse of how we think and what we have to say, please visit our blog. We relish the opportunity to communicate directly to our community, and we hope to extend this effort to you in a one-on-one setting. Please call 724-759-7777 and let's start a conversation about your skin health!

Preparation for Chemical Peels
Your attentive Beleza representatives will provide detailed instructions to get you ready for the day of your procedure. Each patient is unique, so these directions naturally vary. In general, here are some guidelines to keep in mind during the days and weeks leading up to your chemical peel appointment:
Drastically reduce your exposure to direct sunlight for two weeks prior to the procedure
Please inform your Beleza contact person if you have open sores, scrapes, or lesions that may prevent you from receiving a chemical peel
Apply any topical products suggested by your Beleza representative to prepare your skin
Be sure to take any antibiotics or antiviral medicines that your doctor deems necessary
Approximately 1-2 weeks before your chemical peel, please stop using products that contain retinoids
If you require sedation for a deep peel, you should arrange for a loved one to drive you to and from the clinic on the date of your procedure. Your continued health and happiness are our top priorities.
The Chemical Peel Procedure
When you arrive at Beleza, our friendly staff will attend to your needs and address whatever concerns or questions you may have. Please be punctual so that we have ample time to properly prepare the area of your skin that will be affected by the chemical peel.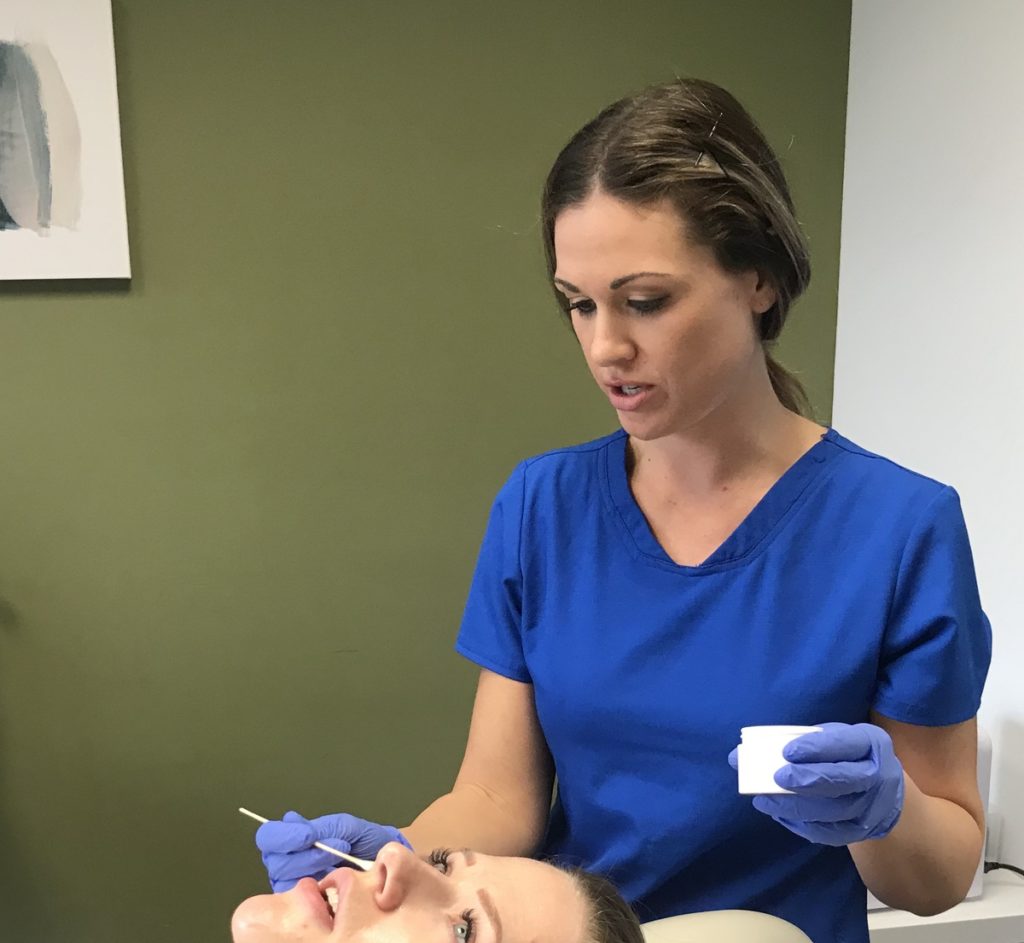 Your aesthetician and/or nurse will apply a small amount of solution to the skin. You may experience a slight sting or hot sensation, but this will dissipate quickly. At the appropriate juncture, we can provide cool compresses to alleviate any discomfort you are feeling. We then apply a neutralizing solution to wash the chemical compound from your skin and start the healing process!
Recovery from Chemical Peels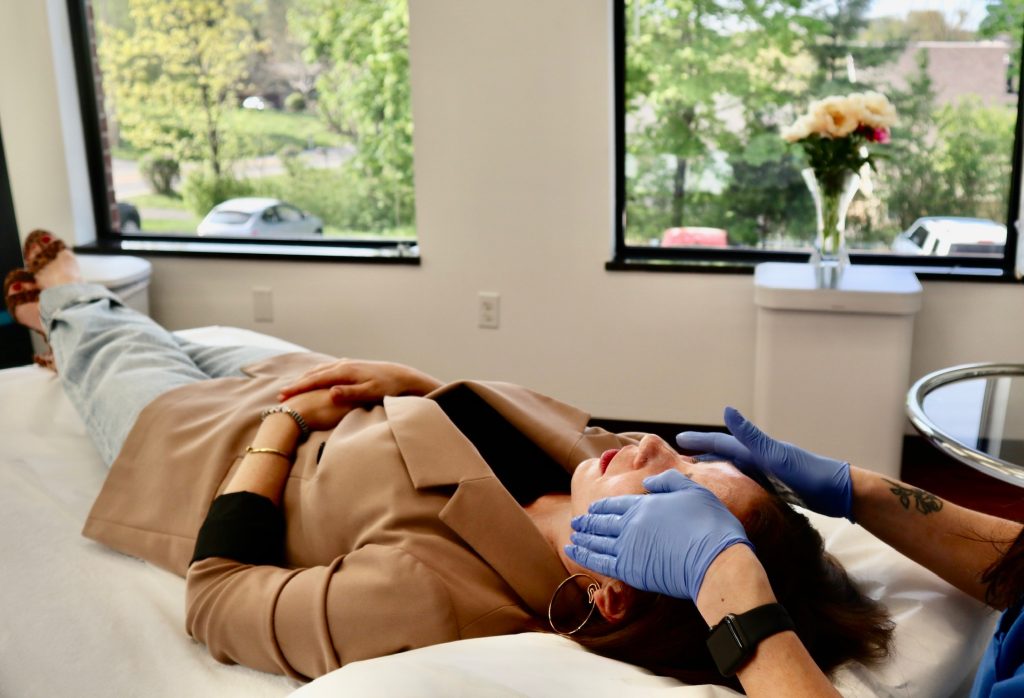 As the name suggests, chemical peels promote the accelerated sloughing off (or peeling) of dead skin. Once you shed your damaged layers, it paves the way for healthy new cells to take their place. Your Beleza contact may advise you to apply a topical cream containing tretinoin to aid the healing process and nurture your fresh new look.[2]
Ravishing, Remarkable Results
For a smooth, seamless complexion, a chemical peel from Beleza is your passport to aesthetic nirvana. As the old saying goes, beauty is only skin deep. By erasing the fine lines and imperfections that linger on the upper layers of your skin, Beleza can unleash the wondrous glimmer hiding just below the surface!
Complementary Procedures
A chemical peel is a great way to whisk away the top layer of dissatisfaction from your appearance, but Beleza is ready to go deeper if you need or want us to do so. The small muscles in your face contract every time you frown, laugh, and wink. These motions pull at the skin and create wrinkles and creases. Botox can limit the repetitive activity of your facial muscles and relax the look of your features. Fine lines disappear when the contractions below the skin release. Beleza can also plump the gaps below your wrinkles by administering dermal fillers. These injectables promote collagen production, which support the skin and fill out formerly puckered, sagging areas.

FAQ
How much does a chemical peel cost in Pittsburgh?
Starting from $150, the price of your procedure will depend upon the depth of the peel you desire. When bought in a package, Beleza's pricing on chemical peels becomes even more competitive, as we offer discounts to our loyal patients who purchase multiple procedures. Please contact one of our knowledgeable team members and we can discuss a range of procedures and the ideal ways to finance them.
Are chemical peels safe?
Yes, in the right hands, chemical peels are a sensible, effective way to remove blemishes and impurities from your skin. Side effects are minimal, especially when you follow the post-procedural instructions from our staff. Please call 724-759-7777 to learn how you can benefit from a chemical peel in Pittsburgh. 
How long does a chemical peel last?
Some results of a chemical peel last longer than others. For example, small scars can be eradicated forever while lines and wrinkles may recur due to the natural process of aging. Sun spots may return if you fail to properly shield your skin from harmful UV rays. To learn more about the ravishing results you can enjoy from a chemical peel, contact Beleza Plastic Surgery.
References
Collins, P. (1987). The chemical peel. Clinics in Dermatology. 5 (4) 57-74. https://doi.org/10.1016/0738-081X(87)90027-7
Hevia O, Nemeth AJ, Taylor JR. (1991). Tretinoin Accelerates Healing After Trichloroacetic Acid Chemical Peel. Arch Dermatol. 127(5):678–682. doi:10.1001/archderm.1991.01680040086008