Breast Lift
Offered at our convenient location in Pittsburgh, PA
A breast lift (technically referred to as mastopexy) restores shape and volume to the breast without the use of implants*. A breast lift is designed for women who want "perkier" breasts, but not an increase in overall size. During the procedure, Dr. Anna Wooten raises the position of the nipples and surrounding areola in order to keep symmetry within the new breast shape*. She is also able to reduce the size of an overlarge areola*.
Breast lift surgery is popular among women who have experienced diminished breast volume or sagging due to aging, nursing or weight loss. Dr. Wooten has helped women from Pittsburgh to Cranberry Township and beyond look and feel their best with cosmetic surgery*. Contact us online today or call 724-759-7777 to schedule your breast lift consultation.
*results may vary
In 2006, Dr. Wooten spent several months studying in Brazil, learning about the Brazilian breast lift technique, which results in a more natural breast shape, as well as better healed scars*.
Before & After Photos
Procedure Options and Considerations
Are you thinking about a breast lift? Find out more about our breast lift surgery by scheduling a consultation. During your appointment, you'll encounter a number of options and choices.
The effects that motherhood, aging, and weight loss can have on a woman's breasts do not have to be permanent. If you want to maintain your current breast volume, but would like to create a more youthful look by lifting the nipple and breast tissue, you may be a good candidate for a breast lift*. The procedure takes 2-3 hours. After surgery, you'll remain in the recovery room for 1-2 hours before you go home. Lastly, it will take about 3-5 days before you're able to return to work.

Methods
At Beleza Plastic Surgery, we offer our patients options for lifting and shaping the contour of the breast and surrounding tissue. Regardless of method, our goal is always to leave a shorter scar with a longer lasting result*.
*results may vary
During your initial consultation, Dr. Wooten will explain the lollipop method (with limited scar incision) as well as the Brazilian method that provides women with long-lasting upper breast fullness, giving the illusion of an implant*. Some surgeons refer to the latter surgery as the "implant look without an implant."
Lollipop breast lift
This type of lift is so named because of the surgical scar produced. The incision goes around the areola with a vertical scar extending down to the crease of the breast. If desired, an implant may be added for increased volume*. The Brazilian breast lift is usually performed with this type of incision.
Brazilian breast lift
Until recently, breast lifts without implants have not provided the best long-term improvement. In 2007 Dr. Wooten traveled to Curitiba, Brazil, and worked for several weeks with renowned surgeon, Dr. Ruth Graf, who developed the Brazilian breast lift technique. Dr. Wooten's objective was to learn every detail of Dr. Graf's unique approach to this surgery, so that she could offer Brazilian Breast Lift in Pittsburgh. The Brazilian breast lift is similar to a typical breast lift with a lollipop incision, except that the breast is augmented with the patient's own tissue. Today, Dr Wooten performs the Brazilian breast lift for Beleza's cosmetic surgery patients who desire long-lasting results without an actual implant*.
*results may vary
Breast lift with implants
It's common for patients to also want to increase cup size. In these cases, Dr. Wooten will combine the breast lift procedure with the surgical insertion of breast implants. The combination of the the two procedures can help women achieve a firmer, more youthful bust*. There are obvious advantages to lifting and enlarging the breasts at the same time, as opposed to having two separate procedures:
The cost of a combined procedure will be less than the cost of two separate procedures.
The patient will only have to undergo one recovery period as opposed to two.
Recovery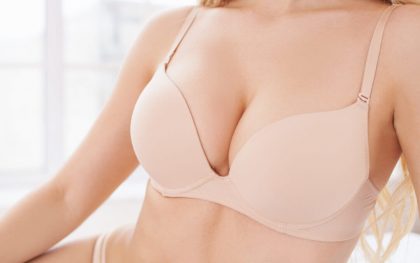 Five days after your breast lift surgery, you should be able to resume your normal routine*. You most likely will be wearing a compression bra in order to decrease post-operative discomfort and encourage proper healing. Soreness and swelling will resolve within weeks. However, Dr. Wooten will instruct you not to lift anything or engage in strenuous exercise for up to eight weeks.
Scarring after a Breast Lift
The incisions from your surgery will heal and fade over time. It is important to realize, however, that your history of scarring will affect your result*. If you tend to heal well, with small, light scars, this will probably be how you heal from the breast lift procedure*. Others, such as those who have a history of keloid scarring, may not heal well. Fortunately, Dr. Wooten minimizes her incisions and places them so as to conceal the majority of the scar*.
*results may vary
Breast Lift FAQs
Will my breasts be the same size after a breast lift?
During a breast lift procedure, Dr. Wooten does remove excess sagging skin & tissue in order to lift the breast. This results in a slightly smaller breast*. If this is an issue for you, and you would prefer to maintain or even enlarge the size of your breasts with your surgery, you may want to incorporate a volumizing measure – such as breast implants or a fat transfer – into your procedure*.
Will my new breast shape last forever?
Unless you gain or lose a significant amount of weight or become pregnant, your new breast shape should remain fairly constant*. However, gravity and the effects of aging will eventually alter the size and shape of any woman's breasts.
How is the nipple lifted during a breast lift procedure?
"Often, patients ask me if I remove the nipple and place it back in the breast. This is very wrong – I never actually remove the nipple. During surgery I simply change the positioning," says Dr. Wooten.
Contact us for your Breast Lift consultation!