Botox – Wrinkle Prevention
Conveniently located to serve the areas of Pittsburgh, PA
Are you concerned about the development of aging skin, wrinkles and creases on your face? As we age, we develop deep lines and creases that embellish our age and may make us feel older than we truly are.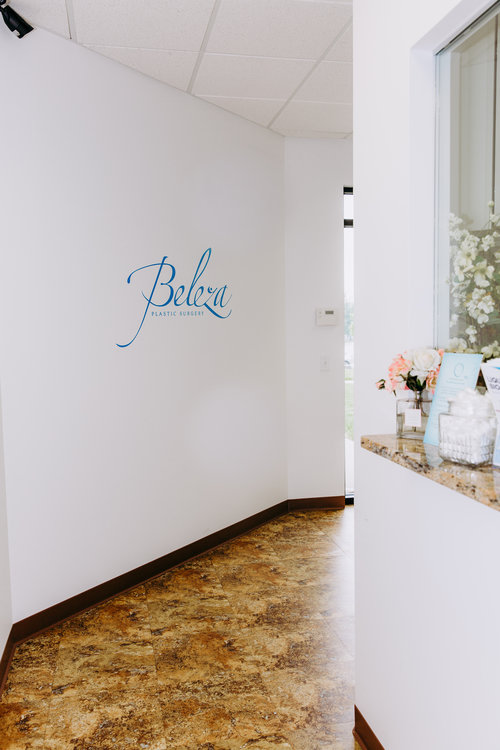 Beleza Plastic Surgery offers many solutions to improve your appearance. One of the most popular anti-aging options is Botox. Botox injections are simply applied and require no downtime! Transform your face after one quick procedure!
Dr. Anna Wooten is a highly-qualified plastic surgeon who has years of experience and high patient satisfaction. She strives to build relationships with her patients so as to best understand their aesthetic goals and achieve them. Dr. Wooten has an eye for detail and an artful technique that helps her perform natural, beautiful outcomes.
What is Botox?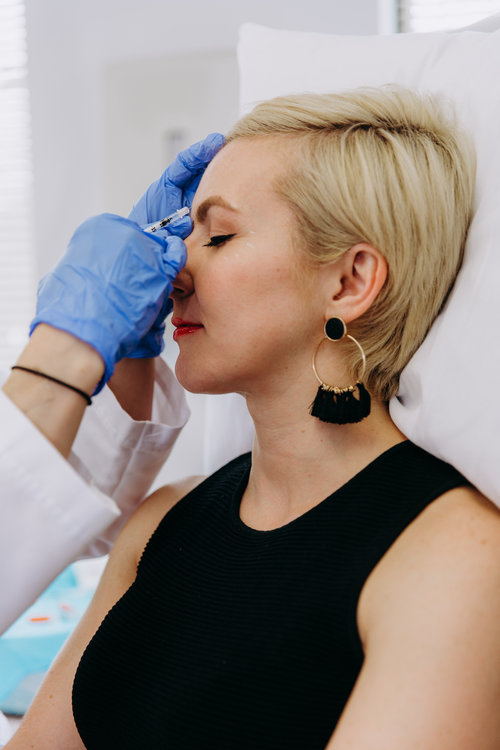 Botox injections, also known as a neuromodulator, work by temporarily pausing muscle movement at the site of the injection. Botox is composed of a neurotoxin protein. This protein works to release tightness, thereby allowing for a less aged or stressed appearance.
This temporary suspension also serves as a preventive measure and helps decrease further development of wrinkles. This is done when the neurotoxin protein does not allow the specific muscles to further exacerbate existing creases, lines and wrinkles. This creates a more youthful look for both female and male patients. Patients who experience a consistent facial appearance that seems sad, angry or worried may benefit from Botox injections.
Botox has the added benefit of reducing sweating and migraines. Botox can be injected in the armpits, brow, palms, or other areas that contain sweat glands in order to minimize sweating and odor. Botox injections in the face can help relieve migraines and counteract them before they begin. Not only can you enjoy these added benefits but you can also look younger in the process.
Botox is one of the most popular injectables on the market because of its dramatic results! Botox is FDA-approved and will work to improve your appearance for years to come!
Benefits
Botox injections are a tried and tested method of improving your appearance and returning a youthful texture to your skin. There are many advantages to receiving Botox injections, these benefits include:
Smoother skin
Diminished migraines
Younger appearance
Deters future development of lines and wrinkle
Treats Hyperhidrosis or overactive sweat glands
Botox improves the daily lives of many men and women. If you are interested in learning more about Botox injections and how they can benefit you, schedule a consultation at Beleza today!
Are Botox Injections Right For Me?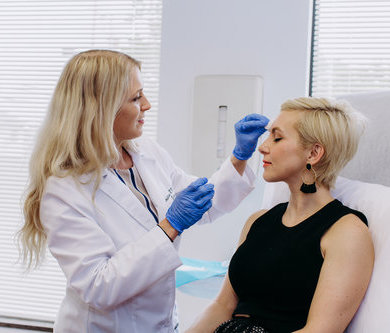 Many adult men and women are great candidates for Botox injections. If you are self-conscious about deep lines and wrinkles on your face, you are already a good candidate. Botox injections are especially well-suited for preventing the future development of wrinkles.
Dr. Wooten and our experienced nurse injectors will create treatment plans that take your health and unique facial features into consideration! At Beleza Plastic Surgery, we strive to provide beautiful, natural results!
Personal Consultation
In your personal consultation, you will have the opportunity to ask questions and learn about the Botox process, potential risks, and expected outcome. You will share your desired cosmetic results and how Botox injections can help you achieve those goals. Dr. Wooten and our nurse injectors will take this into consideration during your examination. Your skin elasticity may be tested and you may be asked about your general health, past procedures, allergies, and medication regimen.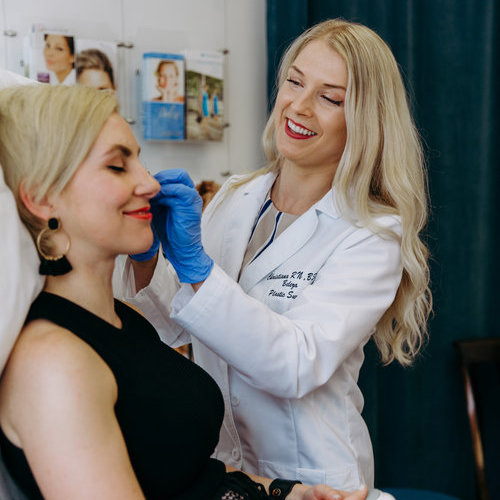 You will be advised on how to best prepare for the treatment. You will be instructed to stop taking antihistamines and halt smoking habits to ensure a healthy procedure. Towards the end of your consultation, when you are feeling confident and excited about the improvements Botox injections will have on your appearance, you can choose a date for the procedure! Some patients decide to be injected the day of their consultation, while others may wish to wait for a specific event, or to give themselves some time to think. If you have any questions that weren't answered during the consultation or feel concerned about an aspect of the treatment, please don't hesitate to call our offices so one of our expert staff members may assist you.
Botox Injection Techniques
Because Botox injections are done with the smallest needles possible, the treatment is relatively comfortable. The injections will be applied to strategic locations on your face. An in-depth knowledge of human anatomy will help to pinpoint the muscles that cause deep lines and creases. Once the Botox injections have been administered, you may return to your daily schedule. These appointments can last up to thirty minutes.
Skincare
When you leave your appointment, your skin may be red or itchy at the incision sites and your skin may be slightly swollen. You will want to avoid itching or touching the injection sites until they are healed. These symptoms will decrease over the next twenty-four to forty-eight hours as the Botox takes effect. Ice packs may be used to alleviate any discomfort or swelling. A light layer of makeup can be applied after twenty-four hours along with other creams and moisturizers.
Patients will need to wait a minimum of two weeks prior to resuming their regular laser treatments. For those who get facials, microdermabrasion, or other manual skincare treatments, we recommend waiting at least three days after your injections to resume treatment.
Botox Results
Your skin will significantly relax and lift in the days following your treatment! The results are visible after seven to ten days and can last for up to five months. At this point, you will notice the gradual return of the lines and wrinkles. Maintenance appointments are necessary to keep your results consistent.
Complementary Procedures
There are many treatments that can be applied to enhance the results of Botox injections. If you are interested in combining your Botox treatment, ask Dr. Wooten about your options during your private consultation with her. Your options may include:
Bellafill
Bellafill injections are a revolutionary filler that returns the youthful glow and texture of youthful skin!
Bellafill is often used to reduce the appearance of smile lines, depressed areas of the face, fine wrinkles, creases, folds, and acne scars.
Bellafill is largely composed of collagen, allowing it to repair your skin for long-term results. This filler also implements an anesthetic to minimize any discomfort and provide a positive experience.
Juvederm
This dermal filler is manufactured by Allergan, the same company that creates Botox. Juvederm has a hyaluronic acid-base that hydrates your skin and returns a youthful, perky glow to it. Hyaluronic acid-based fillers are popular because hyaluronic acid is naturally found in the skin and connective tissue of our bodies. The filler will interact naturally with our body until it is broken down and metabolized.
Juvederm is an excellent filler to reduce wrinkles and creases in the face.
It is also often used to improve the volume of the lips and give them a smooth, full appearance. Your results will last for six to nine months. Maintenance appointments will be necessary if you want to keep your results consistent.
Juvederm Voluma XC
This injectable filler is also manufactured by Allergan and may be used all over the face. Voluma is an excellent option for filling in wrinkles and plumping the skin. Enjoy your results for a few months or for up to a year!
Restylane Lyft
This filler is often used to restore lost volume and fill in wrinkles and lines that have developed around the nose, mouth, and chin. Restylane Lyft will improve the texture of your skin and will last up to six months.
Restylane Silk
This filler has a hyaluronic base and was specifically designed for administration to the lip and perioral area of the mouth. This filler is FDA-approved and is ideal for lip enhancement. Restylane Silk contains lidocaine to help improve the comfort level of your filler experience.
Belotero
This filler is used to improve the lips and moderate to severe wrinkles, lines, and folds. Belotero significantly reduces the appearance of frustrating wrinkles to naturally improve the texture of your skin. Your results should last for up to six months.
Radiesse
Radiesse is a revolutionary filler because it not only improves your appearance but it also stimulates the skin's production of collagen, helping improve your skin in the long-term. This filler will help to strengthen your skin's structure and improve its firmness. Often used to volumize the cheeks, Radiesse will add a glow to your skin with results that last for up to a year!
Dermal fillers are easily administered, just like Botox injections. A topical anesthetic will be applied to provide a comfortable appointment. The specific filler will be administered to the area(s) you are concerned about. Your results will be immediately visible.
Injectables do not require downtime and you will be able to return to your regular schedule following the appointment.
Dermal fillers will require maintenance appointments to keep your improvements consistent. When you combine Botox injections with dermal fillers you can contour your face and restore firm, soft skin that is reminiscent of your youth!
How Much Are Botox Injections?
At Beleza Plastic Surgery, we recognize that each patient has a unique face and a particular cosmetic goal in mind. Our prices are customized to fit your needs and will be developed in your personal consultation at Beleza. Because every patient is an individual, prices depend on how many 'units' each patient receives of the product. For more information on costs and the transformative effects, Botox injections will have on your appearance, schedule your consultation today at (724) 759-7777!