Non-surgical Hair Restoration Therapy: Nano-particle Technology
Conveniently located to serve the areas of Pittsburgh, PA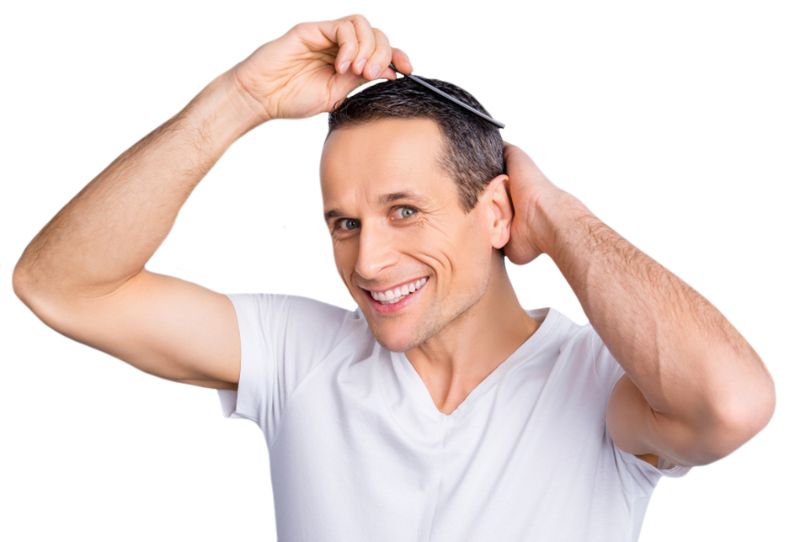 Nanoparticle technology is one of the most advanced non-surgical ways to cosmetically restore hair loss and rejuvenate an aging complexion. With age comes wrinkles, fine lines, sun spots, age spots, and thinning hair. Advancements in nanoparticle technology have allowed for the manipulation of biological cells to assist in hair restoration and skin rejuvenation. Dr. Anna Wooten is proud to offer this pioneering technology to her Sewickley and Pittsburgh clientele at Beleza's Medical Spa.
If you are interested in seeing what nanoparticle technology can do for you, please schedule a hair restoration consultation. During your personal consultation with our RN BSN providers, we construct a personalized treatment plan. To schedule your consultation, call our front desk at:
Sewickley (724) 759-7777
Pittsburgh (412) 877-9388
About NanoParticle Technology
The human genome is full of restorative molecules and properties. When cells are damaged, your body generates and sends an influx of platelets, white blood cells, growth factors, and stem cells to the area. This biological response restores the cells' functions and rebuilds damaged soft tissue structures. With time, the damaged area regains 80% of its original strength.[1] Nanoparticle technology is designed to manipulate these properties into restoring hair loss and improving cosmetic blemishes. With just a simple, non-surgical application, these organic restorative properties infiltrate damaged cells, reviving their molecular health. But, before they can do that, these restorative properties need to pass through the skin barrier. In order for that to happen, they need to be small – very small. Nanoparticle technology has allowed us to make these cells even smaller, allowing for greater retention in the treated areas. The smaller the nanoparticle, the deeper it goes.[2]
About Hair Loss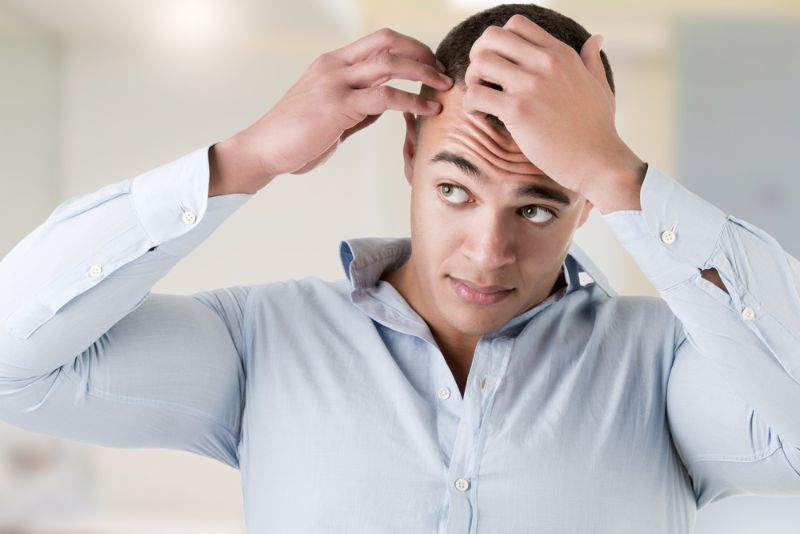 Hair loss is one of the most common signs of aging. Factors like genetic hair loss, stress, poor nutrition, and certain medications can trigger sudden thinning of hair.[3] The type of hair loss you inherit is called androgenetic alopecia and is caused by a hormonal imbalance. Hair follicles are androgen-sensitive, meaning that they deteriorate when they come in contact with androgenetic hormones like testosterone. As you age, your body produces varying levels of androgens, inadvertently damaging your hair follicles. With too much exposure, these follicles atrophy and stop producing healthy, dense hair.
Androgenetic Alopecia In Men
80% of men experience androgenetic alopecia, a quarter of which started when they were 21 years old.[3][4] As men age out of adolescence, their testosterone levels hit their peak. While they lose 1% of their testosterone supply every year after 30,[5] these high testosterone levels chip away at their hair's follicular health. Male pattern baldness typically starts with a receding hairline, affecting just the top of his head. As he gets older, eventually only the sides and back of his head have dense, thick hair.
Androgenetic Alopecia In Women
On the other hand, androgenetic alopecia affects around 1 in 2 women.[6] Unlike men, this typically starts later in life. Women start to notice their hair thinning during pregnancy or menopause, times when their hormones are imbalanced. Hair loss in women, while not as common, can be just as if not more traumatic than men's. After all, women have a much harder time "accepting it" and typically aren't willing to just shave it off.
An Aging Complexion
An aging complexion is perhaps tied with hair loss as the most distinctive sign of aging. Your skin is a complex organ. In fact, it is your only organ that experiences photoaging from sunlight, free radicals, and pollution. Along with poor nutrition and unhealthy habits like smoking, photoaging exacerbates your skin's intrinsic aging process, causing collagen fibers to not only break but also lose their molecular support. When these fibers break or grow lax, multiple cosmetic concerns arise.
Wrinkles & Fine Lines
Even though they are a normal part of aging, wrinkles and fine lines can make you look older than you are – and older than you feel. Wrinkles, fine lines, and loose skin are caused by age-related collagen loss. Your skin continually produces collagen molecules to keep its fibers strong, tensile, and intact. But, when these production cells inevitably slow down with age, your skin's fibers lose that continual support. So, with age, wrinkles worsen and fine lines deepen.
Age Spots
When your skin experiences long periods of sunlight, the UV rays speed up the production of melanin. Melanin is the group of natural pigments that gives your skin and hair its color. But, with an overproduction of melanin, these skin cells change completely in tone. So, you start to see age spots pop up around your face, hands, neck, back, and chest. While expensive topicals promise to reduce the appearance of these spots, they often provide underwhelming results.
Benefits
When it comes to hair restoration and complexion boosting procedures, nanoparticle technology allows for a simpler, more relaxed experience.
Non-Surgical
Nanoparticle applications for hair loss are minimally invasive and don't require any surgical preparation or measures to be taken. For cosmetic applications, nanoparticle technology is non-invasive. We perform both of these treatments in the comfort of a private treatment room.
No Downtime
Nanoparticle technology doesn't require any subsequent downtime. Our patients love these procedures because they can easily fit into any busy schedule. If you would like to see how nanoparticle technology can give you remarkable results without surgery or downtime, schedule a personal consultation at our MedSpa!
Candidates
Patients who respond well to nanoparticle technology are those with cosmetic concerns like thinning hair, fine lines, and overall skin rejuvenation. Since these cosmetic concerns start during different stages in life, nanoparticle technology may improve the appearance for patients of all ages. Nanoparticles are recommended for those who want rejuvenating results without the hassle of surgery or the burden of prolonged healing.
Are You Losing Your Hair?
Wrinkles and fine lines might be more obvious than hair loss – at first. If you find yourself shedding more hair, then you might be an ideal candidate for hair restoration therapy at Beleza Plastic Surgery & Medi-Spa.
Personal Consultation
If this is your first time at Beleza Plastic Surgery and MedSpa, we'll begin your consultation by reviewing your medical history and listening to your concerns. Most patients come to us with more than one cosmetic concern, so we'll listen to learn about your aesthetic worries and recommend appropriate treatments. We'll explain how nanoparticle technology works and how it can be integrated into your personalized treatment plan. At the end of your consultation, we will give you any necessary preparatory steps for you to follow before and after hair restoration therapy.
Necessary Prep
Necessary preparatory steps may include:
Discontinue taking any blood-thinning medications
You may begin taking arnica montana, a natural supplement designed to minimize post-procedural bruising/swelling
Come to your treatment with freshly washed hair (with no hair products) and a clean face
Avoid smoking and alcohol beforehand
After Care & Results
Depending on if you received hair restoration or skin rejuvenation, your after-care guidelines will differ. Your provider will instruct you on the appropriate after-care to follow.
Hair Restoration
It's important to not touch or aggravate the treated areas after nanoparticle hair restoration. This means avoid wearing hats, washing your hair, and rubbing your head on a pillow. Over the next four months, the nanoparticles will revitalize your follicular cells, revamping hair growth. In the coming months, your hair will grow thicker and fuller as the nanoparticles have restored cellular function. Further aftercare instructions will be given after treatment.
Skin Rejuvenation
After a nanoparticle skin rejuvenation procedure, avoid overexposure to sunlight. Also, be sure to eat healthy foods and stay hydrated. You'll be given additional instructions after your treatment. These steps will supply the nanoparticles with adequate nutrients. As the nanoparticles dive deeper through the layers of your skin, fresh collagen is triggered into production and skin fibers are fortified. Over time, wrinkles will show signs of improvement, sunspots may lighten, and your entire complexion radiates a younger glow.
How Much Do NanoParticle Procedures Cost in Sewickley?
The cost of nanoparticle procedures varies. We will issue a formal quote for the cost of your personalized treatment plan after your consultation with a clinical provider. If you enjoy reading about the latest in the aesthetics industry like nanoparticle technology, be sure to check out our blog! We regularly post about the latest and greatest techniques and technologies. If you plan on financing your treatment, go to our financing page to learn about our options. To reach a team member directly, call us at:
Sewickley (724) 759-7777
Pittsburgh (412) 877-9388
FAQ
How Many Hair Restoration Treatments Will I Need?
Most patients may start with a series of three hair and skin restoration treatments, and would return for an annual re-treatment to maintain their result.
How far Apart are the Nanoparticle technology Treatments Spaced Apart?
Treatments must be spaced a minimum of 4 months apart for maximum efficacy.
When Will I See Results from Non-surgical Hair Restoration?
Results will begin developing shortly after treatment, and will become noticeable at 2-4 months after your first treatment.
Is Hair Restoration Painful?
The treatments are minimally uncomfortable, but our providers work with you to make your visits comfortable. Our office offers ProNox, a 50/50 nitrous/oxygen blend, to alleviate pain, anxiety, & discomfort.
References