Ultherapy Skin Tightening
Conveniently located to serve the areas of Pittsburgh, PA
Beleza Plastic Surgery is proud to offer Ultherapy, a procedure that effectively tones and tightens the skin on the face, neck, and chest by using ultrasound. The Ultherapy treatment stimulates the skin to produce more of and tighten its own existing collagen, ensuring a lasting impact. We offer a comprehensive treatment that includes the brow, cheeks, jowls, neck and chest, or if you decide that you would prefer a more isolated approach, an aesthetic provider at Beleza can just target the areas which most concern you.
We have helped men and women from Pittsburgh to Cranberry Township and beyond look and feel their best with our med spa treatments. Contact us online today or call 724-759-7777 to schedule your Ultherapy consultation.
Watch as Anastasia Wooten, one of Beleza's certified laser tech, explains how Ultherapy works.
Like what you see? Contact us to schedule your Ultherapy consultation – free of charge!
Before and After Photos
Ultherapy: Non-Surgical Skin Rejuvenation
Ultherapy is the only non-surgical skin rejuvenation procedure that uses ultrasound to specifically target the deep foundational layer of tissue that doctors are typically able to address only through surgery.
The ability to treat the underlying support very precisely, from the inside out, helps to ensure both safe and satisfying results, with no downtime. There is pain and discomfort while the energy is being delivered, but it is a temporary and positive signal that the collagen-building process has begun. Because pain thresholds vary from patient to patient, we will discuss options for making this experience as pleasant as possible. Patients typically leave very excited about the benefits to come!
Ultherapy Results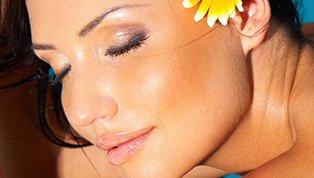 Patients are often unsure of what to expect after their first treatment. The full effect of the procedure will build gradually over the course of the coming months. Some patients may even benefit from more than one treatment.
Some of the visible effects include a lifting and toning of sagging skin, minimizing of pore size and an overall smoothness in skin texture. In the FDA clinical trial, nine out of ten patients had a noticeable lifting of the brow line. When this occurs, it opens the eye, giving a more youthful look to the eyes. They also reported skin firming in other areas of the face and neck. While all of this is happening on the outside, something is going on inside too. The formation of new collagen is occurring, which can help to slow down the rate of skin aging.
Ultherapy FAQs
Are the effects of Ultherapy permanent?
Yes – to a degree. Ultherapy cannot stop you from aging.
However, your result from Ultherapy will be long-lasting (over five years of efficacy) because of the new collagen growth stimulated by the treatment. This new collagen will be integrated with your own existing collagen and will age along with it.
I've heard Ultherapy is painful; is this true?
Again, the answer is yes – to a degree.
While the Ultherapy treatment doesn't tickle, an aesthetic provider at Beleza will work with you to minimize the discomfort that accompanies the procedure. With over-the-counter painkillers, icing, and periodic breaks, this treatment is nothing that you can't handle!