Chemical peels are a form of exfoliation which does not require a physical scrubbing or rubbing. This means that they can be an excellent treatment to brighten, refine and rejuvenate many different skin types: sensitive, acne-prone, aged and delicate, and even more weathered, sun-damaged skin all are able to benefit from chemical peels – as long as they are treated appropriately!
Here at Beleza, we offer a wide variety of chemical peels from light micropeels with lactic acid to deep TCA peels. This allows us to treat men and women in the Sewickley and Wexford areas of north Pittsburgh with a regimen appropriately designed for their skin type. During your consultation, our licensed aesthetician and registered nurses can help to guide you
Skinceuticals Peels
We carry three types of micro appeals from the popular cult skincare brand Skinceuticals: lactic, salicylic, and glycolic.
Lactic peels are appropriate for sensitive skin types, especially for men and women who battle rosacea.
Salicylic peels help to combat acne and lend an overall brightness to the complexion.
Glycolic peels treat a variety of skin concerns, including aging.
Skinceuticals micropeels can sometimes be combined with dermaplaning (a form of physical exfoliation done with a surgical blade). These peels are wonderful maintenance treatments, and should be done every once in a while to exfoliate the build-up of dead skin cells, brighten, and renew your complexion. We do often recommend a series of peels, spaced two weeks apart, to begin a treatment plan.
AlphaRet Peels from skin better science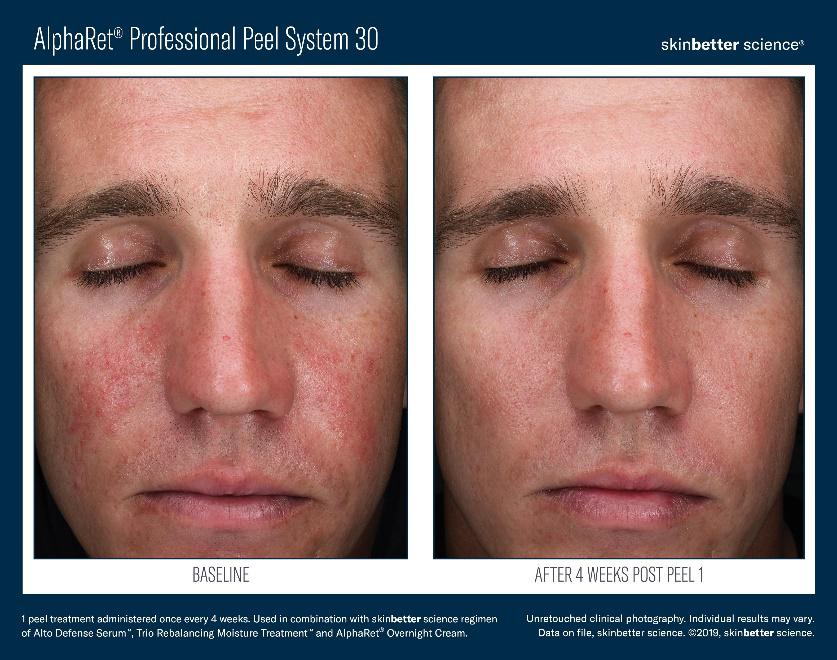 The AlphaRet peels from skin better science consist of a triple acid exfoliation plus the patented skinbetter AlphaRet retinol. If you (like us) are already a fan of the skinbetter science product line, have no fear; you do not have to discontinue your AlphaRet Overnight treatment cream to be treated!
During the AlphaRet peel, an acid blend of Lactic, Glycolic, and Salicylic re-texturize skin to enhance the action of the AlphaRet technology for optimal results. These peels really give a glow to the complexion! Beleza's licensed aesthetician will help you to determine whether the 30% strength or the 50% strength AlphaRet peels are appropriate for you. These are best done in a series of 3-6 for optimal results. We offer package discounts to help you stick to your skincare plan.
TCA Peels
TCA peels are our deepest and most aggressive peels, after which you will be peeling for 5-7 days, so you would need some social downtime. We also recommend not wearing a mask or any face covering on your skin during the week following treatment, so planning this around a break would be appropriate. TCA peels are appropriate for men and women who are seriously concerned with sun damage and aging. This dramatic peel does require some downtime, but will deliver an impactful result.
Because this treatment is so deep, it is vitally important that you disclose the products in your skincare regimen to your providers. Please also discontinue any other acids or retinols prior to and following treatment. Because chemical peels exfoliate the protective superficial layer of dead skin cells, and treat the new layer with sensitizing acids, it is imperative that patients receive no UVA/UVB exposure prior to or following treatment. This is in order to prevent any hyper-pigmentation or other negative results.
Your Consultation is Key
Ultimately, your Beleza provider will help you to select an appropriate treatment plan for you! Call our main office in the Sewickley/Wexford area to establish your initial consultation with our licensed aesthetician.
Our number is 724-759-7777 and we are open during normal business hours, Monday-Friday, 8:30-5:00 PM to take your calls. We look forward to meeting you and addressing your custom skincare concerns!